Stylish Italian debut charts the fate of two boys who become tangled up with the mob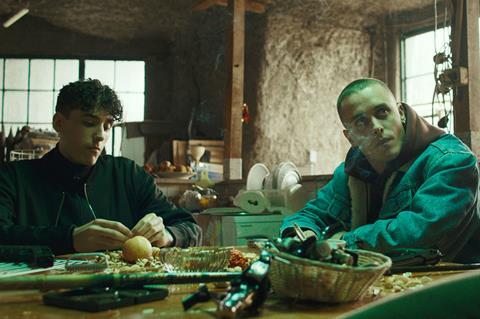 Dirs/scr: Damiano D'Innocenzo, Fabio D'Innocenzo. Italy. 2018. 96mins
While it may initially seem that this Italian coming-of-age tale is going to tread familiar waters, its simple yet revealing title indicates the dramatic depths into which debut filmmakers, the self-taught twins Damiano and Fabio D'Innocenzo, will dive with such impressive style. The English translation of La terra dell'abbastanza conjures up images of Kimberley Pierce's Oscar-winning Boys Don't Cry (1999) but, while the two may not share much in common, this story of two Italian teens also puts a different spin on a traditional male narrative.
An intelligent, involving story buoyed by two excellent central performances
An intelligent, involving story is buoyed by two excellent central performances from newcomers Matteo Olivetti and Andrea Carpenzano, and further festival play should follow the film's Berlin Panorama bow. Theatrical interest should be particularly strong at home, but the picture should chime with international audiences previously drawn to high quality, provocative European fare such as Girlhood (2014), A Prophet (2009) and Gomorrah (2008); comparisons with the latter are unavoidable, but Boys Cry holds its own.
Set in the outskirts of Rome, far removed from the gleaming cultural hub of tourist brochures, the film opens with dawn breaking over a deserted urban wasteland. Teenage friends Mirko (Olivetti) and Manolo (Carpenzano) joke around on the drive home after the end of their pizza delivery shifts. Through their carefree conversation, we learn that they are in their final years of high school, and are contemplating careers as either caterers, farmers or barmen.
While this is a telling nod to the limited options available to them, their easy back-and-forth is immediately infectious and engaging. Their banter is brought to an abrupt end, however, when a shadowy figure bolts into the road and driver Mirko hits him at full speed. After a brief moment of shocked panic, Manolo quickly regains control and tells Mirko to drive away, to his father Danilo's (Max Tortora) house.
That Danilo's first response is to instruct the boys to pretend nothing has happened sets the course for this exploration of young lives not so much falling through the cracks, but being sucked, helplessly, into the void. Learning that the victim was a marked man, due to be executed by the local mafia clan, Manolo's father tells his son to take credit for the accident, and ingratiate himself into the gang. Annoyed that he has been left out of such a golden opportunity, Mirko confronts Manolo, who makes him an offer; if the pair kill a member of a rival Moroccan gang, they will be officially 'in'. They do and, suddenly, irrevocably, they are.
It's clear from the start that the boys see the mob as some kind of golden ticket and, with Mirko living an impoverished existence in a tiny flat with his mother Alessia (Milena Mancini) and young sister, it's also easy to see why this career path is so enticing. At first they approach their new responsibilities (which, following the initial execution, is mainly managing the mob's prostitute ring) like they are playing a video game, refusing — on the surface at least — to acknowledge what their lives have become. "Stop thinking," is Manolo's regular refrain.
Indeed, it's Mirko who proves the story's dramatic metronome, his doubts and fears never verbally expressed but played out in nervous trips to the bathroom, pained expressions and the fact he struggles to look anyone in the eye. As he becomes increasingly alienated from his worried mother, his friends and his girlfriend, it's clear that, rather than revelling in his new status, he's simply powerless to turn the tide.
This is perhaps best demonstrated in the sequence where he turns up, uninvited and with armfuls of expensive gifts, to his sister's birthday party, a gathering on a grubby roof terrace, where the only colour comes from the flimsy paper garlands. As he stands proud — a deity to the youngsters, a crushing disappointment to Alessia — we get a sense of life on the brink, of devastating inevitability.
That's just one example of the poetic visual shorthand on display in a film which is technically accomplished and intuitive. In both their screenplay and direction, the Incenzo brothers show a restraint which serves to keep the focus on the boys, rather than their deeds. Flashpoint moments of violence happen off-screen, for example, and those we do see are handled with matter-of-fact realism.
Cinematographer Paolo Carnera (who also shot the Gomorrah TV series) serves up some exquisite work which, like Toni Bruna's languorous, jazzy score, defies genre expectations. The camera keeps a respectful distance from the brutality, but frames the boys' faces — in conversation, observation, retrospection — in intimate, sculptural detail. The azure Roman sky is at permanent odds with the dingy suburban sprawl, and sequences are often tinged with bilious greens or hazy yellows. An early moment in which Mirko and his mother joyfully gaze at a cake display, reflected light creating a warm glow around them both, lingers with a desperate, haunting resonance by film's end.
Production companies: Pepito Produzioni, Rai Cinema
International sales: The Match Factory, info@matchfactory.de
Producers: Agostino Saccà, Maria Grazia Saccà, Giuseppe Saccà
Executive producer: Ivan D'Ambrosio
Cinematography: Paolo Carnera
Editing: Marco Spoletini
Production design: Paolo Bonfini
Music: Toni Bruna
Main cast: Andrea Carpenzano, Matteo Olivetti, Milena Mancini, Max Tortora, Michela De Plano