An isolated man attempts to make his own version of his favourite kids show in this quirky comedy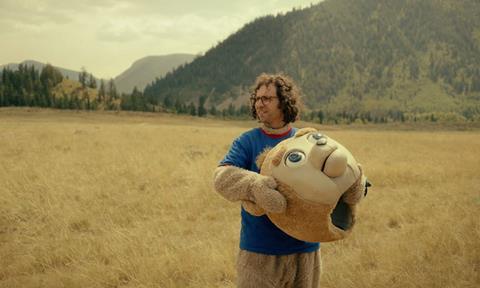 Dir: Dave McCary. US. 2017. 97mins
The television shows and movies we absorb as kids can have powerful, even unsettling influences on our development. The wistful comedy Brigsby Bear explores that notion to the extreme, telling the story of a 25-year-old who's only recently learned he was abducted at birth — and that his favourite program was crafted by his kidnappers specifically for him. The premise proves stronger than the execution but, guided by a fragile performance from co-writer Kyle Mooney, this Sundance hit plumbs significant emotional depths while being warmly funny.
The movie becomes a compassionate but constructive commentary on the danger of nostalgia
Picked up in Park City by Sony Pictures Classics, the Cannes Critics Week closing film will open Stateside on July 28, looking to be art-house counterprogramming amidst the summer blockbusters. Mooney, a Saturday Night Live cast member, is relatively unknown, so Brigsby Bear's quirky plot and critical buzz will be important to help coax mainstream audiences.
Mooney's James has lived a sheltered existence with his parents (Jane Adams, Mark Hamill), obsessively watching episodes of 'Brigsby Bear Adventures', a cheesy live-action children's programme. But one day, the cops storm the house, and James discovers a terrifying truth: these adults stole him from the hospital and his real parents (Matt Walsh, Michaela Watkins) have spent decades searching for him. Introduced to a world he doesn't understand, James decides to make a film version of his beloved show — unwilling to believe that it was created by his abductors and that nobody has heard of it.
In his feature directorial debut, Dave McCary (who works on SNL with Mooney) locates the humour in an ostensibly tragic tale of a young man who's been warped by his environment. This nuanced tonal approach is a speciality of Mooney's, who on SNL often plays socially awkward characters of indeterminate mental stability. Similarly, Brigsby Bear is led by a vulnerable manchild whose tenuous grasp on reality is touching but also satirical, the movie affectionately mocking filmmakers' need to invent imaginary worlds to escape everyday life's messy uncertainty.
From Being There to Forrest Gump, cinema has produced plenty of comparable innocents, and Brigsby Bear sometimes labours to find fresh angles on a familiar construction. What helps is the specificity Mooney brings to the role. James is exceptionally sweet and open, but whenever he tries acclimating to the real world he retreats to 'Brigsby Bear Adventures', enjoying its comforting sameness. Gradually, the movie becomes a compassionate but constructive commentary on the danger of nostalgia — how it seduces us into sticking with worn-out pleasures at the expense of new experiences and challenges.
As a result, James's attempts to make a low-budget 'Brigsby Bear Adventures' movie are both concerning and cathartic. Finding sympathetic friends who help him realize his vision, James uses his adaptation to exorcise deep emotional trauma in a language he understands, laying his soul bare for anyone to see. It's an easy but apt metaphor for the risks and rewards of the creative impulse.
Production companies: 3311 Productions, YL Pictures, Lonely Island, LM
Worldwide distribution: Sony Pictures Classics, www.sonyclassics.com
Producers: Andy Samberg, Jorma Taccone, Akiva Schaffer, William Rosenberg, Phil Lord, Chris Miller, Will Allegra, Mark Roberts, Al Di, Jason Zaro
Screenplay: Kevin Costello, Kyle Mooney; story by Kyle Mooney
Cinematography: Christian Sprenger
Production design: Brandon Tonner-Connolly
Editor: Jacob Craycroft
Music: David Wingo
Main Cast: Kyle Mooney, Jane Adams, Claire Danes, Mark Hamill, Greg Kinnear, Andy Samberg, Matt Walsh, Michaela Watkins