Dir/scr Martin Koolhoven. Netherlands/Germany/Belgium/France/UK/Sweden. 2016. 149 mins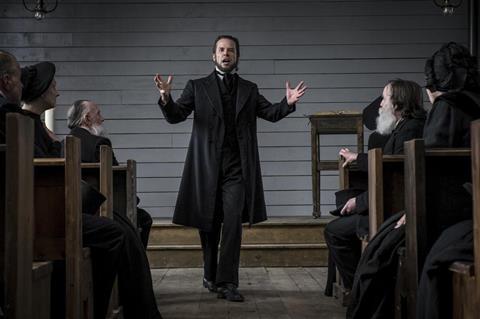 A lurid and unpleasant Lutheran 'scary preacher' Western anchored to its fragile tentpole only by the considerable acting skills of Guy Pearce and Dakota Fanning, Brimstone makes its audience want to pray for forgiveness by running home and rewatching Night of the Hunter (though There Will Be Blood would do almost as well).
What's lacking here is a clarity of vision and control of tone that would give this prestige Euro-Western's mannerisms a focus.
Dutch director MartinKoolhoven (Winter in Wartime) lifts at least two plot devices wholesale from Charles Laughton's 1955 masterpiece of menace in what one assumes is intended as an homage – but if so it backfires badly, serving only to illuminate the heavy-handed solemnity of this tastefully packaged but borderline offensive slice of revenge porn, which starts promisingly but is slowly (alas, very slowly) drowned by backstory.
That package – lush widescreen photography, stylish vintage Shaker-chic production design, a mostly solid cast – distracts from the emptiness at the heart of Brimstone, which uses dramatic shock tactics to paper over the cracks in the story, and covers up its lack of character development with a self-consciously sombre orchestral soundtrack. The star cast and that surface sheen (which doesn't extend to some rather cheap-looking special effects) will certainly give the already pre-sold Brimstone some sort of theatrical run. But its unjustified two and a half hour running time will be an issue, and it wouldn't be a surprise if cuts were made following the film's Venice competition debut.
The film is divided into four long 'Chapters' entitled Revelation, Exodus, Genesis and Retribution – the latter presumably being the title of a recently discovered apocryphal book of the Bible, also known as the Gospel According to St Quentin. The first part is easily the most powerful; in fact, for its 45-minute running time we're mostly engaged as we witness the arrival, in a small upland frontier community somewhere out west, of the Reverend (Pearce), a creepy, Homburg-wearing preacher with a facial scar, whose appointment to the local clapperboard church is a source of mute alarm for the village's de facto midwife, Liz (Fanning) – literally so, as she is, for some reason that will (of course) be revealed, dumb but not deaf.
Liz lives in a simple but neat wooden farmstead with her two children and good, God-fearing husband Eli (William Houston). When a birth she's attending goes awry – in the Reverend's church, no less – a game of cat and mouse begins, in which the angelic, soap-and-water-scrubbed Liz seems to be the mouse – though we're not entirely sure. There are moments of dramatic subtlety here – as in a scene where the Reverend casually overrides Eli's refusal to let his son – who, we have realised by this stage, is not also Liz's son – drink hard liquor.
After a gory mid-term climax, the story lurches back in time in the second part to chart the trials of a younger Liz – here called Joanna, and played by Emilia Jones – as she is picked up, near-dead from thirst, in the desert, and promptly becomes an item of merchandise to be sold to Frank (Paul Anderson), the owner of a saloon-brothel in a mining town. Here the frontier-hooker clichés begin to pile up thick and fast, larded here and there with Last Judgement winks (the bar is called Frank's Inferno…), and the lighter, show-don't-tell touch of the first part gets buried beneath crass dramatic shock tactics. These include repeated, graphic abuse of women, something which leaves a bad taste in the mouth despite the kneejerk-feminist parabola of the plot.
But what's lacking here, mostly, is a clarity of vision and control of tone that would give this prestige Euro-Western's mannerisms a focus. Tarantino touches – a disembowelment, a travelling Chinaman – hit the ground with a nasty thud because while Brimstone is solemn (something the orchestral requiem score reminds repeatedly), it doesn't have a cool bone in its body.
When a couple of bandits (one played gamely by Kit Harington) are brought in to the story at a late stage to lighten things up and give the abused Joanna a sympathetic male figure, it feels like lazy plotting rather than quirky scripting. In the miasma, those Night of the Hunter references – the daughter's rag doll, and a hymn whose recurrence signals the presence of Pierce's evil preacher – feel merely gratuitous.
Using a perfect Dutch accent, Pearce does his best to give some depth to a religious hypocrite who, after the suspenseful intro, becomes increasingly one-sided. In a role to which Mia Wasikowska was initially attached, Fanning too gives her all (ably abetted by Jones as her younger self), and we cling to her performance as to a life raft in a storm.
Production companies: N279 Entertainment, X-Filme Production
International sales: Embankment Films, mp@embankmentfilms.com
Producers: Els Vandevorst & Uwe Schott
Lombardo, Manuel Chiche, Violaine Barbaroux & Peter Hiltunen
Executive producers: Nicki Hattingh, Sheryl Crown, Anne Sheehan, Tim Haslam, Hugo Grumbar, Joel Thibout, Jean-Baptiste Babin, Nik Powell
Cinematography: Rogier Stoffers
Editor: Job ter Burg
Production designer: Floris Vos
Music: Tom Holkenborg
Main cast: Dakota Fanning, Guy Pearce, Emilia Jones, Carice van Houten, Kit Harington, William Houston, Ivy George