Dir: Nicolo Donato. Denmark. 2009. 102 mins.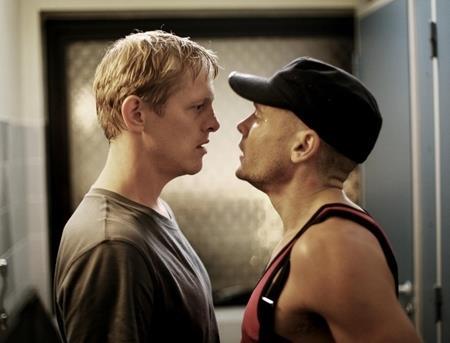 The love that dare not speak its name gets a new(ish) twist in this piercingly intense drama by young Danish director Nicolo Donato. A textbook example of the tragic passion genre, the film charts the growing homosexual attraction between two Danish neo-Nazis with an impressively taut control of structure and pacing. The galvanising, slow-burn performances of the two leads, Lindhardt and Dencik, makes up for a lack of subplots in the pared-back script.
It's the subtle, unforced style of Brotherhood that makes it more than a dour high-concept rehash of a tried-and-tested formula
Though this is not a specifically gay film – still less a gay Nazi film – Brotherhood will still be conditioned commercially by its subject matter; it's difficult to envisage this as a hetero date movie, and for all its dramatic potency, Brotherhood seems destined to play at the more resilient end of the arthouse spectrum. At home in Denmark, though, rumbling controversies over the country's ultra-nationalist right will stir some media interest and may broaden the audience somewhat.
The film wastes no time in setting out its premises, as we see Nazi-skinhead Jimmy (Dencik) involved in a brutal gay-bashing expedition and army sergeant Lars (Lindhardt) 'let go' by his commanding officer because of allegations that he made a pass at one of his men. Resentment at his treatment and frustration at home combine to push Lars into attending a recruiting meeting organised by a far-right group led by Fatty (Bro), who sees potential in the young man despite his rebellious streak – following the rule that critics of authority often turn into the most loyal and dedicated troops.
Jimmy's brother Patrick (Holst) should be next in line for full 'A' membership of the neo-Nazi confraternity, but his drug problems, coupled with Lars' courage in an attack on a refugee centre and smart suggestions for propaganda leaflets and banners, cause him to leapfrog Patrick in the promotion list – earning the resentment of Jimmy, who never liked Lars from the start.
In a way it's a dark twist on a classic rom-com set-up, and when the wily Fatty decides to patch up the differences between the two by sending Lars to live with Jimmy, whose job it will be to coach his enemy for full membership, the scene is set for that most classic transition: from hostility through grudging admiration to friendship and finally passion.
It's the subtle, unforced style of Brotherhood that makes it more than a dour high-concept rehash of a tried-and-tested formula: there's a real crackle in the air when the two are alone in the seaside cabin that Jimmy is fixing up for party boss Ebbe.
It's also a tribute to the sensitivity of the script and the bravura of Donato's direction that the Nazi theme never feels exploitative. Without going to the disturbing excesses of, say, The Night Porter, the film has interesting, understated points to make about political and amorous violence and tenderness. And it doesn't turn away from the ugliness of its subjects' racial and gay hatred – though camaraderie seems to matter more to these tattooed skinheads than the theories their leaders and minders espouse (copies of Mein Kampf are dutifully handed out but never opened).
Above all though, it's by making its protagonists live a contradiction that the film exposes the stupidity of ideas that take no account of human warmth or contact.
To sign up for Screen's weekly Reviews Newsletter with all the week's new releases, international openings and full festival reviews delivered free to your mailbox every Friday, please click HERE
Production company
Asta Film
International sales
TrustNordisk
+ (45) 3686 8788
Producer
Per Holst
Screenplay
Rasmus Birch
Nicolo Donato
Cinematography
Laust Trier Mork
Production design
Thomas Ravn
Lars Ole Kofoed-Hansen
Editor
Bodil Kjaerhauge
Music
Jesper Mechlenburg
Simon Brenting
Main cast
Thure Lindhardt
David Dencik
Nicolas Bro
Morten Holstå