Moritz Bleibtreu and Antje Traue headline a bittersweet yarn about Holocaust survivors making a living in post-War Frankfurt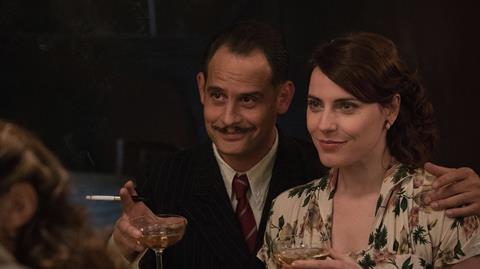 Dir: Sam Garbarski. Germany-Luxembourg-Belgium. 2017. 101 mins.
Sam Garbarski's latest feature is unique in focusing on a group of German Jews who, in 1946 and 1947, found themselves living and working once more in the country that sent them to the death camps. The material sounds potentially dour, but in the hands of Garbarski and co-scripter Michel Bergmann, whose novel The Hawkers inspired the film, it becomes a bittersweet Yiddish yarn about a band of camp survivors who become linen salesmen, often exploiting guilty German consciences to score sales.
Stories touch chords that are both poignant, funny and bitter.
A little too jaunty and picaresque at times, Bye Bye Germany is nevertheless, when it hits its stride, an entertaining, watchable take on the oppressed-minority-comeback genre ("We're the Jewish revenge", as one of the salesmen bitterly quips), shadowed at every turn by an unspeakable horror. Moritz Bleibtreu, who also starred in the director's last, Vijay and I, is good as the likeable head sales hustler whose swagger and joking manner hide a great deal of pain, and his star quotient should help to leaven the discomfort that the theme may still occasion amongst the older German audiences who are the film's prime target. Elsewhere, Bye Bye Germany may be hampered by the opposite issue – its levity – but could charm its way into a few dates, both with theatrical distributors and screening platforms.
Using a mix of location and studio sets, Bye Bye Germany takes an old-fashioned approach to period colour, evoking a 1946 Frankfurt still devastated by Allied bombing and war shortages. In a UN displaced persons settlement outside the city – then in the American sector of occupied Germany – the well-dressed David Bermann (Bleibtreu) already stands out from the background of desperation. A born trader and the only survivor of a Frankfurt Jewish drapery dynasty, Bermann is soon assembling, Ocean's-style, a team of fellow death-camp survivors as door-to-door salesmen of 'dowry' linens to suspicious German gentiles at a time of enforced austerity. They use various mild scams to seal the deal – including combing the newspapers for death notices, then spinning a tale, to the widow, of orders already made and deposits put down by the dear deceased.
All the while, there is a hint that Bermann may not quite be the victim he appears to be, that he may have collaborated in some way with his Nazi persecutors.
This is where bankable co-star Antje Traue comes in, as a curvaceous American military intelligence officer (a character that doesn't feature in the novel), tasked with getting the truth out of Bermann in a series of recorded interrogation sessions that are threated into the main story. These are initially engaging, as the story that Bermann begins to spin – opening with the assertion that, as a talented joke-teller, he became a favourite of the camp commandant – touches chords that are both poignant, funny and bitter. His tales illuminate both the healing power of humour and narrative in Jewish culture and the menace of a racism that can make an exception for licensed jesters and other useful inferiors. But the script doesn't do enough with Traue's one-sided character to justify the screen time she occupies, and the intriguing stand-off ends in the most lazily obvious fashion.
Scored by a jaunty/melancholic klezmer-style soundtrack, this is also a film about guilt – both the passive-aggressive German gentile variety and the Jewish 'survivor guilt' so well documented by Italian camp survivor and writer Primo Levi – author of memoir The Truce, which director Francesco Rosi turned into one of the very few other films to chart the lives of Holocaust survivors in the immediate aftermath of their liberation. And, finally, Bye Bye Germany is about life in migrant limbo – communities full of refugees dreaming of elsewhere, in this case America and Palestine, but today just as likely to be Germany itself.
Production companies: IGC Films, Samsa Film, Entre Chien et Loup
International sales: The Match Factory, info@matchfactory.de
Producer: Jani Thiltges
Co-producers: Roshanak Behesht Nedjad, Sebastien Delloye
Screenplay: Michel Bergmann, Sam Garbarski
Cinematography: Virginie Saint-Martin
Editor: Peter R. Adam
Production designer: Véronique Sacrez
Music: Renaud Garcia-Fons
Main cast: Moritz Bleibtreu, Antje Traue, Tim Seyfi, Mark Ivanir, Anatole Taubman, Hans Low, Pal Mascai, Vaclav Jakoubek