Dir: Daniele Luchetti. Italy. 2015. 94 mins.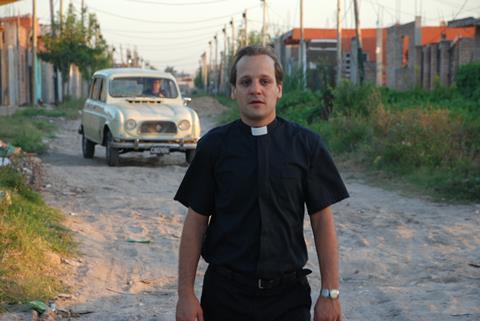 First, some positive negatives. This mid-budget biopic of Pope Francis's life before he ascended to the throne of St Peter is no mere hagiography; neither, with its edgy handheld camerawork and unsentimental view of the brutality of the Argentinian military dictatorship under which the former Cardinal Bergoglio's ministry began, does it inhabit the ghetto of Christian films made entirely for church audiences.
And yet an air of caution, not to say indecision, hangs about this papal Batman Begins
One would hardly expect any less from director Luchetti, who began his career as a protégé of Nanni Moretti and is known for serious dramas like My Brother Is An Only Child and Our Life (both of which were presented in Cannes – the latter in competition). Or, for that matter, from a competent cast led by Motorcycle Diaries co-star Rodrigo De La Serna in the role of the younger Bergoglio.
And yet an air of caution, not to say indecision, hangs about this papal Batman Begins, which never feels like it is taking much of a stand on Bergoglio or doing much to explain why his fellow cardinals chose him to succeed Benedict XVI after the latter's surprise resignation.
This is no wry, Peter-Morgan-style exposé of the backstage, or backstory, of a powerful leader. Based on the largely celebratory bestseller Francis – the People's Pope by La Nacion's former Vatican correspondent Evangelina Himitian, Luchetti's film leaps eagerly from one of the young Jesuit's early demonstrations of Christian altruism and anti-establishment independence, to the next, rarely stopping to put them in context for viewers who have not read up on Argentina's Dirty War, or the ambivalent position of the Catholic establishment at the time.
The level of the film's adherence to the official church narrative of Francis' rise to power can be gauged by the Vatican's warm embrace of the project. There was, understandably, no Buckingham Palace launch for The Queen, whereas the Sala Nervi papal audience chamber was made available for the December 1 premiere of Call Me Francesco, where it was viewed by an invited audience of low-income Romans, charity volunteers and women and children from church-managed shelters. Two days later, Medusa opened it across Italy on a muscular 700 screens, with its original Spanish dialogue dubbed into Italian.
According to Medusa's parent company Mediaset, deals are currently being negotiated in 40 territories, both for the feature film version and for a longer TV version consisting of four 50-minute episodes. This, therefore, seems the more likely of two rival Francis biopics to get widespread distribution abroad; released on home ground in September, Argentinian director Beda Docampo Feijoo's Francis: Pray For Me, also based on a book by a La Nacion reporter – has so far inked distribution deals only in its co-production territory of Spain, and in the Philippines.
The existence of a longer TV version explains a lot about Call Me Francesco's uneven structure and often confusing syntax. It opens in Buenos Aires in 1960, nine years before Jorge Mario Berdoglio's ordination. A few characters we will meet later are sketched in, like Esther Ballestrino, his Marxist boss at the food lab where the young Bergoglio worked as a technician; but mostly this short section with its tango dances and love interlude serves to prove that (to quote a comment overheard in the cinema) "gosh, he actually had a life".
Soon enough we fast forward to the years 1976-83 when, as provincial superior of the Jesuits in Argentina and later as rector of the philosophical and theological faculty of San Miguel, Bergoglio came face to face with the Argentinian regime's Dirty War. It's this and a later period, covering ten years from the future Pope's back-to-basics ministry in Cordoba around 1992 to his time as Buenos Aires' 'slum bishop' before his nomination as cardinal in 2001, that occupy most of the hacked-down TV mini-series' running time.
That Bergoglio is a good man seems beyond doubt. But Call Me Francesco shies away from the attempt to turn him into a man riven by interesting conflicts; even in his controversial involvement in the case of two left-wing Jesuit priests who were abducted and tortured by the military, the future Pope seems more a bureaucratic mediator than a staunch defender of his men.
While this may be true to life, it doesn't do much for a story that seems a series of loosely-connected events rather than a compelling origins narrative. Much energy is invested in depicting Bergoglio as a committed but necessarily circumspect opponent of undemocratic regimes, a friend to left-wingers like Ballestrino (played here by Mercedes Moran), who would be killed by the state after her involvement with the Mothers of the Plaza de Mayo movement, or human rights lawyer Alicia Oliveira (Muriel Santa Ana).
But more due to script weaknesses than De La Serna's competent performance, we never get a real grasp, even at the most dramatic moment, of the character and motivations of the future Pope. Neither does Call Me Francesco explain why, if Bergoglio was (as the film coyly hints) a thorn in the side of the church hierarchy, he was able to rise so rapidly up through it.
A narrative frame set during the conclave that would elect him, featuring Sergio Hernandez as the older Bergoglio, shows the pope-to-be hanging out his washing on a roof terrace with a view of St Peter's, and staring pensively into the future. But when, right at the end, we see the real Bergoglio addressing the crowds gathered in St Peter's Square following his nomination, his cheery, informal 'buona sera!' greeting says more in two words than the previous worthy, plodding, muddled ninety-minute attempt at a backstory.
Production company: TaoDue Film
International sales: TaoDue, taodue@taodue.it
Producer: Pietro Valsecchi
Screenplay: Daniele Luchetti, Martin Salinas, in collaboration with Piero Balzoni, Luisa Cotta Ramosino, Paolo Marchesin
Cinematography: Claudio Collepiccolo, Ivan Casalgrandi
Editor: Mirco Garrone, Francesco Garrone
Production design: Mercedes Alfonsin, Luana Raso
Music: Arturo Cardelus
Main cast: Rodrigo De La Serna, Sergio Hernández, Muriel Santa Ana, José Ángel Egido, Alex Brendemühl, Mercedes Moran, Pompeyo Audivert, Paula Baldini