Mary Harron returns with a story about Charles Manson's acolytes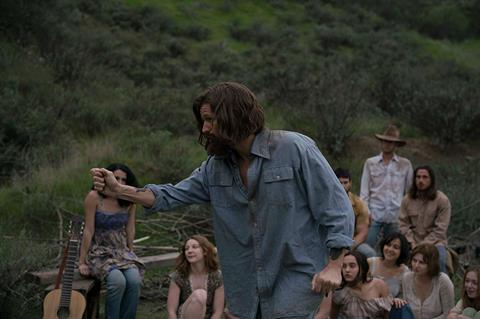 Dir. Mary Herron. US. 2018. 104 mins
Charlie Says has its share of selling points: it's one of the respected Mary Harron's too-rare cinema outings; there's a cheeky wink to the fact that the director of American Psycho now turns her attention to a real-life psychopath, Charles Manson; and Matt Smith, the former Dr Who, fresh from his successful portrayal of Prince Philip in The Crown, is intriguingly presented as Manson. Yet, ironically, it's the inescapable presence of 'Charlie' himself that is central to the film's problems. Harron's picture is supposedly about the man's victims who didn't die – the young women he brainwashed into doing his killing for him. But while Leslie Van Houten, Patricia Krenwinkel and Susan Atkins are ostensibly front and centre of the story, they're not well served by it.
Smith fails to convey whatever charisma Manson must have employed to exert such influence over his minions
Skimpy psychological insight, a clumsy structure and what turns out to be a miscast Smith all contribute towards what seems like a wasted opportunity, athough the popular actor's involvement and Harron's name should attract more festival exposure .
Van Houten, Krenwinkel and Atkins were members of the Manson Family, the cult which carried out the notorious murders in August 1969 which Joan Didion (quoted at the outset) famously suggested signalled the end of the Sixties. Krenwinkel and Atkins took part in the most infamous, a brutal slaying of four people who included the pregnant Sharon Tate while Van Houton joined them for the murder of a couple the following day. Guinevere Turner, who co-wrote American Psycho and The Notorious Betty Page with Harron, homes in on the incarcerated women (played respectively by Hannah Murray, Sosie Bacon and Marianne Rendón) three years after the murders. Their death penalties having been rescinded, they are told they will spend their life sentences in a women's prison separated from the "general population" – effectively a shared solitary confinement of three people, neither of whom has an independent thought, mired still in what Charlie once said to them in the heady, hippy, trippy days of their desert commune.
Karlene Faith (Merrit Weaver), a graduate student who teaches inmates at the prison, is asked to offer classes to the trio. Faith has trouble equating the three polite young women with the vicious crimes they committed, and is confounded by the fact that "they still spout his bullshit". She sets out to free them of Manson's brainwashing, "to give them back themselves." To do that, they need to accept responsibility for their crimes.
Given that the exchanges between Faith and the killers did take place, there's a rich possibility here. However, rather than focus on the teacher's mission to effectively empower these young women, Turner's script is weighed down by Manson. Frequent flashbacks to the trio's time with their self-appointed father, lover, master and messiah show his growing hold upon them, leading up to and including the murders, while offering next to nothing of their personality or background to help explain why they succumbed.
For his part Smith, sporting what appears to be a false beard and strumming his guitar like a needy teenager, fails to convey whatever charisma Manson must have employed to exert such influence over his minions. Pearls of wisdom such as "no sense make sense, you dig?" hardly seems the stuff of mind control. The actor does convey Manson's weakness and hypocrisy, however, offering "freedom" but treating his female members like slaves, urging all his followers to "kill your ego" while being very much driven by his own.
In contrast to the amount of time spent on the ranch with Manson, the scenes in the prison are too few, comprising sketchy, unrevealing exchanges that fail to utilise the wonderful Weaver (who recently towered over the western Godless) and leave poor Murray, Bacon and Rendón with nothing to express other than dawning dumbfoundedness.
With the action alternating between the desert and a prison cell, there's scant opportunity to evoke the period. Keegan DeWitt's soundtrack carries that load, along with songs by, among others, The 13th Floor Elevators and Love.
Production companies: Epic Level Entertainment
International sales: Fortitude International (nadine@fortitudeint.com)
Producers: Dana Guerin, Cindi Rice, John Frank Rosenblum, Jeremy Rosen
Screenplay: Guinevere Turner
Production design: Dins Danielsen
Editing: Andrew Hafitz
Cinematography: Crille Forsberg
Music: Keegan DeWitt
Main cast: Matt Smith, Hannah Murray, Marianne Rendón, Sosie Bacon, Merritt Wever, Suki Waterhouse, Chace Crawford, Annabeth Gish