Dir. Athina Rachel Tsangari. Greece, 2015. 101min.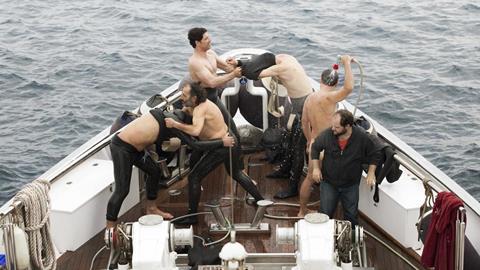 Athina Rachel Tzangari, an associate producer on Yorgos Lanthimos' Dogtooth and the producer of Alps, is rightly considered one of the two leading exponents of the Greek "new wave". Her own first feature, Attenberg suggested she shares the same kind of universe, although in a more light-hearted, cheerful manner. However, judging by Chevalier, she certainly can't manage the same affection she had for the two girl protagonists in Dogtooth for the male of the species, least of all for the Greek upper-class variety.
Weak, immature, vain and insecure at the same time, bored and boring, she strips them of any dignity or self-respect and gleefully puts them, like Alain Resnais' mice in Mon Oncle d'Amerique, in a cage (in her case it's a boat) to prove what a miserable lot they all are. This could be interpreted as a caricature of her country's leaders, past and present, collectively responsible for the lamentable state it finds itself in now, but could also easily translate to a parody of the male gender in general, the kind of satire that will delight most feminists and irritate the rest of the audience.
Shot entirely on board a luxury boat cruising through the Greek islands, Chevalier follows six men, all of them middle aged and well off, ranging from a highly respectable doctor in his sixties (Yorgos Kendros) to the pudgy, nerdish Dimitri (Makis Papadimitriou), in his thirties and still living with his mother.
In between are Dimitri's older brother, Yannis (Yorgos Pirapassopoulos), a brash, arrogant and unpleasant insurance man, two partners in a real estate agency, Joseph (Vangelis Mourikis) and Christos (Sakis Rouvas), sporting macho beards and acting accordingly, and handsome Yorgos (Panos Koronis),who shares the doctor's clinic. There is also a crew, which consists of a skipper, a cook and his assistant - their presence is minimal, except take bets on what will happen to their employers.
To fill the empty hours at hand, the six protagonists agree to play an improvised game. They call it "The Best in General", and they have to prove not that they are the best in one specific discipline, but at everything without exception in everyday life. Each has to rate the others for the way they sleep and eat, for washing the windows and for their morning erections, for their sexual fertility and for the relations they entertain with their family, for polishing the silver and for putting together an IKEA set of rafts in record time. The highest rated will win the Chevalier ring, signifying he is the best of them all.
The metaphor here is of course Life, with a capital L, a never-ending competition where men are always comparing themselves to other men and constantly rating them. There is nothing Chevalier's principals won't do to win at this game, and since deep down, every single participant suspects he is not good enough, they strike deals and looks for allies who will in turn negotiate behind their backs. Just like politics.
Though mostly correct, Tsangari's observations are strictly and consistently one-sided. Showing her characters the sympathy a researcher has for his guinea pigs, she watches them reveal their worst features, and seems so pleased with the result that she piles the evidence against them without bothering to give it all effective dramatic structure. They're immobilised in one place until she's done with them and then sent home to nurse their bruised egos.
Less like a drama than a statement, Chevalier's characters do not grow but diminish. None of Attenberg's charming insouciance is in evidence here although she never defines any of her victims too precisely, she is blunt and even cruel at times.
To Christos Karamanis' credit, his camera uses the restricted space creatively and the yacht chosen as the sextet's battling ground lends itself handsomely to the purpose. Performances by the all-male cast are adequate, justifying, as they were required to, the jaundiced concept which reigns over the entire film.
Production companies: Faliro House, Haos Productions
Producers: Maria Hatzakou, Athina Rachel Tsangari
Executive producer: Christos Konstantakolpoulos
International Sales: The Match Factory (serge.steegmann@matchfactory.de)
Screenplay: Efthimis Filippou, Athina Rachel Tsangari
Cinematography: Christos Karamanis
Editing: Matt Johnson, Yorgos Mavropsaridis
Production design: Anna Georgiadou
Sound: Leandros Ntounis
Cast: Yorgos Kentros, Vangelis Mourikis, Sakis Rouvas, Panos Koronis, Makis Papadimitriou, Yorgos Pirpassopoulos