How Wimbledon's first Black champion navigated his life and discreet form of activism off the courts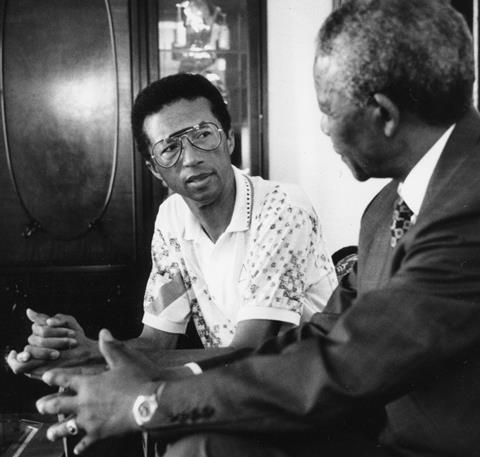 Dirs: Rex Miller, Sam Pollard. US/UK. 2021. 96 mins.
Arthur Ashe was one of the tennis greats, but he didn't want to be remembered for what he did on the court, which is just one of the revelations in Rex Miller and Sam Pollard's affecting documentary portrait. Appropriately, then, Citizen Ashe is just as interested in the man as it is the athlete, offering an inspiring examination of how this soft-spoken, mild-mannered public figure did his part during America's civil rights struggle, insisting that quiet decency could be as effective as militant protest.
A fitting tribute to a humble pioneer
Set for a US theatrical release on December 3 following Telluride and London premieres, Citizen Ashe will certainly appeal to those familiar with Ashe, who died in 1993 at the age of 49 from AIDS-related pneumonia, along with tennis fans hoping to learn more about the first Black Wimbledon champion. But Citizen Ashe should work just as well on the small screen, where CNN will handle the American broadcast premiere before it moves to streaming on HBO Max.
Although he has been gone for nearly 30 years, Ashe couldn't be more relevant in today's Black Lives Matter moment, a point Miller and Pollard make persuasively. Through interviews with admiring competitors (such as John McEnroe), family members, commentators and even Ashe's widow, photographer Jeanne Moutoussamy-Ashe, Citizen Ashe paints a picture of a well-mannered Virginia boy who lost his mother in childhood and was raised by a strict but loving father. Determined to become the Jackie Robinson of tennis — a Black trailblazer in a traditionally white sport — Ashe faced discrimination but soon rose to the top of his profession, even though other Black athletes, such as Kareem Abdul-Jabbar, criticised him for not speaking out more during the turbulent 1960s.
Citizen Ashe has been thoughtfully constructed, focusing less on its subject's athletic prowess and more on how he navigated the world as a Black celebrity. Taught to respect authority and always be polite, Ashe was disturbed by racism, but it wasn't in his personality to be combative — unlike Muhammad Ali and others, who denounced inequality forcefully from their public pulpits. The film deftly illustrates how Ashe initially battled the unfair perception of being an 'Uncle Tom' who turned his back on his fellow African-Americans while seeking success in tennis.
Eventually, however, Ashe's thinking evolved as he began to figure out how he could raise his voice without literally raising his voice. One of the pivotal moments came when he learned about Nelson Mandela, the jailed South African activist who fought to end apartheid. Seeing in this man a fellow sober-minded, principled individual, Ashe helped spread Mandela's message in America, which for a time got him barred from playing in South Africa by the country's government. This growing political awakening is analysed and given proper context by, among others, fiery civil rights activist Harry Edwards, who learned to appreciate how Ashe's more respectful, coalition-building brand of activism could bring about change, too.
We see Ashe through archival interviews, in which he always comes across as an elegant, reserved speaker, although Citizen Ashe makes clear that part of that refined demeanour was born out of necessity: he knew that if he expressed anger on the court, the sport's white establishment would have demonised him. (Pointedly, Ashe talks about his disapproval of McEnroe's infamously outrageous antics — partly because he was envious that McEnroe, with his white privilege, was allowed to behave in a way that he never could.)
Not surprisingly, the documentary spends its final section with a focus on his sad passing. Ashe had to leave the game after heart surgery in the late 1970s, a development he viewed as an opportunity to spend more time with his wife and young daughter. (The film is also quite sharp in its acknowledgement that, despite Ashe's social consciousness, he harboured regressive opinions about women.)
But Ashe's second act was cut tragically short once he contracted HIV from a blood transfusion in 1983 during a second heart surgery, forcing him in 1992 to tell the world he had AIDS after rumours began circulating about his health. Resisting saccharine music swells or other emotionally manipulative techniques, Miller and Pollard are as restrained as their subject, allowing Citizen Ashe's concluding passages to be moving without succumbing to mawkishness. As a result, this is a fitting tribute to a humble pioneer, chronicling his importance during his era and his lasting legacy in ours.
Production companies: Dogwoof, Rexpix Media, Stick Figure
International sales: Dogwoof, info@dogwoof.com
Producers: Beth Duke Hubbard, Anna Godas, Rex Miller, Steven Cantor, Jamie Schutz, Jeanne Moutoussamy-Ashe
Editing: Ben Sozanski, R.A. Fedde, Lewis Rapkin
Cinematography: Rex Miller
Music: Jongnic Bontemps