Ciara Nic Chormaic presents an intimate, poetic portrait of writer Doireann Ni Ghriofa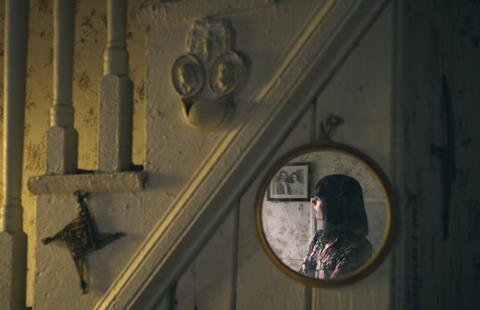 Dir: Ciara Nic Chormaic. Ireland. 2022. 72mins

Clouded Reveries (Aisling Tri Neallaibh) feels like a personal invitation to enter the world of poet, essayist and novelist Doireann Ni Ghriofa. Director Ciara Nic Chormaic's Irish-language documentary is intimate and illuminating as it sensitively chronicles Ni Ghriofa's process, interests and influences. The conversation between past and present is central to her creativity and to this sympathetic profile. Even to those unfamiliar with Ni Ghriofa's work, Clouded Reveries still casts a warm spell and should prove an ideal fit for arts channels.
There is a clear affinity between subject and filmmaker with Nic Chormaic intent on honouring Ni Ghriofa and doing right by her
Ni Ghriofa is probably best known for the much garlanded novel A Ghost In The Throat (2020) tracing the connections and parallels between the lives of 18th century Irish noblewoman Eibhlin Dubh Ni Chonaill, and the epic poem she wrote about her murdered husband, and a young mother in the present day. Ni Ghriofa believes that voices from history are never entirely silenced but find a way to communicate. That can be through buildings, objects, memories and artefacts.
Nic Chormaic (Skin + Soul) eschews a more conventional route to understanding Ni Ghriofa's life and work. There are no talking heads interviews with commentators or friends, no recourse to archive footage. Instead, Clouded Reveries unfolds entirely in the writer's own words culled from direct-to-camera reflections, fresh interviews and readings of her work in diverse locations, including a deserted beach and a city street corner. In a similar vein to the documentaries of Pat Collins, there is a clear affinity between subject and filmmaker with Nic Chormaic intent on honouring Ni Ghriofa and doing right by her.
Ni Ghriofa is filmed in what was once her beloved grandmother's house; a place full of memories and ghosts. Ni Ghriofa's ability to find the wonder in the everyday and domestic is reflected in carefully composed shots that slow the pace of the film and invite the viewer to really see what might be all too familiar. There is a poetry in the firm tick of a stately clock; the steady, metronome-like drip of a tap; scenes of abandoned toys; a washing line; old photos posed like a family reunion. There is a tenderness and respect in Nic Chromaic's approach.
We learn key biographical details along the way. Ni Ghriofa describes herself as " a quiet girl" growing up. She set her heart on becoming a dentist and following an academic life before deciding that this was not for her. There are explanations of her fascination with words and voices, and how writing is like going into a dark room and feeling your way to a light switch. Ni Ghriofa has clearly given a huge amount of thought to what she does and has a beguiling way of explaining it all.
Voices are not just human but can be found in the music of the leaves and the natural landscape. Cities are like bodies in the way they pulse with life and throb with vigour. There is a forensic quality to the way she examines and understand her life. She confides that composing a poem can often start with one word or perhaps two and then finding the echo between them. This a film that allows her to fully share the magic and wonder of her writing.
Ni Ghriofa is also a compelling interpreter of her own work. Her long, raven black hair, expressive features and lilting voice add extra dimensions to readings that are more like dramatic performances as she drifts through a forest or strides across an empty beach. She speaks warmly of the sense of mystery surrounding the life of a writer. Clouded Reveries proves to be an excellent means of unravelling some of that mystery and allowing the viewer a greater understanding of what motivates and inspires this singular voice.
Production company: Farran Films
Contact: Eclipse Pictures claire@eclipsepictures.ie
Producer: Sharon Whooley
Cinematography: Kev L Smith
Editing: Genevieve Murphy
Music: John Daly