Dir/scr/ed: kogonada. US, 2017, 101 mins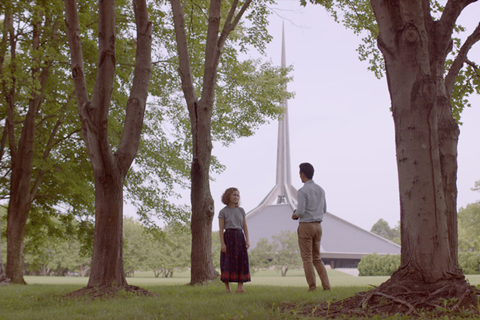 Yes, we're in the territory of the small-town coming-of-age movie – but things are bound to be a little different, given that the small town is Columbus, Indiana, noted for its unusual concentration of outstanding modernist architecture. The film finds its strikingly perceptive visual bard in Korean-American director kogonada, who brings a deeply idiosyncratic stylistic and dramatic sensibility to a story that's not just a character piece, but also a finely nuanced study of people, space and consciousness.
Columbus is a coolly executed drama, and low on event – at one point [a character] comments: "This isn't the movies. Nothing's going to happen."
An ashamedly rarefied artistic approach will make for very niche appeal, but superb ensemble acting, keen intelligence and low-key but very palpable emotional impact will make Columbus an essential visit for discerning art-house buyers and programmers. It will also provide further prestige for Columbus, Indiana itself – which could probably use some good press these days, given that the town is also known as the birthplace of US vice president Mike Pence.
Korean-born, US-based kogonada is best known for his video essays, or 'supercuts', on directors including Stanley Kubrick, but establishes his own superbly confident, calm approach in this story about people and the buildings that bring them together.
The central character is 19-year-old working-class girl Casey (Haley Lu Richardson), recently graduated and undecided about her future. Currently working as a librarian, alongside a simpatico, cerebral friend (Rory Culkin), she's in love with, and deeply knowledgeable about, the town's architecture, including buildings by Eero Saarinen, James Stewart Polshek and Deborah Berke – edifices which can properly be counted among the film's stars. Sensitive, intelligent Casey could have a career studying architecture, but feels she needs to stay at home and tend her factory worker mother (Michelle Forbes), just emerging from a troubled period.
Also in town, having flown in from Seoul, is literary translator Jin (John Cho), the middle-aged son of a visiting Korean architecture professor who has collapsed; the professor's assistant, Yale academic Eleanor (Parker Posey), is an old flame of Jin. Cooling his heels in town while Dad is in hospital, Jin spends time with Casey, listening to her wax enthusiastic about the buildings she loves, and contemplating his own current enforced limbo. The pair bond in a way that's intimate but non-sexual, rather like – in a muted, non-comic manner – the relationship between the Bill Murray and Scarlett Johansson characters in Lost in Translation.
Columbus is a coolly executed drama, and low on event – at one point, talking about his father's condition, Jin comments, "This isn't the movies. Nothing's going to happen." In fact, much does happen, although it often happens in spaces between scenes, or on characters' faces. Kogonada frequently inserts this kind of wry, unobtrusive commentary on his own mode of film-making, as when Culkin delivers an intriguing disquisition on the difference between 'attention' and 'interest' (slow cinema aficionados, discuss) and after a meal seemingly low on spice, Casey comments that the result is more subtle, as not only do you savour the food properly, you also get a better aftertaste.
Appreciative viewers of Columbus will certainly appreciate an aftertaste, as its ideas and feelings resonate beautifully – not least because of kogonada's own unconventional editing, often highlighting quasi-musical counterpoint. Elisha Christian's superbly composed cinematography makes streets and open spaces feel eerie yet warm, suggestive of a functioning utopian space. Where it might have been easy to depict the place as a chilly hard-angled ghost town à la Antonioni, we also get telling shots of another Columbus, run-down and proletarian, existing alongside the elegance. The interiors, too, are superbly shot – notably the magnificent residence seen at the start, its straight lines evoking the grids of a Mondrian painting.
Into what might have been an alienating, hard-edged setting, human warmth comes from some relishably muted performances. Posey gives her most mature, nuanced turn to date, while Cho – worlds away from the commercial terrain of his Star Trek and the Harold and Kumar appearances – economically suggests the turbulent inner life of a saturnine, emotionally contained loner.
At the centre of the film, however, is a deeply charismatic performance by Haley Lu Richardson (recently seen in feistier mode in M. Night Shyamalan's Split), whose Casey emerges though a plethora of ever-shifting emotional fine tunings, even though she speaks in the flat tone that's a trademark of contemporary US youth. But it's Richardson's face that does so much of the work – radiant, luminous, often amused, never over-expressive but always responsive.
Above all, you really believe in Casey as a kind of character that's only too rare in contemporary US cinema – someone who has not just an emotional life, but an intellectual one too.
Production companies: Superlative Films, Depth of Field, Nonetheless Productions, Inc.
International sales: Visit Films, info@visitfilms.com
Producers: Danielle Renfrew Behrens, Chris Weitz, Andrew Boyd, Giulia Caruso, Andrew Miano, Ki Jin Kim
Cinematography: Elisha Christian
Production designer: Diana Rice
Music: Hammock
Main cast: John Cho, Parker Posey, Haley Lu Richardson, Michelle Forbes, Rory Culkin