The wife and times of a 9/11 terrorist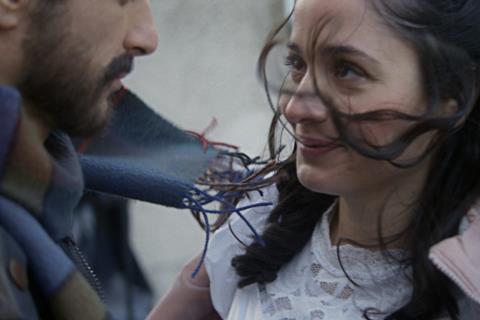 Dir: Anna Zohra Berrached. Germany/France, 2021. 118 mins.
Copilot is a fictionalised, forensically-researched-yet-also-improvised account of the relationship between a 9/11 terrorist and his wife. Set in Germany over the course of five years and chapters, it is clearly based on the United 93 pilot, Lebanon-born Ziad Jarrah (renamed Saeed and played by Roger Azar) and his Turkish girlfriend Aysel Sengun, now called Asli (Canan Kir). It's an intriguing premise, directed by 24 Weeks' Anna Zohra Berrached as a story experienced entirely through the eyes of Asli, and certainly more daring in its presentation of such a passive protagonist than its treatment of 9/11. Fundamentalism is only seen through the shadows that Asli does not want to acknowledge.
The sensitive treatment of an intelligent woman cowed by traditions and love into knowing self-deception
The sensitive treatment of an intelligent woman cowed by traditions and love into knowing self-deception is the strongest part of Berrached's film, which traces how Asli is culturally trained to not acknowledge difficult matters in the face of personal loyalty. The film often achieves a lyrical beauty, as her love for Saeed follows a twisting path; sometimes the film soars, not the least with its haunting final image. Yet while it is fresh and also perhaps laudable to try tell the story through Asli's eyes, the result is that Saeed becomes a cipher, his very religion, not to mention radicalisation, all taking place offscreen. Copilot, therefore, reacts, much like its mousy heroine. It can be a frustrating experience.
Two strong central performances and the topical subject matter should see Copilot gain attention through wider festival exposure, and as an intriguing portrait of Germany through a time of massive cultural transition and integration, East and West, immigrants and natives. Berrached's follow-up to Berlinale Competition title 24 Weeks is certainly illuminating about that time. Canan Kir is a striking talent as young Asli, first seen encountering Saeed at a seaside fairground, and meeting him again later at a drink-fuelled, high-spirited university party. The location is never specified, but presumably based around Greifswald, which Jarrah and Sengun attended.
Instantly attracted and sexually compatible, Saeed, who has had a secular upbringing, and Asli, who is also not religious, convincingly play a young couple wholly in love. He's there to study dentistry, even though he claims that "people in Germany don't smile at all – they don't need dentists". His first love, ominously, is flying. Asli is a smart research scientist, but cowed by a mother who has a visceral cultural hatred of Arabs. She agrees to marry Saeed yet tells her mother they have broken up – but that's just the first lie that they're about to live with. By the third year of their relationship, he's spending a lot of time in Hamburg with bearded friends discussing what is haram, and she's defending her husband's increasingly extremist views to friends and his family. "You sound like a fanatic!" she says. "Why are you off to Yemen?". His response: "Trust me."
Much of what follows is self-denial and obfuscation: while it may be frustrating as a viewer to witness, it is worth remembering this is precisely how the world got to the point of 9/11. There are no answers here, no route to dealing with the past except for the knowledge that it will always remain with Asli.
Shot over five months, the technical fruits of such labour are clearly onscreen. The fine, naturalistic performances don't just extend to Saeed and Asli - a sequence with his angry family in their affluent surroundings in Beirut is a standout incorporating hitherto much-missed elements of anger and frustration. Christopher Aoun's subtle work with time and place occasionally soars into more dramatic images, but retreats to the reality of everyday life in Germany at that time. Copilot never really allows us an understanding of what took Saeed and Asli through five years of secrets and lies – some sex, some playacting, and very little in common, less than she believed, although the viewer is always in on just how little.
Production company: Razor Film
International sales: The Match Factory, info@matchfactory.de
Producers: Gerhard Mexiner, Roman Paul, Christiane Sommer
Screenplay: Stefanie Misrahi
Cinematography: Christopher Aoun
Production design: Janina Schimmelbauer
Editing: Denys Darahan
Music: Evgueni Galperine, Sacha Galperine
Main cast: Canan Kir, Roger Azar, Ozay Fecht, Jana Julia Roth, Nicolas Chaoui, Darina Al Joundi