A former young offender finds redemption through religion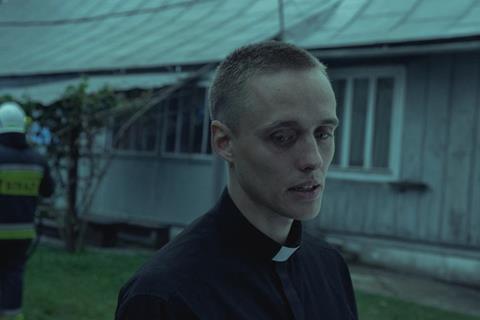 Dir: Jan Komasa. Poland, France. 2019. 116mins
A young offender takes desperate measures to transcend the violence of his past in Corpus Christi. The latest feature from Warsaw '44 director Jan Komasa begins as a Polish cousin of Scum before developing into an engrossing exploration of faith, second chances and the possibility of atonement. Komasa's confident handling of thought-provoking material should make a commercial impact domestically and travel extensively after its world premiere in Venice Days.
Bartosz Bielenia's committed performance and Komasa's assured storytelling convince us that God can work in mysterious ways
Twenty year-old Daniel (Bartosz Bielenia) is incarcerated in a brutal young offenders institution. He has developed a deep religious faith and sports the beatific expressions of a true believer as he sings The Lord's Prayer. He is impressed by Father Tomasz (Lucasz Simlat), who informs him that his status as a convicted felon means that he can never be accepted into the priesthood. Tomasz reassures him that " each of us is a priest of God." It is advice that he takes to heart.
There is an economy and energy to the film's early scenes that immediately place us in Daniel's shoes. We know he has been complicit in the injustices at the offenders institute. When he is released, his immediate instinct is to down shots, snort coke and have sex with the first available woman. We also gain the sense there is a more spiritual side to him. Komasa and cinematographer Piotr Sobocinski Jr constantly bathe him in a softening light, and Bielenia's cadaverous features and intense eyes would make him a perfect choice for traditional depictions of the Christ.
Daniel's first taste of employment is at a sawmill in the countryside. When he arrives in the area, his claim to be a priest – he calls himself Father Tomasz – is taken at face value. The kindliness shown towards him is reminiscent of Jean Valjean's fate in Les Miserables. When the elderly local priest is indisposed, Daniel is asked to stay for a few days to take mass and hear confessions. He is so pale and green at his first mass that he looks like he might pass out. A little help from Google about the church's rules and rituals keeps him on track.
We are told that the film is based on true events, but Corpus Christi still requires some suspension of disbelief to maintain its hold. Does nobody think to check Daniel's claims? Is nobody desperately trying to figure out why he did not arrive at the local sawmill? How is he being paid? All of these issues are willingly set aside because of the way his parishioners hunger to believe in this great pretender. A local tragedy has left the community angry and scarred with grief; the compassion shown by unorthodox " Father Tomasz" might just be enough to heal them.
There is always the suspicion that this will not end well, but Daniel is such a sympathetic character that we want him to find a way to make everything work. Bielenia captures a vivid sense of the emotions that Daniel experiences from the alertness of a trapped animal at the offenders institution to the euphoria that seems to surge through him after the delivery of a rousing sermon. His committed performance and Komasa's assured storytelling convince us that God can work in mysterious ways.
Production companies: Aurum Film, Canal+Polska, WFS Walter Film Studio.
International sales: New Europe Sales jan@neweuropefilmsales.com
Producers: Leszek Bodzak, Aneta Cebula-Hickinbotham
Screenplay: Mateusz Pacewicz
Production design: Marek Zawierucha
Editing: Przemysław Chruścielewski
Cinematography: Piotr Sobociński Jr
Music: Evgueni Galperine, Sacha Galperine
Main cast: Bartosz Bielenia, Eliza Rycembel, Aleksandra Konieczna, Tomasz Ziętek