Woody Allen finds a certain je ne sais quoi with this appealing Paris-set comedy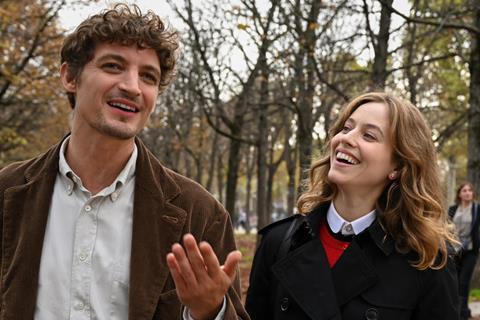 Dir. Woody Allen. France/UK. 2023. 96mins
With Woody Allen's name long under a shadow, his defenders have been hard pushed to argue that, despite it all, his talent has remained undimmed. Most of Allen's recent films (the fine Blue Jasmine excepted) have ranged from the acceptably middling (Café Society, Irrational Man) to the awful (Wonder Wheel, A Rainy Day in New York), with little sense that Allen was interested in finding new ideas. Yet, with Coup de Chance, Allen has done something that is likely to surprise everyone. He has not exactly found something new, but at least found a new way to do it – and in French.
Has more spirit and joie de vivre than anything Allen has done in a while
Coup de Chance is not a major reinvention, but it does have more spirit and joie de vivre than anything Allen has done in a while. A sharp, lively cast shows that he is actually rather good at directing in French, and the stars seem accordingly to be having a good time in this light comedy that takes an unexpectedly dark turn. Whether Allen's commercial fortunes will get a lift is debatable, but Coup de Chance is likely to find an appreciate audience among older crowds, not least in France – where he will no doubt be forgiven some of the more touristic clichés.
Still the film is less egregiously postcardy than, say, Vicky Cristina Barcelona, and it does convincingly evoke the mood and gossipy intrigues of moneyed, snobbish Paris society. It begins in a long take on a Paris street, with two young French people and former school-mates bumping into each other. She is Fanny (Lou de Laâge), who works in a blue-chip auction house; he is Alain (Niels Schneider), divorced, like her, and in Paris to write a novel. Alain reveals that he was once crazily in love with Fanny; she's flattered and, it seems, agreeably flustered. But she is married to Jean (Melvil Poupaud), a wealthy charmer who works obscurely in finance, and around whom dark rumours circulate.
Increasingly feeling like a pampered trophy wife, and enduring an endless social round among Jean's circle of dreary haute bourgeoisie, Fanny finds herself drawn to Alain, a corduroy-jacketed dreamer; before long, they are having an affair in his (supposedly bohemian) rented apartment. What Fanny has not realised is that her husband, behind his adoring attentions, is a silky sociopath whose jealous streak will mean bad news for the couple. Fanny's mother Camille (Valerie Lemercier) of course adores Jean, but when she also has her doubts, the plot thickens. That it thickens in a somewhat schematic way does not matter too much because having started from a very simple premise, Allen's script goes in a bracingly different direction – his frothy romcom-of-manners becoming something darker, with echoes of the London-set Match Point (one of Allen's better-received films of this century).
The occasional reference to writers like Mallarmé, Jacques Prévert and Jean Anouilh doesn't necessarily mean that Allen knows French culture any more deeply than he did the Spanish, Italian or Basque worlds in any of his other travelogue movie. But the film is adeptly cast, peopled with actors whose presence is enough to convincingly evoke a familiar cinematic milieu – with small roles for Elsa Zylberstein, as a party gossip, and art-house dependable Grégory Gadebois as a private detective. For its first stretch, Coup de Chance oddly comes across as Allen's take on the kind of bagatelles that French directors have often created when attempting an Allen-esque mode (Emmanuel Mouret and Louis Garrel come to mind). But once the film takes its left turn, we are aware that Allen is very much on his own territory and in control of the reins.
The script somewhat heavily works the themes of luck, chance, destiny and irony, with characters philosophising at the drop of a baguette. But Allen keeps these themes simmering right up to an ending that arguably brings the biggest laugh provided by his work in years. There are flaws – notably an ugly characterisation of two Romanian heavies as a kind of subhuman underclass – and the glossy register of shiny-vitrine chic can be a little stifling. But DoP Vittorio Storaro's cultivation of artificially vivid colours, so distractingly eccentric in Allen's 2017 Wonder Wheel, works well here, playing off intense autumnal golds and a chilly lilac-tinged blue to intriguing effect.
The lead quartet is nicely cast, with comedy stalwart Lemercier coming increasingly to the fore in a briskly animated role. Canada's Niels Schneider, known for his work with Xavier Dolan, Catherine Corsini and Justine Triet, is also winning as the puppyish, romantic-minded litterateur (like so many actors in Allen films, he oddly incorporates a few nervy Allen mannerisms into his delivery, which comes off better in French than you would imagine). As Fanny, Lou de Laâge – an International Emmy winner for Mélanie Laurent's The Mad Women's Ball (2021) – radiates an alert, tender energy that gets engaging mileage from an essentially slender ingénue role. But the most fun is had by French cinema's one-time boy wonder Melvil Poupaud, now hitting 50 and in the right bracket to play simmeringly baleful older guys; his performance here, all but curling invisible moustaches, suggests a nice game of complicity with the audience, who might be inspired to boo at certain key shots.
Rest assured, though, that Allen very much knows what he's doing in these broad strokes. And while Coup de Chance is a lightweight film that's hardly up to vintage standards, the director does seem to have found new vigour – as signalled by a sprightly jazz soundtrack that's a little more modish (Cannonball Adderley, Herbie Hancock, Milt Jackson) than his usual musical choices, even with splashes of electric (yes, electric) piano in the opening credits.
Production company: Gravier Productions
International sales: West End Films Limited maya@westendfilms.com
Producers: Letty Aronson, Erika Aronson
Screenplay: Woody Allen
Cinematography: Vittorio Storaro
Editing: Alisa Lepselter
Production designer: Véronique Melery
Main cast: Lou de Laâge, Valérie Lemercier, Melvil Poupaud, Niels Schneider