Antonio Mendez Esparza follows in the footsteps of Frederick Wiseman with this powerful documentary set inside a Florida family court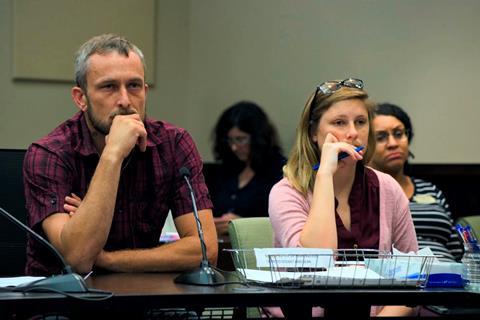 Dir. Antonio Mendez Esparza. Spain/US. 2020. 115 minutes.
Antonio Mendez Esparza, a Spanish director working and teaching in Florida, quietly established himself as a circumspect and highly effective navigator of life in his adopted home with his last film, 2017's Life And Nothing More (his first feature, Aqui y Alla, which dealt with a Mexican immigrant returning home, won the Critics Week prize at Cannes). Life was so quietly observed, it could have been a documentary: Courtroom 3H is a documentary, the director's first, which is shot with a still camera but is emotionally turbulent. Plunging the viewer straight into Tallahassee's family court, this questioning, challenging film will travel to wherever fine and nuanced cinema is celebrated.
The stakes could not be higher: the loss of a child versus the protection of a minor
Courtroom 3H was shot in 30 days, although it feels like a river of emotion with no appreciable beginning or end. Mendez-Esparza positions himself and his crew – largely comprised of students – as a fly on the wall unit with no editorial hand, but in the edit has crafted a thoughtful film which satisfies in the round. It starts with a torrent of scenes involving parents who have been summoned to appear before a judge, accused of abuse, abandonment, or negligence. These moments are so intimate, so naked, voyeuristic, it feels like an invasion of privacy. Florida allows access to family proceedings, but many viewers will watch from countries where these are always sealed. How to justify witnessing such raw grief, such wrecked lives? Why did the participants agree to be filmed?
Yet all are anonymous in front of the cameras in the Tallahassee Unified Family Court, whose goal is to bring relatives back together. Childrens' faces are blurred. The public hearings form the first third of Mendez Esparza's documentary, while two separate, closed trials conclude the piece. Each person in it, from a heartbroken mother, to a loving father who willingly gives his son up for adoption in the hopes of a better life, to those who have beaten their children, to the children who are desperate to see their abusers, makes us examine how we individually feel about the most vulnerable in our society, their protection and neglect, versus the rights of the parents to help and a second chance. Each case has the same, kindly judge, although we can see that, like most judges, he reacts best to deference. The viewer too, will want to sit in judgement, although that is never made easy.
The two trials would normally be closed, but the judge allowed Mendez-Esparza access. And in each, you see the court-appointed family attorneys become more and more emotionally involved: a long-haired, shaggy biker-like advocate fights like a tiger for his client, while an attorney who initially seems more emotionally detatched crumbles in the face of a mother's desperation. The stakes could not be higher: the loss of a child versus the protection of a minor. In each case, it seems like the scales have fallen on the wrong side of natural justice, but how can we know? Like the very best documentarians, and Frederick Wiseman would be an obvious comparison, Mendez-Esparza invites the viewer to judge only to realise how impossible it is. This film isn't an exercise in access, it's a challenge to preconceptions.
A determinedly buttoned-down, no-frills affair, Courtroom 3H hums along to the clacking of transcription keyboards, to lawyers tapping on their cellphones or their laptops, and the doors swinging open as parents, social services and prospective adopters come in and out of the room. And also, at times, to the sobbing desperation of those hopeful for a better outcome for themselves and their children, even if that isn't always going to be the same thing.
Production companies: Aqui y Alla Films, 9AM Media Lab
International sales: Feel Sales, info@feelsales.com
Producers: Pedro Hernandez Santos, Alvaro Portanet Hernandez, Amadeo Hernandez Bueno, Rebecca Villar, Ana Castanosa
Cinematography: Barbu Balasoiu, Santiago Oviedo
Editing: Santiago Oviedo, Antonio Mendez Esparza