A slippery, challenging debut marks Francseco Rizzi as a name to watch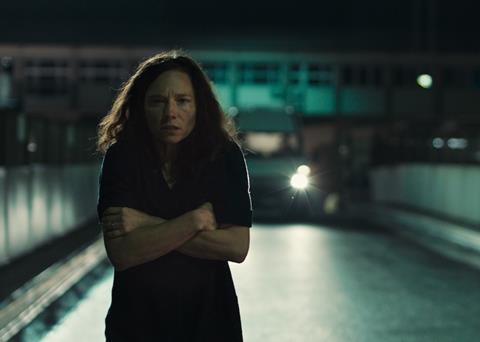 Dir Francesco Rizzi. Switzerland. 2018. 90 mins
Slippery questions of identity are at the heart of this teasingly enigmatic Italian-language feature debut from Francesco Rizzi. Vinicio Marchioni and Sabine Timoteo impress as a pair of strangers who are drawn to each other, despite the psychological walls they have built around themselves. A second act reveal is elegantly handled in a head-scratcher of a story which is satisfyingly challenging and genuinely tricky to second guess.
The title, Cronofobia, means a fear of the passing of time
Cronofobia screens at Black Nights Film Festival following its world premiere at Zurich and programmers of similar events going forward should eye this stylish mystery with interest, heralding as it does a promising new directing talent in Rizzi, who also co-wrote the picture with Daniela Gambaro. Theatrically, it could best connect with a sophisticated art house audience which will not be put off by the film's steadfast refusal to explain or to spoonfeed a neat conclusion.
Michael (Marchioni) cuts a serious, solitary figure as he travels around provincial Switzerland in his anonymous white van. His encounters with other people are formal, arms-length affairs; the distance between him and others is enhanced by the fact that Michael frequently hides behind fake facial hair and an assumed identity. The film plays its cards close to its chest, only gradually revealing Michael's motives for this casual deception. Equally cryptic is his relationship with Anna (Timoteo, excellent), the obviously troubled young woman on whom Michael is spying. It should be an act of threat, this inscrutable stare locked onto an unwitting female figure. But there is something broken in his countenance, some kind of unreadable need in his eyes.
Anna, meanwhile, is equally unmoored from the people around her. Having lost a loved one, she finds herself suspended, unable to move on. The title, Cronofobia, means a fear of the passing of time. By day, she works as a hairdresser, by night she holes up in a glass box of a house, hiding behind the metal security fencing which keeps at bay the well-meaning but unwelcome parents who arrive uninvited to offer support. It's at this moment, when Anna is rebuffing their help, that she and Michael are flung together. Unaware that he has been following her, she climbs into the passenger seat of his van and tells him to drive away from the paralysing pity of her parents, commandeering her stalker as a getaway driver. In the van, sitting next to the man who watches her from afar, she falls asleep, finally overcoming the insomnia that plagues her.
When Anna suggests that Michael drive her again, another evening, it is, she says, so that she can sleep once more. But her requirements and his are more complicated than we can first anticipate, and the needs of both are tied into the secret that Michael carries with him. It's a secret which triggers needling whines of panicky tinnitus (nicely rendered in the film's interestingly textured sound design) and jerks him out of his sleep with flashing images of bloodied bodies.
The initial bubbling, electronic score gives way to a more melodic approach as the film progresses. But the most affecting element of the soundtrack is a reading of Charles Bukowski's poem, 'Nirvana', which chimes beautifully with the film's themes of transient yet profound connections.
Production company/international sales: Imagofilm Lugano, info@imagofilm.ch
Producers: Villi Hermann, Michela Pini
Screenplay: Daniela Gambaro, Francesco Rizzi
Editing: Giuseppe Trepiccione
Cinematography: Simon Guy Faessler
Production design: Georg Bringolf
Music: Zeno Gabaglio
Main cast: Vinicio Marchioni, Sabine Timoteo, Leonardo Nigro, Giorgia Salari, Maruska Manea