Five women find themselves facing past traumas on a weekend retreat in Berkley Brady's solid debut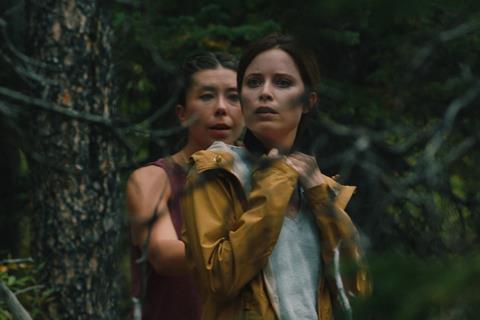 Dir/scr: Berkley Brady. Canada. 2022. 85mins
In the vast wilderness of the Canadian Rockies, a group of women embark on a weekend retreat in an attempt to exorcise past traumas, but soon find themselves facing more than just their personal demons. The feature debut of Canadian short filmmaker Berkley Brady begins as an intriguing study of the arduous journey of psychological recovery, but soon succumbs to familiar "deep dark woods" horror tropes. Nevertheless, its mix of spiritualism, survivalism and genuine scares make for solid entertainment.
Its always a thrill to see a genre film populated by robust female characters — in this particular case, Indigenous women
Those qualities should see Dark Nature — TIFF's selection for this year's Cannes Fantastic 7 genre showcase — travel to other festivals following its Fantasia premiere, particularly those with a focus on genre or Indigenous works (Brady is from Canada's Indigenous Métis group, and the cast also includes a number of Métis individuals). While its stunning landscapes would benefit from being seen on a big screen, it's most likely to find an appreciative audience via a streaming platform.
A well-handled opening sequence of domestic abuse makes it immediately clear why, six months after those terrible events, the ironically-named Joy (Hannah Emily Anderson) is in desperate need of help; even if she won't admit it. Best friend Carmen (Madison Walsh), who is clearly feeling the strain of trying to help the unresponsive Joy, insists she joins her and another woman, Tara (Helen Belay), on a weekend isolationist retreat in the mountains. It's led by the somewhat unconventional Doctor Dunnley (Kyra Harper); also along for the ride is troubled former soldier Shaina (Roseanne Supernault).
Each of these women is carrying an emotional load far heavier than their backpacks and, as they venture deeper into the woods — despite the ominous warning signs of toxic rivers and blood-stained personal effects littering the path — the cracks start to show. When they happen upon an ancient site where, Dr Dunnley tells them, people used to make offerings to spirits, Joy suffers intense flashbacks and becomes convinced her violent ex-partner is following them. Initially sceptical, soon the other women are suffering the same hallucinogenic trips into their past and realise they may be trapped in a very real nightmare.
It's at this point, when the threat moves from paranoid delusion to something altogether more flesh and blood, that Dark Nature begins to feel rather more formulaic. Any connoisseur of survivalist horror — particularly those films set in the back of beyond, such as The Revenant or The Ritual — will know these beats well; the drone shots of menacing forests, the whisperings in the wind, the looming shapes among the trees, the yawning mouth of a cave in which unimaginable horrors likely reside.
Yet it's always a thrill to see a genre film populated by robust female characters — in this particular case, Indigenous women — and this is undoubtedly one of Dark Nature's greatest strengths. It's a shame, then, that the screenplay doesn't delve deeply into Indigenous issues; there are mentions of the sacredness of the land, and the power of uneasy spirits, but these are overshadowed by the women's real-world fears, and a denouement that could have just as easily played out in the backwoods of America or the Australian outback.
Nevertheless, Dark Nature delivers as an involving wilderness horror, buoyed by some committed performances, a clearly grueling location shoot captured in exquisite detail by cinematographer Jaryl Lim and excellent physical effects which effectively ratchet up the tension. Of particular note is the film's immersive sound design, which deploys the sounds of nature to an unsettling effect.
Production companies: Peterson Polaris, Nika Productions
International sales: Epic Pictures
Producer: Michael Peterson, Berkley Brady
Editing: David Hiatt
Cinematography: Jaryl Lim
Music: Ghostkeeper
Main cast: Hannah Emily Anderson, Madison Walsh, Helen Belay, Kyra Harper, Roseanne Supernault