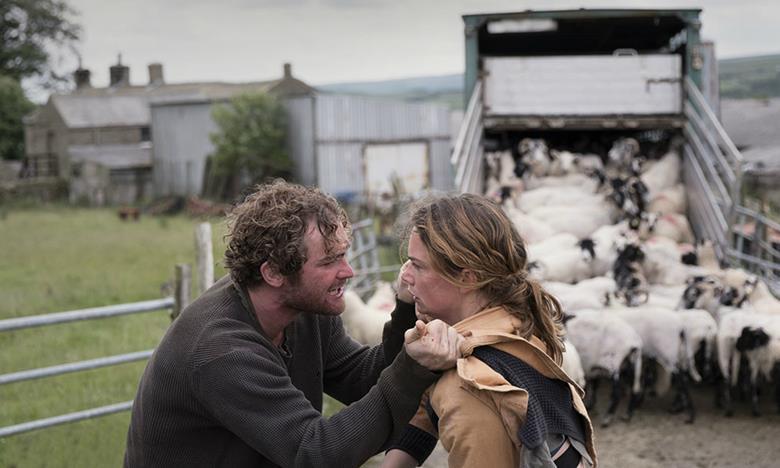 Dir/scr: Clio Barnard. UK, 2017, 89 mins.
A close-quarters drama from writer-director Clio Barnard (The Selfish Giant, The Arbor), Dark River is a precise, penetrating story of casual farm labourer Alice (Ruth Wilson), who has somehow survived a childhood of sexual abuse at the hands of her father (Sean Bean, in flashback).
This is a story told with a strong female perspective, and Ruth Wilson brings fresh insights to the story of a survivor of abuse
It has been 15 years since Alice fled their rundown rural farmhouse, yet, when he dies, she opts to return to confront the past and a complicated relationship with a brother who can terrify her. Rats roam the barns, fences are in disrepair, the sheep go hungry. Still, Alice wants to make it good, fix it all up; her bright eyes surge with hope against the odds.
Premiering in Toronto's Platform section, Dark River should enjoy healthily festival exposure as Barnard's reputation continues to grow. A career-best performance from Ruth Wilson will help this drama resonate, although commercial prospects are hard to call for the third British farming drama this year, after God's Own Country and The Levelling. Softly reminiscent of the Scotland-based Shell in its difficult subject matter, and inspired by Rose Tremain's novel Trespass, Dark River is distinguished by superior film-making and admirable command of tone and pacing. Once again, Barnard delivers an intimate take on a difficult subject, raising anticipation for her future work should she decide to scale up.
The writer/director sets her highly-charged story against the wide vistas of rural Yorkshire, where weather batters and burnishes the landscape and the dank, squalid interiors of a run-down farm are haunted by the past. The director confidently builds up tension – the flickering images of days gone by interact with the quietly churning score – and draws quiet believability from Wilson as the hesitant, frightened, but tough survivor.
Slim, at 89 minutes, Dark River (the title of a Ted Hughes poem) sets off down a classical narrative path – the death of a father unlocking the action – yet feathers in the narrative slowly and mysteriously. Although the abuse is made clear, it's never established what happened to make Alice leave her brother Joe (Mark Stanley) behind 15 years ago, or the precise nature of their relationship then. It's also not easy to predict how she will behave now. At times she's defiant, but often Alice is simply scared, impelled to seize on her father's promise of the land as the chance to make good. Flashbacks, hooked on to underwater sequences, fade in and out and Alice is still too terrified to sleep in the farmhouse, opting for a tin shack instead.
Joe, meanwhile, is volatile and given to alcoholic rages. He's a bad farmer, often absent to drive a lorry for his second job. Alice applies for the farm tenancy, but so does Matty, as they come to blows over the right way to farm the land. He threatens to convict her, while a crooked land agent is probably one of the least convincing elements of the piece, yet brings Dark River to a believable denouement.
Alice is proud of her skills as a sheep shearer, and scenes with the livestock help bring life and colour to the gloom, while Matty's impassioned speech about biodiversity speaks volumes about letting matters lie. Adriano Goldman's camera is intuitive and lithe, while Harry Escott's score throbs (PJ Harvey's 'An Acre Of Land' tops and tails the piece). This is a story told with a strong female perspective, with Wilson bringing fresh insights to the story of a survivor of abuse. This fine actress should certainly be noticed when it comes to British awards.
Production companies: Moonspun Films/Left Bank Pictures
International sales: Protagonist, info@protagonistpictures.com
Producer: Tracy O'Riordan
Executive producers: Lila Rawlings, Suzanne Mackie, Andy Harries, Lizzie Francke, Rose Garnett, Polly Stokes, Hugo Heppell, Meroe Candy.
Screenplay: Clio Barnard
Cinematography: Adriano Goldman
Editors: Nick Fenton, Luke Dunkley
Production design: Helen Scott
Main cast: Ruth Wilson, Mark Stanley, Shane Attwooll, Dean Andrews, Mike Noble, Aiden McCullough, Joe Dempsie, Sean Bean