Todd Haynes brings the decades-long lawsuit against chemical giant DuPont to the screen with signature style.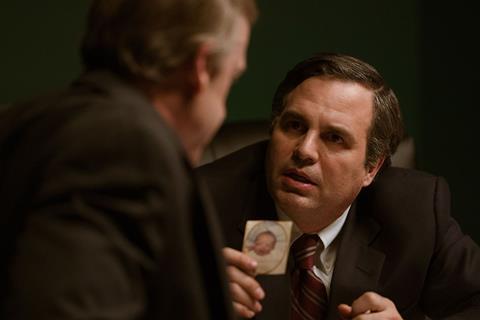 Dir. Todd Haynes. US. 2019. 126mins.
The finer details of the decades-long lawsuit between chemical giant DuPont and the people of Parkersburg, West Virginia – who were knowingly poisoned for decades – may have retreated to recent memory, but the consequences of the case will live on forever. Dark Waters, a sober drama about a single man who doggedly exposed unconscionable corruption and negligence, certainly follows in the thematic footsteps of All The Presidents Men, Silkwood or The Insider (all worthy Oscar winners). But Todd Haynes' engrossing film also wants audiences to understand that, in this situation, they must be the watchdogs; that lawyer Robert Bilott (Mark Ruffalo) is every righteous person who takes aim at giants to great personal cost. When society eats away at the planet, say Haynes and Ruffalo, only we can stop the rot. That particular message lands Dark Waters in the middle of the current zeitgeist, where desperation over the planet's heedless destruction is rife.
This quietly galvanising film harks back to the powerful social issue dramas of the 1970s
With nods to everything from the aforementioned All The President's Men – two scenes in an empty car-park lot serve to remind us that nothing really changes – to The Parallax View, Dark Waters should play strongly to upmarket, socially-conscious audiences who will also give it a long life on streaming services. A consistently tight legal drama which brings to mind the very best of its kind, the film also fields notable support from Tim Robbins, Bill Pullman and Anne Hathaway, working from a layered screenplay which delivers a story to believe in and people to care – and fear – for.
Haynes' signature visual flourishes may be notably absent in this classic film, a showcase for Ruffalo's low-key burn as an actor (he also co-produces). Yet with very few bells and whistles – even significant plot breakthroughs are dealt with a breath-holding restraint – Dark Waters is a palpably well-made feature. In fact, the subtle brilliance of its mise-en-scene, from 1980s Ohio boardrooms and rubber-chicken dinners to all-black wait staff and the casual discrimination against women, beds the story in the awful truth.
Bilott's story is so classical, he'd be an archetype if this wasn't all carefully fact-based. In 1998, he's a recently-minted partner at the Taft Stettinius & Hollister law firm (specialty: Big Chem) in Cincinnati, Ohio, and first comes across the case which will dominate the next 18 years of his life when his Parkersburg grandmother sends a neighbouring farmer to his office. (Production design, by Hannah Beacher, effectively recreates the upmarket yet decidedly dingy colours of 1980s corporate life, sealing Bilott and his partners in a brown business box).
Bilott, with a glamorous, ambitious wife (Hathaway), and a new baby, goes back to his family's roots – which mark him out as a "hick" – to investigate, and sees things on the farm he cannot forget. (An opening sequence, set in 1975, has already set a Silkwood chill in the air.) Reluctantly supported by his boss, Tom Terp (Robbins), Bilott sets out with a small challenge to DuPont; but even that, in the snug, clubby, self-regulating world of petrochemicals in the 1980s, is perceived badly as Bilott eventually uses his inside knowledge at Taft to pursue the corporation. (Corporate motto: "Better Living Through Chemicals"). Even the residents of Parkersburg, riddled with cancers and deformities, will turn against him in a town where the company is by far the largest employer.
As the case proceeds, Haynes shows effortlessly and incrementally why his ability with nuanced storytelling (Far From Heaven, Carol, Wonderstruck) has won him such acclaim. Neither has he lost his ability to tell a woman's story, even when the film is ostensibly about a man. Anne Hathaway's well-drawn, conflicted wife may travel a predictable path, but Haynes also illustrates the status of women by their utter omission and neglect– whether that be a pregnant lawyer aiming for promotion who is constantly missing from the boardroom, or a woman whose hysterectomy was necessitated by her prolonged exposure to Teflon during its manufacture. Black waiters quietly serve, yet the main partner at Taft who opposes Bilott's burgeoning case is also a minority hire.
It won't escape viewers' attention that this quietly galvanising film – in subject, tone, and treatment – harks back to the powerful social issue dramas of the 1970s, another time when the world felt besieged by corruption and abuse of power. We may have come full circle. One thing's for certain: this is the most resounding defence of the legal industry since Atticus Finch, and that's before a much-missed Bill Pullman comes on to showboat his way around a West Virginia courtroom in a way that almost begs a ripple of applause from the gallery.
Production companies: Participant, Willi Hill, Killer Content
International distribution: Focus Features
Producers: Mark Ruffalo, Christine Vachon, Pamela Koffler
Screenplay: Mario Correa and Matthew Michael Carnahan, from Nathaniel Rich's 2016 The New York Times Magazine article
Production design: Hannah Beachler
Cinematography: Edward Lachman
Editing: Affonso Goncalves
Music: Marcelo Zarvos
Main cast: Mark Ruffalo, Anne Hathaway, Tim Robbins, Bill Pullman, Victor Garber, Mare Winningham, William Jackson Harper, Louisa Krause