Scissors at the ready as stylists at a rundown Dublin hairdressing salon get serious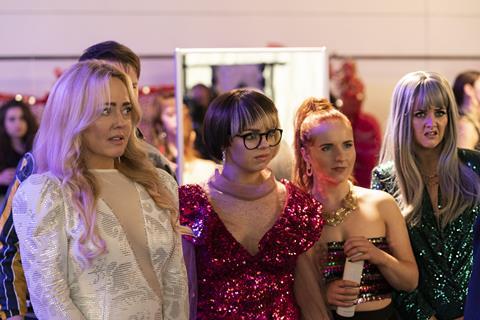 Dir/scr Rachel Carey. Republic of Ireland. 2021. 90 mins.
A broad, colourful splash of local, low-budget humour, Deadly Cuts is set in an inner-city, working class Dublin salon, where stylists battle the local gang to make their way to the finals of a prestigious national hairdressing competition. Cheerful and brash, it has been picked up by Wild Card for Irish and UK release prior to its premiere as the closing film of the Dublin International Film Festival, presumably in the hopes of a Young Offenders repeat. While its scissors aren't quite as sharp as that Cork-set comedy, there seems little doubt that Deadly Cuts is set for Irish success.
Eternal outings on national TV at Christmas as much as a given as the need for a regular trim.
Larger-than-life performances from Aidan McArdle as the local villainous politician and Pauline McLynn (the infamous Mrs Doyle from Father Ted) as a judge give Deadly Cuts a pantomime appeal, and it's possible to see further iterations for this clever little concept. Every country has a salon like 'Deadly Cuts', after all, and throwing a murderous, Alex De La Iglesia-style Witching And Bitching element into the narrative adds a dark potential that director/screenwriter Rachel Carey doesn't capitalise enough on. Others might.
The film is led by another recognisable face: Angeline Ball, a star of 1991's The Commitments. She plays Michelle, the owner of Deadly Cuts, a cheap salon in the middle of deprived Piglinstown, an area untouched by the wand of gentrification and ruled by the thuggish Deano (Ian Lloyd Anderson) and his gang. Pink prosecco and cheap blue gin cocktails are the order of the day in this sparkly-coloured piece, as lead stylist Stacey (the appealing Erica Roe) plans her entry to the highly-amusing Ah-Hair national hairdressing competition run by the outsized D'Logan Doyle (Louis Lovett).
That's before Deano trashes the business when Michelle refuses to pay him off (graffiti includes 'Cut Me Bollix'), and smarmy politician Darryl Flynn (McArdle) slaps the salon with a compulsory purchase order to make way for luxury apartments. The community comes together to try save the area by sending the salon stylists off to the national finals, as you do, but Michelle is a hairdresser with a history, and there's the small matter of which meat precisely is burning in the incinerator of the local butcher shop.
Based around Dublin's Finglas area and featuring some of its locals, Deadly Cuts makes up for in spirit what it clearly lacks in budget. Although it's her debut, Carey is savvy enough to appreciate that a film like this needs to race from gag to gag at the speed of light, never pausing to see if anything landed. Some of the dialogue is hard to pick up, being both highly coloured with local slang and occasionally swallowed, and it's all a bit hit and miss, but still easy to be swept up in the momentum. A particular highlight is watching Victoria Smurfit as a bitchy elite hairdresser with a Botox-frozen face intoning "the highlighted circle must be protected!".
Deadly is a word which doubles for amazing in Irish slang. It's not quite that, but the entire cast here commits to Carey, and it is welcome to see a roster of older female actors working with their younger counterparts. Men are largely figures of fun, which is perhaps to be expected from a film set around a hairdressing salon. Undoubtedly Deadly Cuts will work best in a packed Dublin cinema with a Friday night prosecco special, and it's to be hoped that's where it is allowed to land. It even has a singalong ending. Eternal outings on national TV at Christmas are as much as a given as the need for a regular trim.
Production company/International sales: O'Sullivan Productions, auveen@world2000.ie
Producers: Auveen Lush, Ciara Appelbe, Liz Gill
Screenplay: Rachel Carey
Cinematography: JJ Rolfe
Production design: Tamara Conboy
Editing: Gavin Buckley, John Walters
Music: Ray Harman
Main cast: Aidan McArdle, Angeline Ball, Ericka Roe, Lauren Larkin, Pauline McLynn, Shauna Higgins, Victoria Smurfit