Mohamed Ben Attia seals his reputation with this finely-drawn portrait of a father and his troubled son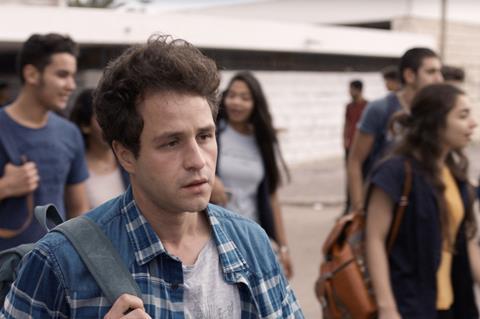 Dir. Mohamed Ben Attia. Tunisia/Belgium/France/Qatar. 2018. 100 mins.
A superbly controlled intimate family drama rooted in contemporary issues, Dear Son is also an acute character study that showcases a masterly, eloquently introverted performance from little-known veteran Mohamed Dhrif, a former TV actor getting the role of a lifetime.
Mohamed Dhrif gives a performance of finely modulated dignity, integrity and depth
Tunisian writer-director Mohamed Ben Attia made a modest mark with his 2016 debut feature Hedi – 'modest' being the word for a director whose stylistic reserve and emotional acuity pay off in resonance and insight. Hedi, about a young Tunisian man quietly challenging social expectation, was a rare glimpse of secular, sexually open life in the Arab world, and there's something of that perspective in his follow-up Dear Son, although the film eventually moves into territory more familiar from headline news about Islamic nations.
Dhrif plays Riadh, an elderly forklift operator at the Tunis dock, who's about to retire. Relations are cordial but no longer so close with wife Nazli (Mouna Mejri), who spends a lot of time away with relatives. Emotionally, Riadh has invested everything – to the point of being awkwardly over-protective - in his only child, 19-year-old son Sami (Zakaria Ben Ayed), who is about to take his baccalaureat exams. But Sami has been suffering migraines, with medical and psychological tests unable to get to the root of his ailment.
This, the prospect of retirement, and financial pressures, all leave Riadh increasingly stressed, with only the sympathetic ear of a female work colleague, sexually upfront Sameh (a warm, no-nonsense performance from Imen Cherif), to provide relief.
Despite Sami's introversion, things seem to be going normally – until he suddenly disappears. It soon becomes clear – a glimpsed street demonstration gives a clue early on - what's been eating the young man. Like so many disaffected youth in the Islamic world, he has left for Syria to become a jihadi. Baffled, Riadh studies jihadi videos on his son's computer, then decides that he's going to risk everything – including the family's very limited resources – and go and find the boy. Flying to Turkey and heading to the border, the increasingly fragile-seeming elderly man remains dead set on his mission. Then comes a moment of truth.
Dear Son's subject matter is so prevalent in today's news that the subject might seem to scream for an earnestly dramatic torn-from-today's-headlines approach. But what's so impressive about Ben Attia's handling of the story is his slow-burn approach, with the jihadi theme only introduced relatively late, and the way that he keeps things very much in an intimate, domestic register, with the focus on Riadh's puzzlement, isolation and, eventually, determination; there's also relatively little talk, except for a revealing conversation with an old Turkish hotelier, about the meaning of Sami's conversion.
The muted interplay between the family members, all reserved people and clearly too closed off from the world around them, is superbly played, and Dhrif – whose portrait of a vulnerable patriarch recalls Habib Boufares, the lead in Abdellatif Kechiche's Couscous – gives a performance of finely modulated dignity, integrity and depth.
Production companies: Nomadis Images, Les Films du Fleuve, Tanit Films

International Sales: Luxbox, fiorella@luxboxfilms.com
Producers: Dora Bouchoucha, Luc and Jean-Pierre Dardenne, Nadim Cheikhrouha
Screenplay: Mohamed Ben Attia
Cinematography: Frédéric Noirhomme
Editor: Nadia Ben Rachid
Music: Omar Aloulou


Main cast: Mohamed Dhrif, Mouna Mejri, Zakaria Ben Ayed, Imen Cherif