Black and white portrait of the East German man of letters Thomas Brasch wins the top prize at the Black Nights Film Festival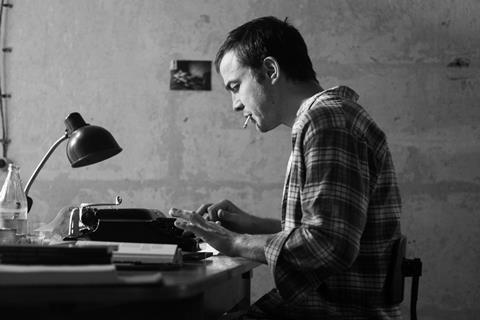 Dir: Andreas Kleinert. Germany. 2021. 150 mins
It's a classic scenario: the idealistic artist at odds with a repressive state. In the East German context, this is perhaps most memorably represented by the 2006 film The Lives of Others. Dear Thomas tackles the same milieu, from real life, with this black and white biopic of the writer Thomas Brasch. As the title suggests, there's a sense of familiarity in Andreas Kleinert's account of the life and times of the poet, playwright, filmmaker and reluctant dissident; in fact, it feels like a love letter, from someone who just can't let go. The result has a breezy energy and romanticism about it, and captures Brasch's intense personal conflicts – with both father and homeland – but it rather outstays its welcome.
A fascinating portrait of an artist who is struggling, most of all, with himself.
The film opened theatrically in Germany in November, prior to winning the best film prize in Tallinn. The fact that Brasch isn't a household name outside Germany, combined with a demanding running time, may make it a daunting prospect in international markets, but the Tallinn prize alone translates to significant festival interest going forward.
Brasch was certainly an intriguing figure. His parents, German Jews, met in exile (Thomas was born in Yorkshire), but he grew up in the fledging GDR, where his father became a high-ranking functionary and diehard servant of the same regime that would prevent his son from being published.
Thomas Wendrich's script moves through key periods and places in Brasch's life: a troubled schooling in a vicious military barracks in the fifties; student days in East Berlin in the sixties, then brief imprisonment after speaking out against the invasion of Czechoslovakia, and increasing anger about the suppression of his work. He moves to West Berlin in the seventies, when his career finally takes off, but he seems far less at peace with himself there than in the East.
Rubbing against that linearity, the style of the film has a freestyle flow and feel, as well as cheekiness that reflects its protagonist. The opening is a case in point: a naked woman lies on her side, back to camera, as Brasch (Albrecht Schuch) rises into view with a pen and proceeds to cover her body in scribbled text. It's a glorious image, which establishes two key facts about the man: he's a womaniser, with an even more insatiable need to write.
Kleinert, most of whose previous work has been for television, intersperses the action with archive material (GDR propaganda, Soviet tanks rolling into Prague, etc) and fantasy sequences that variously depict Brasch's literary obsessions, family dysfunction and desire for escape. While some of these are amusing, a number are decidedly superfluous; without them the film might have been a leaner, more focussed affair.
Its strongest passage is at the centre, when Thomas's own father (Jorg Schuttauf) gives him up to the Stasi and his early release from jail is dependent on working as a cutter in a machine factory. "Being among workers has made you a real poet," someone tells him; it also seems to make him a less narcissistic, more likeable human being.
Centre stage for the entire film, Schuch portrays a man whose rebelliousness has more to do with stubborn integrity than ideology, is as distrustful of the West as he is frustrated by the East, and riles at being described as a dissident. When he identifies the subject of his work as "the subversive outsider", he is describing himself. Both Schuch and Kleinert also make hay with Brasch's ceaseless need to write – whether pen to paper or tapping at his trusty portable typewriter, while chain-smoking or, in one gleefully silly scene, chomping gherkin after gherkin while the creative juices flow.
The writing doesn't satisfactorily deal with Brasch's initial bedhopping (a partner and baby simply slip from view, while the excellent Romanian actress Iona Jacob is underused), before meeting his great love (Jella Haase). And it's an odd film that moves from leaving little time to catch your breath, to dragging its feet. Yet at its heart is a fascinating portrait of an artist who is struggling, most of all, with himself.
Production companies: Zetisprung Pictures
World Sales: The Match Factory: info@matchfactory.de
Producers: Michael Souvignier, Till Derenbach
Screenplay: Thomas Wendrich
Production design: Myrna Drews
Editing: Gisela Zick
Cinematography: Johann Feindt
Music: Daniel Michael Kaiser
Main cast: Albrecht Schuch, Jella Haase, Ioana Iacob, Jorg Schuttauf, Anja Schneider, Joel Basman, Emma Bading