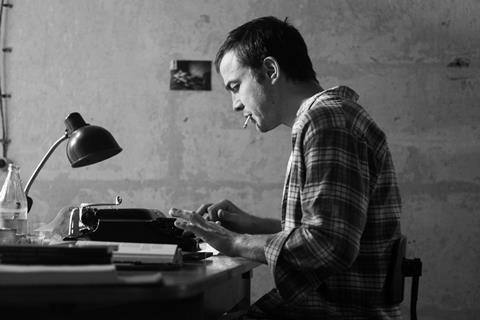 Andreas Kleinert's Dear Thomas has emerged as the front runner at this year's German Film Awards, known as the Lolas, with 12 nominations.
The black-and-white biopic of East German poet, dramatist and filmmaker Thomas Brasch is nominated in the best feature film category, as well as for direction, screenplay, lead actor, cinematography and production design.
Andreas Dresen's Berlinale competition title Rabiye Kurnaz Vs. George W. Bush is not far behind Dear Thomas with 10 nominations, the same number his Gundermann attracted in 2019.
Austrian director Sebastian Meise's Great Freedom, which won the jury prize of Cannes' Un Certain Regard last year, has picked up eight nominations to add to the 10 nods it received for this year's Austrian Film Awards last week.
The three films - which are all being handled internationally by The Match Factory - are vying for best film with Sönke Wortmann's Contra, Karoline Herfurth's Wunderschön, and Pablo Larraín's Spencer.
Each of the six nominated productions in the best feature film category has received €250,000 from the State Ministry for Culture and Media (BKM) to be invested by the producers in a future film project.
Meanwhile, the three docs nominated in the best documentary category - The Other Side Of The River, We Are All Detroit, and Wem Gehört Mein Dorf? - were each awarded €100,000.
Tobias Wiemann's The Path and Gregor Schnitzler's School Of Magical Animals - both handled internationally by Global Screen – each picked up €125,000 after being selected in the best children's film category.
In total, €2.05m has been paid out to the nominees in the three categories.
Announcing the nominations in a live streamed event from Berlin, the state minister for culture and media Claudia Roth revealed the veteran cinematographer Jürgen Jürges will be the recipient of this year's Honorary Lola for his services to German cinema. Jürges credits include films as diverse as Rainer Werner Fassbinder's Angst Essen Seele Auf, Uli Edel's Wir Kinder vom Bahnhof Zoo, Michael Haneke's Funny Games and Ilya Krzhanovsky's Dau.
Meanwhile, the Lola for the year's commercially most successful film will go to School Of Magical Animals.
The final winners of the Lolls will now be voted on by the 2,100-plus membership of the German Film Academy. The awards ceremony takes place in Berlin on June 24.