A young woman scarred by an acid attack struggles to find her way back to her old life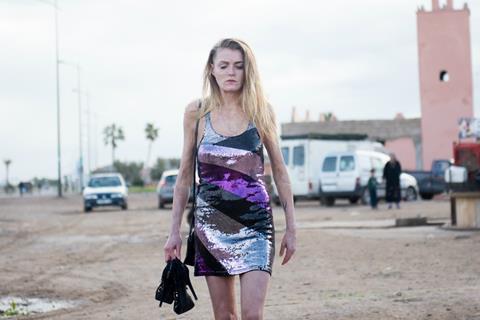 Dir. Sacha Polak. Netherlands/UK/Ireland/Belgium, 2019. 104mins
In the small, East London council estate-set Dirty God, Dutch film director Sacha Polak (Hemel, Zurich) guides first-time actor Vicky Knight into a mighty performance which should turn her into a star. Playing an uneducated young mother who is trying to recover from a disfiguring acid attack, Knight's intuitive portrayal – her vulnerability, rage and raw sexiness – shows and tells exactly what it's like. It's a moving and emotional debut which knocks out any loaded sense of familiarity regarding the film's no-hope setting.
Knight gives the character of Jade a cagey open-ness and uneasy vulnerability but, equally as importantly, a frank sexuality
Polak's outsider status allows her to carve a more structured story than is usual for a film of this kind. Opening Rotterdam and competing at Sundance, Dirty God suffers from narrative issues – Pollack's story falters, some experimental flourishes don't always come off, and supporting characters are weakened by the strength of the lead. But there's enough visual brio and emotional authenticity for Knight to bring it home. In terms of coming to love and understand a difficult young character, Dirty God could be compared to last year's Girl, and audiences should respond to the honesty on screen.
Scarred herself in real life, Knight gives the character of Jade a cagey open-ness and uneasy vulnerability but, equally as importantly, a frank sexuality which make her arc an unexpected revelation. Naturally, the film will call to mind Andrea Arnold's Fish Tank and Katie Jarvis's performance, but Polak's film is much lighter and somehow more hopeful. It's also arresting from the outset, with the opening credits playing out to close-up visuals of scar tissue and the haunting song 'I Am Human'. Jade is leaving hospital with a clear Perspex mask on her face, but any sense of the otherworldly vanishes on arrival back in her mother's apartment where her toddler daughter Ray screams and screams, and her efforts to slide back into her old life meet with resistance.
Mum (British soap actress Katherine Kelly) runs a business from home selling stolen luxury items and is over-protective of Ray. Her best friend is supportive, painting eyebrows on Jade's scarred face, but there's already a sense that this empathy will have its limits. Jade's ex is about to be charged for the assault on her, and people are staring at her face to the point where she buys herself a burqa for a sense of freedom. What Polak and Susan Farrell's script makes clear is that Jade was, and has the potential to be again, a confident, stylish and sexy woman. Racked by dreams where her ex is a monster in a crow's suit, it's going to hard for the increasingly anxious Jade to find a way back to herself, however.
Jade believes she might be able to erase the past by visiting a plastic surgery clinic in Morocco and to raise the cash she takes a job in a call centre. The audience knows it's a con, but this is a journey that Jade will have to take alone.
Polak's film is at its best dealing with Jade as a character, the everyday torments she endures and small steps forward she makes. The trip to Morocco is too a blunt a turn for a sophisticated piece, even if it results in the desired narrative conclusion. Similarly, a showdown with her mother feels forced, not helped by the fact that Kelly's portrayal doesn't quite have the depth or conviction as Knight's. These are the obstacles that will make the film harder to sell to critics but, conversely, easier on audiences, as they give a resolution which films of this nature often fail to provide.
Whatever the reception, there's no denying Knight's abilities, or the visual allure of Polak's film. There is very little depiction in cinema of people who are scarred or disabled and this is a giant move forward in terms of representation, but Dirty God should not simply be pegged to this issue. Everything in it reaches for something bigger, and succeeds.
Production company: Viking Film, Emu Films, A Private View, Savage Productions
International sales: Independent Film Sales, mail@independentfilmcompany.com
Producers: Marleen Slot, Mike Elliott
Screenplay: Sacha Polak, Susanne Farrell
Editor: Sander Vos
Cinematography: Rubens Impens
Music: Rutger Reinders
Main cast: Vicky Knight, Katherine Kelly, Eliza Brady-Girard, Rebecca Stone, Bluey Robinson