Rachel Weisz and Rachel McAdams star in Sebastian Leilo's North London-set drama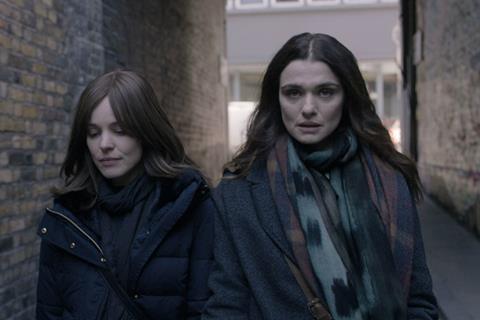 Dir: Sebastian Lelio. Ireland. UK, 2017 114 mins
The freedom to follow your heart's desire is won through brave defiance and the selfless generosity of others in Disobedience. The screen version of Naomi Alderman's 2006 novel is a measured, sombre production sure to attract attention for the absorbing central drama and the nuanced performances from Rachel Weisz and Rachel McAdams.
Director Sebastian Lelio makes Disobedience very much a film of contrasts and contradictins
Weisz, who also co-produced, stars as New York-based photographer Ronit Khruska. The death of her father, a respected Rabbi, takes her back to the Orthodox Jewish community of her youth in north London. She is constantly reminded of her status as the black sheep of the family; one obituary of her father even writes that he was childless.
It is clear that she is far from welcome home. Her presence is an irritant to some and an embarrassment to many although she is offered a place to stay by her old friend David (Alessandro Nivola) who is considered her father's spiritual son and heir. David is now married to Ronit's childhood friend Esti (Rachel McAdams), another piece of news that nobody thought to share with her.
Disobedience is very effective at depicting a tight-knit community where the settled surface conceals turbulent, churning resentments. One dinner gathering becomes more like an interrogation as Ronit is quizzed on why has has never married, why she abandoned her father and faith and why has she had the temerity to return.
One of the few comforts in her ordeal is the chance to reconnect with schoolteacher Esti who seems to have steeled herself to settle for a respectable marriage to a decent, honourable man.
Director Sebastian Lelio makes Disobedience very much a film of contrasts and contradictions. North London is a place of grey skies, muted colours and damp, misty days where misery seeps into your bones yet every time Ronit and Esti are alone together the clouds seem to part and the sun dares to shine. When Esti and David have sex it is a dutiful, clockwork affair on a Friday evening. When Esti and Ronit allow their need for each other to boil over into sex it is slow and passionate, loving and lingering.
Leilo constantly reminds us of what is at stake for both women. Even as some condemn them, there is a remarkable degree of tolerance among this orthodox community, especially from Dovid as he struggles to do the right thing for a wife he loves but who desperately wants to be set free and allowed to make her own choices.
Disobedience is a serious-minded, almost austere exploration of complex human emotions. It tries to encompass many points of view as it travels across the minefield between devout faith and the desire for free will.
Leilo's unassuming style serves the story and provides a great showcase for both performers. McAdams captures a sense of someone gradually daring herself to speak out for what she truly wants. Weisz is outstanding as a woman bristling at the way the legacy of faith and family have forced her to chose exile as a means of survival. Sarcasm and irreverence may be part of her coping mechanism but there is a sense of guilt there too. It is the possibility of love that finally allows her to acknowledge her loneliness and vulnerability.
Production companies: Element Pictures, LC6 Productions, Braven Films
International sales: FilmNation Entertainment nyoffice@filmnation.com
Producers: Frida Torresblanco, Ed Guiney, Rachel Weisz
Executive producers: Rose Garnett, Daniel Battsek, Ben Browning, Glen Basner, Andrew Lowe, Eric Laufer, Giovanna Randall
Screenplay: Sebastian Lelio, Rebecca Lenkiewicz based on the novel by Naomi Alderman
Cinematography: Danny Cohen
Editor: Nathan Nugent
Production des: Sarah Finlay
Music: Matthew Herbert
Main cast: Rachel Weisz, Rachel McAdams, Alessandro Nivola