Brian De Palma returns with this tale of a Copenhagen police officer seeking justice for his partner's murder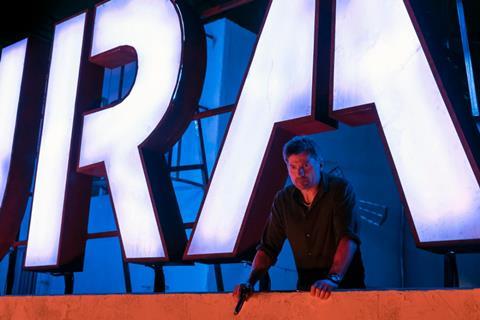 Dir: Brian De Palma. US. 2019. 89mins
Revenge may be a dish best served cold, but Domino dishes it up as a sloppy mess of warmed-over clichés. Instead of his old high style and kinky violence, director Brian De Palma delivers only crude thrills and ugly stereotypes, a soggy bag of junk-food snacks. It's a particularly cruel disappointment for fans who have been waiting, with pained patience, for the veteran filmmaker to make an artistic comeback, let alone finally notch another commercial success. Low on stars and high on anti-Muslim sentiment, De Palma's first film in seven years is a video-on-demand for the undemanding. Theatrical life is likely to be brief.
There are some flashes of the famous De Palma artistry here
The slim story intercuts between two tales of vengeance. In the first, a Danish cop is pursuing the Libyan immigrant who brutally attacked his partner. Meanwhile, the North African has his own mission; to track down the ISIS leader who beheaded his father. Standing apart, but not quite uninvolved, is a CIA officer with a purely political agenda. All three converge, eventually, outside a Spanish bullring.
There are some flashes of the famous De Palma artistry here – the first action sequence, in which a domestic-violence investigation goes horribly wrong, has carefully built tension and the requisite nods to Hitchcock; in this case the opening to Vertigo. The finale has some sharp cross-cutting, too. Sometimes the screen is split into halves, even quarters, for multiple, simultaneous images; some scenes are washed in bold, primary colors.
The new world of social media also underlines De Palma's career-long fascination with voyeurism, as we see people watching each other on phones, internet videos, security-cam footage. Nothing is real unless it's recorded. Nothing is experienced except at a distance.
Yet as the Copenhagen cop on a quest, Nikolaj Coster-Waldau is more dull than dogged, never establishing any on-screen connection with his temporary partner, the vulnerable Carice van Houton. Guy Pearce provides some cynical shadows as the CIA man – and probably could provide more, if De Palma gave him any closeups. But instead he's half-forgotten.
Much of the film has a similarly unfinished look. (De Palma has already complained, publicly, about the low budget.) Sequences that should be stand-outs – an attack on a film festival, an assault at that bull ring – fizzle due to cramped quarters and an obvious lack of extras. Too many scenes consist of Coster-Waldau and van Houton simply driving around.
The film, though, does make plenty of time for its terrorists, who pray as they piece together bombs and coldly assign assassins. Those details are expected, perhaps, even necessary, in a film whose villains are ISIS members. But Domino practically revels in the scenes (one of which it even reprises, as a kind of warning, before the final credits). Add to that a hero named "Christian," and it feels as if the film's real subject isn't Islamic terror but terror of Islam.
Of all his 1970s contemporizes – Spielberg, Lucas, Coppola, Scorsese – De Palma always had the most unpredictable career, going from avant-garde comedies to serious dramas to ironic slasher films. With more than 20 years gone since his last hit, the first Mission: Impossible, he's certainly had the longest dry spell, too. And there are some memories of greatness here, whenever he begins to move that camera, and the Pino Donaggio score kicks in, again. But, like the images his characters study, it's just a souvenir of something once lived.
Production companies: Backup Media, Saban Films, Schønne Film
US Distribution: Saban Films
Producers: Michel Schønnemann, Els Vandevorst
Screenplay: Petter Skavlan
Production design: Cornelia Ott
Editing: Bill Pankow
Cinematography: José Luis Alcaine
Music: Pino Donaggio
Main cast: Nikolaj Coster-Waldau, Carice van Houton, Guy Pearce