In Turkey, the We Will Stop Femicide platform struggles against a rising tide of domestic violence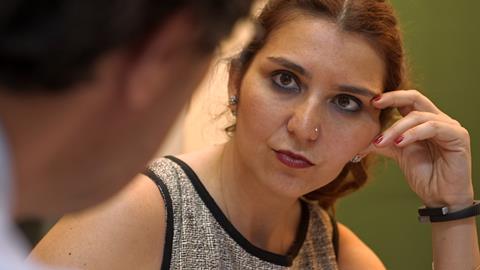 Dir/scr: Chloe Fairweather. UK. 2021. 81 mins
The UK's nomination for the International Academy Award, Dying To Divorce is a documentary shot in Turkey - carrying English and Turkish dialogue - where femicide is rampant and domestic violence is on the rise (afflicting one third of all marriages, the worst in the developed world). As the title suggests, any attempt to cut loose from an attacker can prove fatal, and the issue has become politicised during President Erdogan's increasingly authoritarian rule. Chloe Fairweather and her producer Sinead Kirwan track two appalling cases of domestic violence and the brave women and mothers whose lives have been irrevocably altered by their beatings. The state is ever-reluctant to hold the perpetrators to account, and Fairweather's camera unflinchingly documents attempts - seemingly doomed - to find some sort of justice for them.
A horrifyingly effective presentation of stories which need to be told, over and over and over again, until attitudes change
A key advocate of their cases is the feisty young lawyer Ipek Bozkurt, who risks a lot in a country which is turning against lawyers and judges. Where the stories come together - the passionate Ipek and her devastated clients - Dying To Divorce is a powerful and distressing indictment of femicide and domestic violence anywhere, but particularly in Turkey where male pride is used as a mitigating factor in court. (A sentence reduction can be sought because a woman swore, for example.) Bozkurt's involvement in the debate over legal independence sends the film in another direction, however, and while gripping, risks muddling the waters of its primary focus.
Arzu, married at 14 and the mother of nine children - three of whom died - suffered 15 years of beatings and rape before she left her husband Ahmet. She wanted a divorce, something his male pride could not withstand despite the fact they were separated and he had a mistress. So he shot her in the arms and legs on the way to divorce court. 'Life-altering injuries' have never been so clearly presented as Arzu faces the loss of all her limbs, while Ahmet evades justice. But in Turkey, femicide has become political - Erdogan says men and women are not equal, that feminists reject motherhood, and that men should 'kiss the soles of the feet' of their partners.
Even more shocking, if that's possible, is the case of the bubbly young Bloomberg anchor Kubra, who lived in London and enjoyed great freedom until she returned to Istanbul to marry Neptun and have a child with him. Shortly after their daughter was born, Neptun threw her against a wall and she suffered catastrophic brain injuries from which she is - very - slowly recovering. Her altered state is painful to witness, but the fact she hasn't seen her child since then is almost worse to countenance.
Dying To Divorce is a brief 80 minutes, and diverges in its latter part to contemplate the fate of Ipek, a brave voice and a strong feminist in a country where 1,500 lawyers suddenly find themselves in prison. You get the sense that her outspokenness in this film is unlikely to do her any favours and she, perhaps, is a film in herself, yet the examination of the legal system isn't quite forensic enough to satisfy - there's more to be told. With their links in Turkey, it seems Fairweather and Kirwan would be well placed to follow it through.
Arzu's father bitterly regrets pressuring her into marriage, which is cold comfort, but a step in the right direction nonetheless. Dying To Divorce is a film which concentrates on the message more urgently than technical flourishes, and the team works in service of these women and their stories. It's an economical piece, which should play as well on the small screen as the large after its extensive festival and Oscar qualifying run. More importantly, though, it's a horrifyingly effective presentation of stories which need to be told, over and over and over again, until attitudes change, in Turkey and elsewhere.
Production companies: Dying to Divorce Ltd
International sales: Java Films, contact@javafilms.tv
Producers: Chloe Fairweather, Sinead Kirwan
Editing: Andrea Cuadrado. Paul Dosaj
Cinematography: Lilia Sellami
Music: Andy Cowton