debbie tucker green's acclaimed play is transformed into a riveting, raw film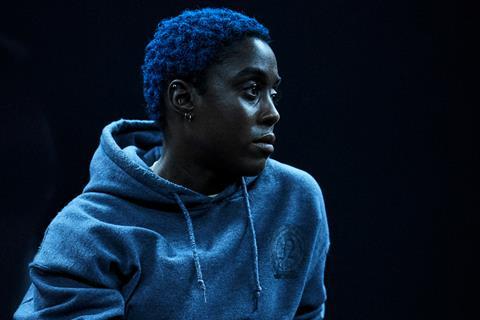 Dir/scr: debbie tucker green. UK. 2021. 88 mins.
The second feature film from Olivier- and BAFTA-winning playwright, screenwriter and director debbie tucker green, ear for eye is an adaptation of her own play, which was performed at the Royal Court in 2018. A collection of snapshots of lives, of debates, of experiences of being Black in Britain and in the US, the film stays true to its roots in the theatre. But while it could be described as being more of a filmed play than a piece of cinema, it's also a riveting, raw work which, in its stripped-back simplicity, magnifies the power of tucker green's fiercely compelling writing.
Lynch is mesmerising, her building anger spilling out of the frame and into the viewer
Having earned a reputation for being one of the most exciting voices in theatre (she won the Olivier Award for Most Promising Newcomer in 2004 for her play born bad) and television (her Channel 4 drama random earned her a BAFTA), tucker green first ventured into cinema with the Idris Elba-starring drama Second Coming, which won the Big Screen Award at Rotterdam. ear for eye is a more formally daring piece, but no less considered and passionate in its writing. The film's premiere at the London Film Festival will coincide with its broadcast on BBC Two, and it will subsequently be available on the BBC iPlayer. Further festival screenings are also likely.
The script, which was reworked for cinema by tucker green, is divided into three main sections. The first, simply staged with minimal props — falling leaves, a chair or two, a set of stairs, the bodies of other actors bearing witness to the character whose turn it is to speak — is a series of fragments of conversations. A mother coaches her son on how to present himself to white people — it's a minefield in which every option is wrong: "attitude…insolence…defiance…impudent…guilty." She reels off the reading of each approach until he suggests just looking at the floor. "Hell no. We didn't raise you to look at no floor, son." Elsewhere, a woman, and then a man, recount their stories of being stopped by police. The same themes, the same arguments playing out, almost verbatim, are repeated by different characters from different continents — there is a depressing common ground in the Black experience.
The second section is perhaps the most affecting and enraging. Playing out against projections of shattered glass and a red the colour of pure fury, it is an extended and increasingly heated conversation between a Black American woman (No Time To Die's Lashana Lynch) and a white American man (Demetri Goritsas). The debate is over what to call a school shooting incident. The man is keen to label it a one-off, a lone-wolf incident with no political agenda; the woman argues that the word "terror" cannot be avoided and that white supremacist sympathies are, in fact, a political agenda. Lynch is mesmerising, her building anger spilling out of the frame and into the viewer.
Finally, the third section lists segregation legislation from the Southern states, dealing with everything from bathroom policies and eating establishments to card games and burial plots: racism, writ large, and inscribed in the law of the land. It's a bleakly powerful sign-off for this unique work of political filmmaking.
Production company, international sales: Fruit Tree Media, fiona@fruittreemedia.co.uk
Producer: Fiona Lamptey
Cinematography: Luciana Riso
Editing: Mdhamiri A Nkemi
Production design: Christopher Melgram
Music: Luke Sutherland
Main cast: Lashana Lynch, Carmen Munroe, Tosin Cole, Hayden McLean, Sharlene Whyte, Danny Sapani, Kayla Meikle, Jade Anouka, Ronke Adekoluejo, Danielle Vitalis, Sule Rimi, Nadine Marshall, Jamal Ajala, Arinze Kene, Rochelle Rose, Nakhane, Demetri Goritsas