Valeria Golino follows up 'Miele' with a glossy story of two brothers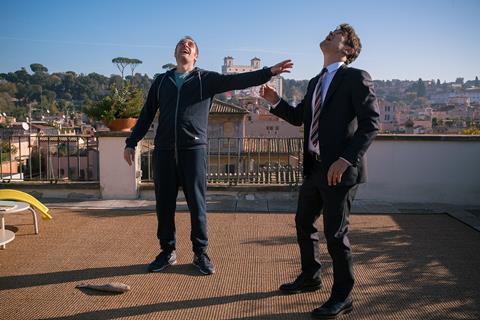 Dir. Valeria Golino. Italy. 2018. 115 mins.
International star and Italian screen fixture Valeria Golino successfully added a directing string to her bow with 2013's elegant psychological drama Miele (Honey). Her follow-up Euforia shows that she's certainly gained in confidence and ambition, moving onto a wider spectrum of characters and flexing her stylistic muscles with flamboyant confidence. However, for all its undeniable maestria, the result comes across as a glossily chic melodrama, the filmic equivalent of an upmarket 'good read' bestseller.
What both seduces and ultimately distances the viewer of Euforia is the extreme gloss of the production
While terrific performances and unfailing visual polish ensure that it's never a dull watch, international audiences may find it hard to warm to a film that feels too generically like a chic spectacle of pampered middle-class angst.
The setting is Rome today, and the central figure is Matteo (Riccardo Scamarcio), a seemingly insouciant entrepreneur specialising in snazzy 3D digital installations for museums, businesses and even, as an amusing early sequence shows, the Catholic Church. Gay and extremely wealthy, Matteo has a drop-dead lavish apartment (fabulously designed by Luca Merlini), a designated boyfriend whom he regards more, he says, as a "maid of honour", and a whole circle of fashionable friends and occasional lovers.
Matteo also has a family who are slightly more grounded, with altogether down-to-earth problems: his brother Ettore (Valerio Mastrandrea) is a teacher in their provincial hometown, whose marriage to Michela (Isabella Ferrari) is coming to an end after he has fallen for a younger colleague (Jasmine Trinca). Ettore is also extremely ill – although he doesn't himself know how ill. While he moves into Matteo's apartment to undergo treatment, and to enjoy his brother's somewhat too ostentatious hospitality, Ettore is being protected from the fact that he has an inoperable brain tumour.
Much of the drama focuses on the tender but increasingly testy relationship between the brothers, who especially bond during a comic visit to Medjugorje in Bosnia, where the Virgin Mary is said to make regular appearances (not remotely religious, Matteo needs to do some Madonna research for his church project). In a scene that's as comic as it is shocking, Matteo insists his brother stand shivering on a cold balcony while he enjoys a quickie with the handsome pilgrim in the next room. Matteo perhaps goes too far in making executive decisions about his brother's life when he summons Elena for a visit – although this provides one of the film's best sequences, with Trinca, so good in Golina's Miele, making a radiant late appearance.
What both seduces and ultimately distances the viewer of Euforia is the extreme gloss of the production, which at times makes the film feel like La Dolce Vita (without the expressionism) filtered through the production style of a sort of contemporary Italian Dynasty. Introspective, downbeat Ettore might well feel out of place in Matteo's world, a glitzy universe of VR spectacle, de luxe spas, coke and cool nightclubs – and the narrative shifts a little predictably into overt 'what's-it-all-worth?' mode when Matteo suffers his own sobering moment of truth in a drug-related meltdown.
Euforia has clearly sincere humanistic respect for and warmth towards its characters, but emotionally it never really cuts too far beneath the surface – and cynics should be warned that the whole thing ends with a hug and cinema's most over-used of natural effects (at least since 21 Grams), the dazzling swirling pattern, or murmuration, of flocks of starlings. For Italian audiences, though, the charismatic performance style of the popular Sciamarco will be the film's ace special effect.
Production companies: HT Film, Indigo Film, Rai Cinema
International sales: True Colours, catia@truecolours.it
Producers: Viola Prestieri, Nicola Giuliano, Francesca Cima, Carlotta Calori
Screenplay: Francesca Marciano, Valia Santella, Valeria Golino, Walter Siti
Cinematography: Gergely Pohárnok
Editor: Giogiò Franchini

Production design: Luca Merlini 

Music: Nicola Tescari
Main cast: Riccardo Scamarcio, Valerio Mastandrea, Isabella Ferrari, Valentina Cervi, Jasmine Trinca