Dir. Rithy Panh. France. 2016. 78mins/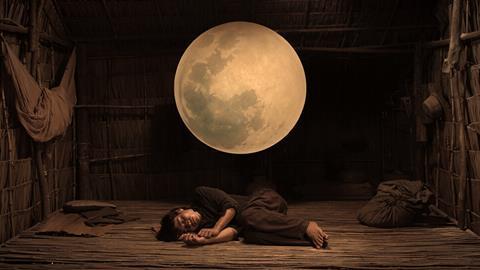 A lesser companion piece to The Missing Picture (2013), Exile (Exil) once again approaches Paris-based Cambodian filmmaker Rithy Panh's eternal baseline subject – the genocide and traumas his country suffered under Pol Pot's murderous Communist regime – in symbolic, proxy fashion.
Exile is a film/theatre hybrid which never looks anything less than ravishing.
But whereas the clay-figurine tableaux of Panh's previous film only served, paradoxically, to up the emotional tenor of a work in which horror lurked behind a story of removal – of lives, dignity, documentary images – Exile is more the insular, cerebral cinematic tone-poem, an intensely personal meditation on revolution, democracy and human happiness (and only obliquely on the subject that provides the film's title).
Lacking the clear match between method and message of its predecessor, and its barbed ironic tone, this Cannes Special Screenings selection feels almost like a gallery work and, as such, will likely appeal only to smaller arthouse niche than Panh's previous work.
Using small-scale operatic sets, animation, old photos, archive footage, collage and tasteful CGI effects, Exile is a film/theatre hybrid which never looks anything less than ravishing. As with The Missing Picture, it relies on a voice-over narration written by Christophe Bataille and warmly voiced by Randal Douc to convey Panh's musings – although the end titles reveal that some phrases are borrowed from Robespierre, Mao, Apollinaire and others.
Instead of miniature figurines, there's an actor (Sang Nan), mute throughout, who seems a sort of Cambodian everyman. His sometime dwelling – a one-room reed hut – is the film's default set, transformed from scene to scene into a rice field, a sandy desert, a receptacle for sequestered belongings like those the Khmer Rouge confiscated from city-dwellers before consigning them to forced rural labour. Paper cut-out crows, harbingers perhaps of famine, flutter menacingly above the unnamed protagonist as he sleeps; a solar system diorama is enveloped by silky red smoke; archive footage – including of forced labour gangs snaking across barren slopes in senseless human chains, an image already familiar from The Missing Picture – is projected onto walls or inside a basin of water.
All the while the voice-over narration continues, sometimes chiming with the on-screen picture but more often setting up counterpoints or intriguing mismatches, such as when our hero cooks strip of leather for nourishment while phrases about the government of the proletariat unspool in Douc's rich, melancholy voice.
Some pronouncements verge on pretension – "Men dream of revolution; revolution dreams of itself" – but others are more achingly personal, a strain echoed in a stash of buried photos of what we assume to be the director's family, or a yellowed safe-conduct pass issued to him on his arrival at Paris's Roissy airport in 1964.
Regular Panh collaborator Marc Marder's soundtrack is a dense overlay of double-bass chords and other, partly electronic jangles that maintain the suspended, oniric tone of this cinematic poem about various forms of limbo; historical, political and psychological.
Production company: CDP
International sales: Films Distribution, alexis@filmsdistribution.fr
Producer: Catherine Dussart
Screenplay: Rithy Panh, with the collaboration of Agnès Sénémaud
Cinematography: Rithy Panh, Mesar Prum
Editor: Rithy Panh
Production designer: Mang Sarith, Sang Nan
Music: Marc Marder
Main cast: Randal Douc, Sang Nan