Dir. Banksy. UK, 2009. 85 minutes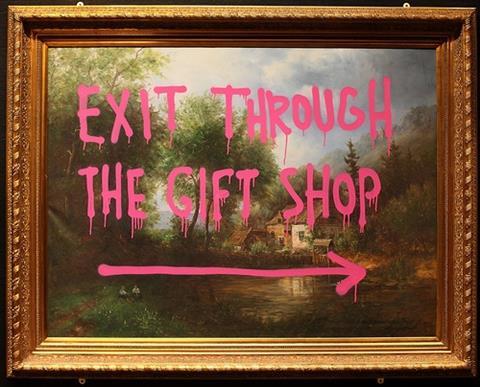 The graffiti king and art prankster Banksy is now an estimable global brand. In his first film, Exit Through The Gift Shop, the still-clandestine graffitist documents how he helped a crazed fan become an artist overnight. This raw documentary's story rivals even Banksy's escapades in sheer outrage.
Banksy's tale about a man who creates a sudden art career on little talent could tap into the sizable art-on-film public for Matthew Barney's films, and as a story-based documentary, it might also access the wider public that shuns Barney as dull and pretentious. A whiz at self-promotion, Banksy will maximize the art house theatrical possibilities, most likely in Europe, the US and Japan, given the film's media splash at Sundance, where Banksy's outdoor wall graffiti drew worshipful crowds.
Exit Through the Gift Shop (the title mocks the commercialisation of art museums) walks through the world of street artists, mostly graffitists, and then offers a bizarre case history of one of them who rose to stardom thanks to sheer willpower.
On street art in general, the film is on the level of a standard but misleading television news documentary, hyping recent graffiti artists (like its author, hooded and in shadows on-screen with a distorted voice-track, and the skateboarder-turned-graffitist Shepard Fairey, whose fame soared when he appropriated an Associated Press photo for his now-notorious red-white-and-blue "Hope" poster of Barack Obama).
In anointing Banksy and Fairey as patron saints of a street art movement, the doc neglects graffiti's roots in US urban ghetto culture of the 1970s. It's an odd slight, given that Exit Through The Gift Shop premiered at Sundance alongside Jean-Michel Basquiat: The Radiant Child, Tamra Davis's documentary filled with early 1980's archival footage of Basquiat scrawling graffiti in lower Manhattan, long before Banksy hit the scene.
The film takes off, however, in its portrait of Thierry Guetta, a French used-clothing dealer in Los Angeles whose passion was to follow and videotape street artists working at night and avoiding capture by the police.
With mutton-chop sideburns, an odd hat and a comical accent, Guetta is the kind of character that film-makers pray for – gregarious, talkative, energetic, and fanatically motivated.
Guetta's footage has a night-vision embed feel, with spray-painters deploying as teams and climbing their way up to locations that offer maximum exposure. The visual record of these stealth operations is a guerrilla archive of street art in Los Angeles and an indication of Guetta's commitment, as a groupie/chronicler, to a romantically illegal activity that seduced him.
Running with graffiti crews at night, and guiding them through the city, Guetta befriends them all, including the elusive Banksy.
The doc pivots again, as Guetta determines to be more than a chronicler, first getting Banksy and others to view his films, which are kaleidoscopic compilations of disasters and other violent scenes.
Undeterred by the artists - who won't back his filmmaking ambitions - Guetta renames himself Mr. Brainwash, gets Banksy's endorsement – which he puts on billboards — and mortgages his house in 2008 to mount a risky quixotic show in Los Angeles of Warhol-style kitsch painted by hired artists. Typical are portraits of Condoleezza Rice and Michael Jackson as Warholised Marilyn Monroes.
To the surprise of everyone, including Banksy, the whirlwind art show is a hit. The smiling furry Thierry Guetta has become Banksy's art Frankenstein monster.
Production values in what appears to be a hastily made film are weak, yet no weaker than those of Tamra Davis's crudely fashioned ode to Basquiat and the formative graffiti years. Yet the tactile grayish image and on-the-run pace are assets that give street credibility to this fascinating look at the making of an art charlatan.
Unwittingly, it seems, Banksy met and filmed his match. On camera, he regrets putting his name behind Mr. Brainwash, as the film notes that Guetta's operation, now also called MBW, has designed an album cover for Madonna.
Commercial potential probably won't be hurt in the short-term if the film turns out to be another Banksy hoax, with Guetta as a willing participant. Whether Banksy orchestrated it or not, this tale of improbable success has the irreverence and the laughs that its audience wants.
If Exit Through The Gift Shop is s stunt, Banksy has raised the bar once again. If it's the doc that it purports to be, it shows that Banksy hasn't quite learned how to make a polished documentary yet, but he has learned a lesson about art and ambition.
To sign up for Screen's weekly Reviews Newsletter with all the week's new releases, international openings and full festival reviewsdelivered free to your mailbox every Friday, please click HERE
Production companies
Paranoid Pictures
Worldwide sales
Cinetic
+1 212 204 7979
Producer
Jaimie D'Cruz
Editors
Chris King
Tom Fulford
Music
Geoff Barrow
Narrator
Rhys Ifans