Dirs/scr: Olivier Ducastel, Jacques Martineau. France. 2010. 97mins.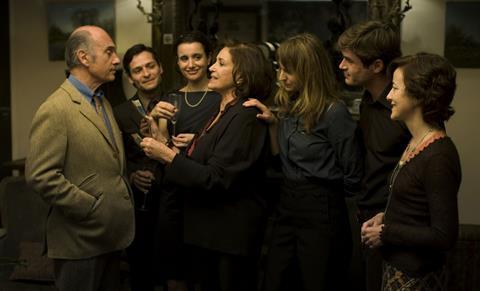 Family tensions come to an intense but ultimately decorous head in Family Tree, a intermittently involving ensemble drama by Olivier Ducastel andJacques Martineau.
Olivier Ducastel and Jacques Martineau have made a film that is thoughtful and touched with grace but occasionally plodding and literal.
The French duo are generally known for the gay themes of their generally upbeat films – notably Jeanne And The Perfect Guy and The Adventures Of Felix - although they focused on recent French history in their last film, the generational portrait Born In 68. Both homosexuality and France's past prove central to what initially comes across as a stately, lyrical family drama.
Set in October 1999, the film takes place on the thickly-forested country estate of the Muller family, where tree-growing father Frédérick (Marchand) has mysteriously opted to miss the funeral of his older son Charles. He is angrily rebuked by the deceased's brother, the alcoholic Guillaume (Negret), leading to a heated exchange between the other family members – Frédérick's wife Marianne (Fabian), granddaughter Delphine (Seyvecou) and Charles' divorced ex Françoise (Mouchet), who seems to take his death in pretty good stead.
The distant Fréderick, meanwhile, is happy to commune with his beloved trees and to lose himself in a Wagner score, waking the assembled family with mighty bursts of the Ring Cycle every morning.
The film mainly comprises intimate and largely muted confessional dialogues between characters – between Françoise and Marianne, who both know a thing or two about difficult husbands, and between spiky Delphine and her simpatico boyfriend Rémi (Renier).
Matters come to a head when family secrets are uncovered at a dinner party, and from here on the film sails increasingly into delicate matters of French wartime history, the end captions making it clear that this is very much a film with a point to make. Once we learn what's at stake, however, Family Tree has nowhere much left to go, with the characters mulling over questions of life and lies in a prolix and sometimes staid theatrical manner.
Two elements in particular boost the film. One is Matthieu Poirot-Delpech's handsome photography, which makes the most of the film's autumnal setting, especially in a majestic aerial shot of the forest. The other is top-notch acting from a cast headed by two veterans, Marchand and Fabian, who give their characters a rich depth of nuance.
The French family drama is an honourable if overworked tradition, and among recent examples, Family Tree is closest to Olivier Assayas's Summer Hours, with which it shares its theme of letting go of the past and passing on family heritage. Ducastel and Martineau have made a film that is thoughtful and touched with grace, but occasionally plodding and literal.
To sign up for Screen's weekly Reviews Newsletter with all the week's new releases, international openings and full festival reviews delivered free to your mailbox every Friday, please click HERE
Production companies
Maia Cinéma
Les Films du Lendemain
International sales
Films Distribution
(33) 1 53 10 33 99
Producers
Kristina Larsen
Gilles Sandoz
Cinematography
Matthieu Poirot-Delpech
Editor
Mathilde Muyard
Production design
Dorian Maloine
Main cast
Guy Marchand
Françoise Fabian
Sabrina Seyvecou
Yannick Renier
François Negret
Catherine Mouchet