Gianluca Matarrese's doc offers an extravagant but unforgiving front row view of the insular world of fashion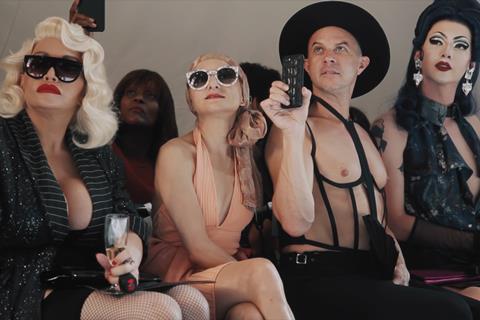 Dir: Gianluca Matarrese. France. 2022. 75 mins.
For most of us, fashion is what we wear. For the three subjects of the latest film by Gianluca Matarrese, it is a way of life. More than that even – it is the meaning of life, something to be exalted and pursued even when, in one case, there is no money for rent and the storage company is threatening to evict your couture collection. Matarrese gains access into the inner sanctum of the fashion world, his guides are musician Casey Spooner (formerly of Fischerspooner), drag artist and Season 7 winner of Rupaul's Drag Race Violet Chachki, and gloriously OTT fashion phenomenon and former model Michelle Elie. Matarrese's camera never mocks his subjects (although it captures plenty of quizzical double takes from passers-by who don't know what to make of a man in a leather tit-harness). However, the film is candid about the fickle vagaries of the fashion world, its casual humiliations. "One season you are in. One season you are out," says Elie, blithely. But the consequences of being 'out' are cruel, in this unforgiving and insular world.
The pressure of being fabulous all the time takes its toll.
Unlike Matarrese's previous films (Everything Must Go, The Last Chapter), the director stays behind the camera rather than playing a role in the film itself. But with characters as strong as these, that hardly matters. The combination of the perceptive, sometimes acerbic observations plus a front row seat to view fashion at its most extravagantly barmy should make this a popular addition to the festival circuit. A rather abrupt ending – the film posits a cliff-hanging notion that high fashion is one Louboutin-clad step away from the guillotine, but then doesn't really explore the idea – means that the film does not go out with the bang that it otherwise might have done. But it is undeniably entertaining stuff, and could find an audience theatrically.
The film is divided into three chapters, titled Rise, Splendour and Fall. And all three characters have their moments of glory and of ignominy. Spooner can cruise into fashion houses, sip champagne, while he pillages their latest collection for freebies. But his personal finances are rather less glamorous. And the pressure of being fabulous all the time takes its toll. "Really, I'm tired, I'm run down, I'm broke and I'm lonely. But that's okay." Chachki's profile is high following her Drag Race win, but her spirits are crushed after an invitation to walk at Jean-Paul Gaultier's farewell show is unceremoniously retracted.
Of all the characters, Elie seems most immune to the pettiness of the industry. She is, after all, a woman who is comfortable painting her face blue to match her hat. She operates on an entirely different level of fashion to that of most people. Even so, as a Haitian-born model, she recalls routinely dealing with racism. And there is a moment when she finally meets her idol, Comme Des Garçons designer Rei Kawakubo, and it is not quite the spiritual connection that she expected. Her infectious joy in design is momentarily dampened. A single tear courses from beneath what looks like a cross between a high fashion welding helmet and a kabuki mask.
Matarrese's deft and inquisitive camera is backed by a terrific, ornate score by Cantautoma which leans into the similarities between the fashion scene and a royal court, but then distorts and mutates – like the world it accompanies – into something beautiful, but slightly deranged.
Production company: Bellota Films
International sales: Limonero Films pamela@limonerofilms.com
Producer: Dominique Barneaud
Cinematography: Gianluca Matarrese
Editing: Tess Gomet
Music: Cantautoma
Featuring: Violet Chachki, Michelle Elie, Casey Spooner