Dir. Juan Miguel del Castillo. Spain. 2015. 90mins.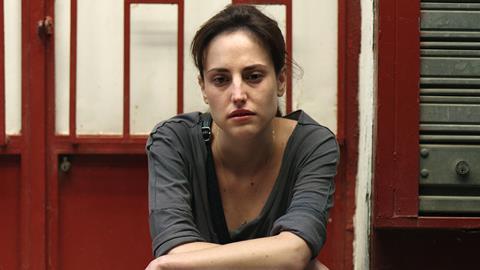 A young woman rummages through the contents of a dumpster, tearing through the bin bags in search of salvageable food. Next to her, a vagrant with the same mission starts to sing, a wrenching flamenco lament that echoes around the bins and drifts up into the night. It's a rare moment of poetry in a brutally unsentimental portrait of poverty in southern Spain. There's an empathetic but unvarnished matter-of-factness to this account of single mother Rocio's (Natalia de Molina) subsistence at the sharp edge of Spain's economic crisis which evokes the films of Ken Loach at his most socially aware.
There is an understated naturalism to the performances which brings credibility to this perfect storm of misfortune
The film screens in the First Feature competition at the Tallinn Black Nights Film Festival, having already won the Audience award and Best Actress at the Malaga Spanish Film Festival. Further festival outings seem likely, particularly at events with a focus on social issues. However, the relentlessly downbeat tone might make this a tough sell theatrically.
The setting is the Andalucian town of Jerez de la Frontera, 2012. Rocio, the mother of eight-year-old Adrian (Jaime Lopez), has been out of work for three and a half years. She doesn't receive any benefits, subsisting on the occasional twenty euros she earns for handing out leaflets. She hasn't paid her rent in eight months and her landlord is threatening her with eviction.
Her knee shakes nervously as she explains her circumstances to a welfare officer. In this, as with most of her encounters with people in power, del Castillo keeps the camera trained on Rocio's gaunt face. The anonymous officer explains flatly that Rocio is entitled to financial aid, but that it could take anything from six months to a year for her to receive it.
In much the same way as Kelly Reichardt's Wendy And Lucy, the film explores the way that a minor annoyance for someone who is financially solvent can have seismic consequences for someone whose financial reality is more precarious. When Rocio's gas canister runs out, when her water is turned off or the bottle of budget shampoo she ekes out for months is finally empty, she is faced with an impossible decision. Replace them, and there is no money to feed her son. She herself rarely eats more than an out of date yoghurt or a nibbled crust of bread.
There is an understated naturalism to the performances which brings credibility to this perfect storm of misfortune, reflected by documentary-style photography. In other hands, Rocio's tale could be a melodrama of operatic proportions. In the central role, the striking de Molina is perhaps a little too beautiful to be wholly convincing. But her haunted performance is painfully expressive. Rocio's emotions – predominantly fear – are close to the surface, ever present in the huge, hungry eyes that seem to get bigger as the film goes on.
De Castillo allows his central character dignity despite her hardship. Rocio never asks for help from her neighbours, she is mortified when she suspects that the gravity of her situation has been discovered. But the director is not one to sop the audience with an unrealistic happy ending.
Production company: Diversa Audiovisual
International sales: Latido-A Contracorriente
Producers: German Garcia, Alfred Santapau
Screenplay: Juan Miguel del Castillo
Cinematography: Manuel Montero, Rodrigo Rezende
Editor: Juan Miguel del Castillo
Production design: Paco Cardenas, Amanda Roman
Main cast: Natalia de Molina, Jaime Lopez, Mariana Cordero, Gaspar Campuzano