Documentary set in a bleak corner of St Louis, where a black high school student comes prematurely of age.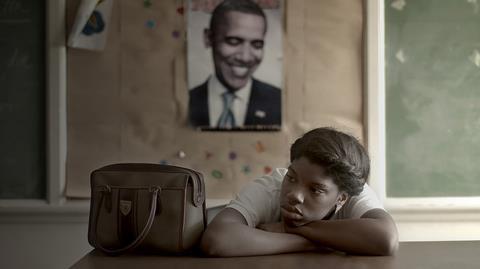 Dirs. Jeremy S. Levine, Landon Van Soest. US, 2017, 90 minutes
For Ahkeem observes the life of a black high school student in a bleak corner of St. Louis. This coming-of-age story also aims at being inspirational, but there's a reality check at every step. The girl-in-the-hood portrait fits into the genre of the immersive doc, spawned by the 1994 classic Hoop Dreams, yet this well-meaning film starts with less hope and closes with only slightly more. For Ahkeem, supported in part by the ITVS division of public broadcasting in the US, will show on US television after it plays festivals and a possible US art house run.
The filmmakers seem bolted to their subjects - at least the editing makes it feel that way.
With a debut in Berlin, it could get a push toward foreign television as a look at deep-rooted disadvantage in the US in the age of Trump, even though the film takes place during the Obama years.
We meet Daje, aged 17, the film's protagonist, also known as Boonie, when she's tossed out of her high school for multiple fights. She and her mother, Tammy, have no choice but to accept a judge's decision to place her in a school for violent kids. Tammy was also expelled from high school. Endemic poverty ensures that the apple isn't falling far from the tree, although apple trees don't sprout in the cracked pavement in this part of St. Louis.
Tight close-ups of mother and child in adversity are a motif throughout For Ahkeem — when Daje gets pregnant (conceiving her son Ahkeem), when her 17- year-old boyfriend faces felony charges; and when friends end up dead in the street.
Another motif is the travel shot across the ravaged cityscape of empty houses and ruined property in a major American city. It's a stark visual complement to the institutional torpor faced by most of Daje's peers, despite endless hugs and the rhetorical chorus of overcoming obstacles. Those injustices, viewed at close range in For Ahkeem, seem blunt rather than acute, anticipated rather than shocking. Daje and her mother are stone-faced and mute when they hear television reports that the white policeman who killed teenaged Michael Brown in nearby Ferguson in 2014 won't face charges. Deaths of teenagers closer to home bring out the tears.
There's a strong dose of anthropology in this documentary, as the filmmakers construct the small world in which Daje lives and interacts with young people like herself – all black, all poor, mostly fatherless. Friends and relatives are in prison. Young men don't have jobs. The language that kids speak among themselves, while known to American adolescents, may require subtitles even in the US.
Filmmakers Jeremy Levine and Landon van Soest (Good Fortune, 2009) find their way into that microcosm and stay there long enough to show how families survive, or how they might not. Young women like Daje are constantly encouraged by parents and teachers. Praise in school for students at risk seems to take precedence over teaching. To their credit, the directors don't gin up that atmosphere with music, relying only on songs that happen to be playing in the background.
DoP Nicholas Weissman gives a tactile intimacy to these young women and their families, who tend to be nameless statistics if they are noticed at all. If access is crucial, the filmmakers seem bolted to their subjects - at least the editing makes it feel that way.
The conventional wisdom is that children from the ghetto are forced to grow up too fast, yet these kids, given their limited opportunities, seemed locked in a helpless childhood. The camera captures their uncertainty and frustration, and the sense of triumph that comes from any achievement, like staying in high school and eventually graduating.
Sadder than the filmmakers may have intended it to be, the doc leaves you wondering about the future of adorable young Ahkeem, with his mother out of high school and his teen father on judicial probation and unemployable because of a felony conviction. Ahkeem's mother has fared better than many, so far, but hope in the hood comes in small portions.
Production companies: Weissman Studio, Transient Pictures
International sales: Wide House ac@widehouse.org
Producers: Iyabo Boyd, Nicholas Weissman
Executive producer: Jeff Truesdell
Cinematography: Nicholas Weissman
Editor: Lily Henderson