Dir/scr: Raja Amari. France/Tunisia, 2016. 92 mins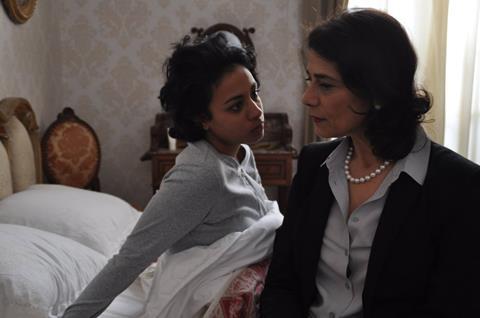 The latest feature from Satin Rouge director Raja Amari invites expectations of a conventional drama in which an illegal Tunisian immigrant struggles to create a new life for herself in France. The reality is a much more complex, ambiguous tale of determination, desire and the price of independence in which the opportunistic central character Samia (Sarra Hannachi) is not always the most sympathetic of individuals.
Sarra Hannachi is a charismatic, compelling presence
Topical themes and accomplished cast should ensure festival exposure for Foreign Body (Corps Etranger) but Amari tries too hard to encompass many complex issues (identity, sexuality, power, patriarchy etc) and never clearly defines the motivations of some secondary characters. The result is a poised and intriguing film that never entirely satisfies.
The opening images are among the most striking are migrants thrash around in treacherous seas like the slain soldiers in Saving Private Ryan. As shoes, personal possessions and cherished photos drift to the bottom of the ocean, only the strongest survive. Sami is among the lucky ones.
The next time we see Samia she has reached Lyon and is being helped by cafe owner and fellow illegal Imed (Salim Kechiouche). She quickly (and conveniently) finds employment with wealthy widow Madame Berteau (Hiam Abbas) who is willing to overlook her lack of papers. Samia is to help clear the effects of her late husband and to serve as a cook, cleaner and companion.
The film veers into Pygmalion territory as the lonely Madame Berteau takes a shine to Samia and the boundaries between employer and employee begin to blur. She starts to buy clothes for Samia, arrange her hair and reveal that the two women have more in common than might have been initially apparent. Sapphic undercurrents are more explicit as the two women grow closer.
Amari complicates matters further as Imed is drawn into their lives. He seems willing to pay court to Madame Berteau but also has a strict view of what he considers acceptable behaviour from the increasingly independent Samia. He veers between seductive charmer and censorious misogynist. There is also uncertainty about his past political activities and his connections to Samia's brother, a jihadist now believed to be imprisoned.
The film is strongest when it focuses on Samia and the moments where she feels most relaxed and able to taste a life far removed from the one she knew in Tunisia. When she drinks beer and dances in Imed's cafe, it feels like a declaration of independence. Later developments underline just how ruthless she can be when it comes to protecting herself and getting what she wants.
Sarra Hannachi is a charismatic, compelling presence and Amari tries to ensure that we are on Samia's side with a constant use of handheld camerawork to create a sense of intimacy and allow us to experience the world as she sees it. A hooded figure in the shadows represents the threat of her past and we do gain a sense of both her boldness and her vulnerability.
Hiam Abbas brings great empathy and dignity to lonely widow Madame Berteau, later revealed as Leila, and is so engaging that we really want to know more of that character's story. Salim Kechiouche, from Blue Is The Warmest Colour, fails to match their impact with a character that feels much less developed and distinctive than either of the women.
Production companies: Nomadis Images/Mon Voisin Productions
International sales: Urban Distribution International udi@urbangroup.biz
Producer: Lina Chaabane
Cinematography: Aurelien Deveaux
Editor: Guerric Catala
Prod des: Rauf Helioui
Mus: Nicolas Becker
Main cast: Hiam Abbass, Sarra Hannachi, Salim Kechiouche