Dir/scr. Diastème. France. 2015. 95mins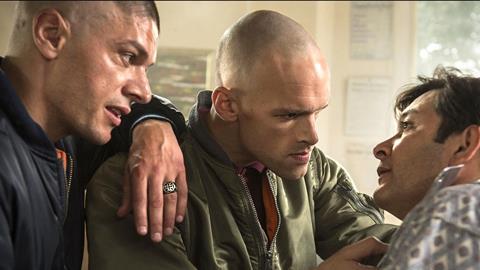 It's hard staying true to your youthful convictions when they would have fit well in Nazi Germany but it's the mid-1980s-and-after in France where Marco Lopez (the excellent Alban Lenoir) is a ferocious young skinhead from the lower class Paris suburbs who carries a meat cleaver and is happy to wield it if anybody objects to him and his buddies stomping on the 'faggots', 'Arab scum' and 'filthy Negroes' they see as polluting the pure and proud meant-to-be-white landscape of their beloved France.
The film garnered attention before its release with media reports that certain exhibitors, spooked that hooligans might trash their theatres, cancelled sneak previews.
As a rare attempt to address an enduring strain of xenophobic thought in French society (and that, as hate-crime headlines sadly show, is by no means limited to France) this compact, unsettling tale deserves to be seen beyond local borders. Drawing respectable admissions on 11 screens in Paris proper and 50 additional screens throughout France since its June 10th release, French Blood managed to land the second spot in terms of ticket buyers per print for new releases on opening day — with Jurassic World in first place.
In his second feature, writer-director Diastème (who, as a film critic, director, screenwriter and playwright uses only one name) follows Marco — a fictional character drawn from the director's own birthplace and youthful environment — from 1985-2013. It's a convincing portrait of blind ignorance and lethal anger as Marco gradually evolves toward a more reasonable approach to living among others in a multi-cultural society. The melancholy truth that gives the film its power is that initially reprehensible Marco manages to become an infinitely better person but, in real life, the Extreme Right thinking he embraced in his twenties hasn't dimmed and may have grown stronger for many of its French followers.
The trio of male friends at the heart of Mathieu Kassovitz's Hate (La Haine) circa 1995 were an Arab, a Jew and a black guy. They wouldn't have wanted to cross paths with Marco and his three brawling buddies as portrayed in the opening reels here. Fights are convincing and miles removed from Fast and Furious-style silliness in that punches hurt, knives slice and bullets cripple. Diastème captures a restless, angry, violent vibe.
The film's most shocking episode — a black street sweeper being forced to drink drain cleaner — was inspired by an authentic crime against a man from the formerly French island of Mauritius. Although the film is a work of fiction, it follows a timeline inspired by real events particularly within Jean-Marie Le Pen's extreme right wing party the Front National. Diasteme knows his subject — he hails from the same suburb where the first skinheads in France were born and he sang in a choir whose benefactors included fundamentalist Catholics. He first reported on the Front National as a young journalist in 1990.
Although he has certainly been hit on the head more than once, as Marco ages, he starts to question his own actions. In a series of ellipses marked by changing facial hair and authentic TV news snippets, Marco grows into leading an increasingly honest life of meagre satisfactions. Marco doesn't have one shining moment of realisation that his behaviour is horrific but, rather, gradually comes to feel that it is neither right nor good to beat up — let alone kill — people because they're "different." When a panic attack leads him to a pharmacy where the pharmacist (Patrick Pineau) goes beyond the call of duty, Marco starts to think for himself in tiny but lasting increments.
Come 1998, Marco is living in Guadeloupe. He used to beat up dark-skinned people for sport but now has no problem serving them alcohol in the beachfront bar where he works. But his wife, who can pass for sleekly refined when she's sober, scoffs at the about-to-triumph soccer World Cup team whose talented players are mostly of African and North African heritage and therefore unworthy to represent France whatever their athletic excellence.
Following another ellipse it seems unlikely Marco will be able to pass on what he has learned about acceptance and tolerance to his daughter since he isn't permitted to see her. Ironically, that's because he no longer shares his ex-wife's hard core racist views. Adding to his loneliness, Marco's former skinhead buddies don't fare very well with passing time.
The film garnered attention before its release with media reports that certain exhibitors, spooked that hooligans might trash their theatres, cancelled sneak previews. If there's any truth to this, now that the film is out it's hard to fathom what today's neo-Nazis might object to. If they're misguided enough to think the Le Pen family has the right idea, those ideas are presented in an accurate context.
Production companies: Fin Aout, Mars Films, France 3 Cinema
International sales: Indie Sales Company, neschbach@indiesales.eu
Producers: Philippe Lioret, Marielle Duigou
Cinematography: Philippe Guilbert
Editor: Chantal Hymans
Production design: Riton Dupire-Clement
Main cast: Alban Lenoir, Samuel Jouy, Paul Hamy, Olivier Chenille, Jeanne Rosa, Patrick Pineau, Lucie Debay