Boris Lehman's memories flash before our eyes in this valedictory, whimsical personal film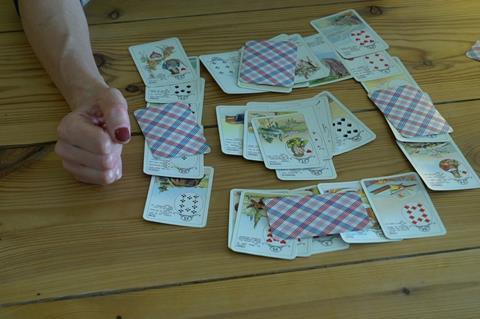 Dirs/scr: Sarah Moon Howe, Boris Lehman. Belgium/France/Canada. 2021. 78 mins.
Veteran Belgian cineaste Boris Lehman teams up with more youthful compatriot Sarah Moon Howe to survey his long life in Ghosts From The Past (How History Got Into Me), a title which flows more poetically in the original French: Fantômes du passé (comment l'histoire est entrée en moi). An adjunct to Lehman's ongoing attempt to document his entire existence with images — he reckons to have created more than 500 films and 300,000 photographs in the last half-century — it's a whimsical affair with a valedictory air, made after and in response to a health crisis suffered in 2018. His memories now flash before our eyes.
Intermittently beguiling but something of a plod even at 78 minutes
A former film critic and a 1970s confidant and collaborator of Chantal Akerman (he worked on her classic Jeanne Dielman), Lehman has long enjoyed a tiny but devoted cult-coterie following in the more rarefied reaches of cinephilia. Indeed, for many years he only allowed his works to be screened with himself in attendance to present them personally. This latest project — which premieres theatrically at Doclisboa having just screened on Belgian TV — will doubtless pop up in the scattering of festivals which have showcased his experimental-tinged work in recent decades, but is unlikely to elicit many new admirers.
On paper, Ghosts From The Past recalls the widely-beloved twilight projects of Belgian-born Agnes Varda, who likewise teamed up with a much younger artist of the opposite sex for her farewell picture Faces Places. In execution, however, this is a much more introspective, even naval-gazing affair — typical of a fellow who once made an entire feature-length documentary entitled The Story Of My Hair.
Intermittently beguiling but something of a plod even at 78 minutes — a mere bagatelle compared with Lehman's mammoth projects like the 380-minute "filmed psychoanalysis" Babel and the 323-minute My Seven Places — Ghosts From The Past gets an energy boost from the on-screen contributions from Lehman's longtime friend Howe and from winsome chanteuse Fanchon Daemers, who delivers a trio of charming lo-fi musical numbers in the last hour.
By contrast, Lehman himself exudes a consistently hangdog ennui, prone to morbid musings given extra urgency by his brush with the grim reaper. Although only in his mid-seventies at the time of filming (he's younger than commercial-cinema contemporaries Mike Leigh and Michael Mann), he appears considerably older, weighed down by preoccupations relating to his intersecting professional, financial and emotional lives. His woes are magnified by the unwelcome construction proceeding next door to his cluttered atelier; some modern concrete monstrosity steadily emerges to block his view.
With the future uncertain and the present unpleasant, Lehman understandably retreats into the past. Spiritual cousin of such self-focused "filmeurs" as Alain Cavalier and Jonas Mekas, he has amassed a colossal archive of diary-style filmings — mostly on celluloid — which gives him a whole mental metropolis of memory lanes to meander.
Wisely, Lehman and Howe (the latter previously best known for her own autobiographical documentary, Nobody Knows Who I Am) entrust the crucial editing duties to external hands. Julie Sandor turns Lehman's gargantuan oeuvre into a kaleidoscopic mosaic of fragments — "shored against his ruin," to paraphrase T.S. Eliot — most movingly during a seven-minute gallery of pals, comrades, acquaintances and colleagues glimpsed on 16mm and augmented with soaringly angelic choral voices.
In terms of editorial choices, however, the picture is hobbled by an early fortune-telling sequence in which Howe, at a leisurely pace, consults playing cards in response to Lehman's probing questions ("… and is love still possible?"). This session drags on for a full nine minutes; indulgently patient viewers will later find a reasonable scattering of rewards as Lehman and Howe conduct their playful, philosophical gavottes.
Production companies: Dovfilm, Bandits Mages, Les Films du Centaure, RTBF
International sales: Dovfilm, lehman.boris@gmail.com
Producer: Boris Lehman
Editing: Julie Sandor
Cinematography: Antoine-Marie Meert, Christophe Delbecq, Sarah Moon Howe, Alexandra Dementieva