Three high-school seniors navigate adolescence in rural North Carolina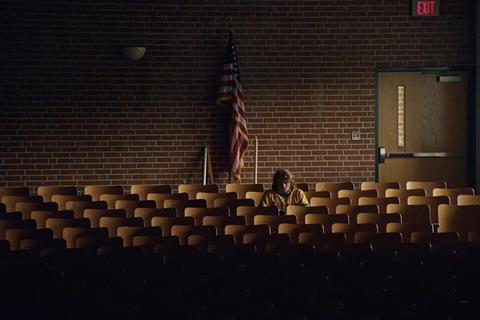 Dir/scr: Grear Patterson. US. 2019. 78mins
In his feature directorial debut, mixed-media artist Grear Patterson gives us a vision of high school that's dreamy, sensual, surreal and all too fleeting. Giants Being Lonely may not add much to the landscape of coming-of-age dramas, yet the preciseness of its impressionism results in a striking atmosphere of hormones and vulnerability. Patterson's cast of friends helps provide Giants Being Lonely with its air of awkward innocence and, even if the gauzy spell eventually dissipates, the film introduces an intriguing new voice whose sense of mood, at this point anyway, is surer than his storytelling skill.
Giants Being Lonely deftly expresses the anxious emotional purgatory of adolescence
Screening in Venice, the film lacks stars but could benefit from its popular milieu and festival word-of-mouth. By means of comparison, Giants Being Lonely occasionally evokes the same ethereal view of youth seen in Eliza Hittman's work (It Felt Like Love, Beach Rats) or Gus Van Sant's teen dramas (Elephant, Paranoid Park), which suggests its appeal but also its commercial limitations.
The film takes place in woodsy, small-town North Carolina, where three high-school seniors navigate seemingly typical teen ordeals. The popular Bobby (Jack Irving) looks like he might have a lucrative future as a pitcher, while his teammate Adam (Ben Irving) pines for their classmate Caroline (Lily Gavin), who cares for him but may love Bobby more. But complications arise when Adam's parents (Amalia Culp, Gabe Fazio) insert themselves into the boys' lives — sometimes in shocking ways.
It's telling that the two adult characters in Giants Being Lonely are known simply as Mrs. S and Coach; the movie adopts the sheltered, naïve perspective of its teens, who are awash in their thorny feelings and befuddled by the larger world around them. Patterson, who also paints and photographs and wrote the film's screenplay, provides a slender, episodic narrative that's more about communicating the essence of teenage life than investigating the specifics of first love or difficult upbringings. Indeed, Bobby, Adam and Caroline float through Giants Being Lonely in a daze, almost as if they're trapped between childhood and maturity, entranced but also hesitant.
As such, the film doesn't entirely feel real, more like an extra-terrestrial's distorted perspective of human behaviour. (Fazio, the one professional actor in the main cast, portrays an exaggeratedly macho baseball coach who yells over-the-top platitudes like he's in a sports-movie parody.) But what emerges strongest is a melancholy for how youth is both so powerful and so finite. Sex, abuse and, unconvincingly, death all play a part in Giants Being Lonely's short runtime, and Patterson (aided by cinematographer Hunter Zimny) lingers on each discrete moment, like they're indelible memories being stored away by the young characters that they will carry with them forever.
Giants Being Lonely's cast of Patterson's peers is unpolished but also unguarded. Jack and Ben Irving are brothers, with Jack an especially charismatic performer, combining a boyish handsomeness with a wistful, restless vibe. Both are pursuing an acting career (Ben is also a writer).
Patterson mostly avoids big dramatic showdowns, instead letting his teens drift through their ineffable uncertainty. That strategy ultimately cuts both ways: Giants Being Lonely deftly expresses the anxious emotional purgatory of adolescence, but the actors' inexperience leaves their characters feeling like ciphers and symbols rather than fully-realized individuals.
Production company: ROD3O
US sales: CAA, RSutherland@caa.com/International sales: Wild Bunch, Vmaraval@wildbunch.eu
Producer: Olmo Schnabel
Production design: Audrey Turner
Editing: Ismael de Diego, Olmo Schnabel
Cinematography: Hunter Zimny
Music: Ben Morsberger
Cast: Jack Irving, Ben Irving, Lily Gavin, Amalia Culp, Gabe Fazio