Chris Evans (Captain America) and director Marc Webb (Spiderman) unite for a low-key story about a child maths prodigy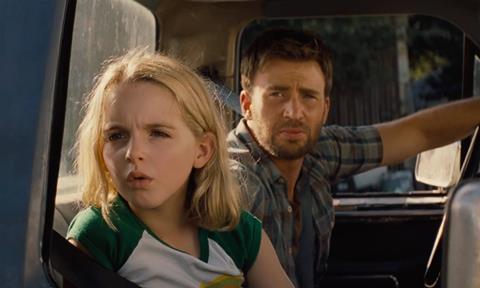 Dir: Marc Webb. US. 2017. 101mins
Is it better to push a gifted child to the limits of her potential or let her be a normal, happy girl? This may be an agonising question for any parent, but Gifted's increasingly manipulative treatment of provocative subject matter cheapens the drama of its premise. A heartfelt performance from Chris Evans as the conscientious caretaker of his brilliant niece isn't ample compensation for a film lacking the same intelligence and inquisitiveness that its young protagonist possesses in abundance.
Gifted reveals itself to be a mechanical tear-jerker in which grownups fight over a little girl
Opening April 7 in the US and June 16 in the UK, this Fox Searchlight feature will rely on Evans' star power, although he's had trouble corralling viewers outside of his role as Captain America. With a supporting cast that includes Octavia Spencer and Jenny Slate, Gifted should attract art-house patrons, but tepid reviews may hurt the movie's crossover prospects until it settles on VOD.

Set along the coast of Florida, the movie stars Evans as Frank, a soft-spoken boat mechanic who takes care of Mary (Mckenna Grace), the seven-year-old daughter of his sister Diane, a genius mathematician who committed suicide. Once Mary starts attending first grade, her teachers, including Bonnie (Slate), discover that she has an incredibly agile mind for numbers. But despite the teachers' pleading, Frank refuses to allow Mary to enrol in an elite private school, fearful that she will end up isolated and troubled like his sister. Frank's problems only multiply once his estranged mother Evelyn (Lindsay Duncan) swoops in from Boston to demand custody of Mary, asserting that Frank isn't a fit guardian for a girl she believes could become one of the great mathematicians of modern times.

Fresh off directing Andrew Garfield's Spider-Man movies, Marc Webb returns to his low-budget roots for Gifted. But the (500) Days Of Summer filmmaker gives the proceedings a slick Hollywood gloss that runs counter to the complexity and moral shading intrinsic to Gifted's story.
Frank is convinced that Mary shouldn't be bullied into giving up her childhood to become a maths prodigy: He witnessed first-hand how miserable it made Diane, and he insists that his sister wanted him to be Mary's caretaker so that the girl wouldn't follow in her own tragic footsteps. But Gifted never even bothers raising the argument that Frank could, in fact, be holding Mary back, simply presenting him as her unquestioned protector and champion so the audience never needs to question who she should be with.
Tom Flynn's screenplay introduces several superficially engaging characters, such as Spencer as a supportive, no-nonsense neighbour. But eventually, everyone in Gifted falls into his or her designated role, the movie morphing into a wan courtroom drama in which Frank and Evelyn square off for custody.

Gifted is also incurious about its own central dilemma. Mary is an incredibly bright and sensitive child, but the filmmakers don't do much to really explore her inner world or circumstance. Frustratingly, Gifted's narrative becomes increasingly about Frank's unresolved issues with his mother, reducing Mary to a background character — nothing more than a thin dramatic device — in the larger story. The mystery and allure of true genius are paid lip service, but the question of how best to cultivate it is left oddly unexamined.

Instead, Gifted reveals itself to be a mechanical tear-jerker in which grownups fight over a little girl. Evans brings soulfulness to his portrayal — as we'll learn, the seemingly humdrum Frank is also rather brilliant — but the sincerity and empathy he exudes only makes the film's button-pushing sentimentality all the more irksome. When Grace has a chance to be on screen, she's a likeable, albeit prickly presence — Mary has no patience for kids her age and other dullards — and Duncan finds a little dimension in a character who's merely meant to be an easy villain. But Webb hasn't allowed much nuance to enter into the equation.
Production companies: TSG Entertainment, FilmNation Entertainment, Grade A Entertainment
Worldwide distribution: Fox Searchlight
Producers: Karen Lunder, Andy Cohen
Executive producers: Glen Basner, Ben Browning, Molly Allen
Screenplay: Tom Flynn
Cinematography: Stuart Dryburgh
Production design: Laura Fox
Editor: Bill Pankow
Music: Rob Simonsen
Website: www.foxsearchlight.com/gifted/
Main Cast: Chris Evans, Mckenna Grace, Lindsay Duncan, Jenny Slate, Octavia Spencer