Shelly Silver takes a walk through Leipzig's modern museum in the company of 16 perceptive young women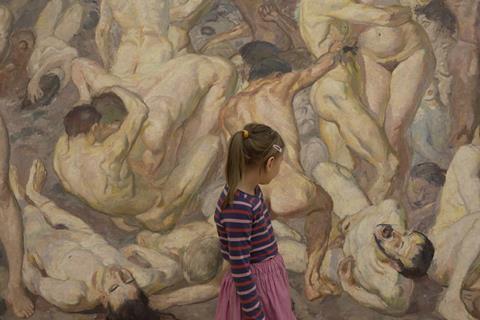 Dir. Shelly Silver. Germany. 2020. 71 mins.
There's something timeless about the content of Girls/Museum, a documentary that contemplates the gender codes of visual art through the perspective of young female viewers. Such a film could in theory have been made at any point in the last few decades; yet seems to belong specifically to the current moment, as the teenage girls shown by US film-maker and artist Shelly Silver often use a language of gender fluidity that would have been unusual even five years ago. At once a social inquiry, a critical essay in art history and a poised, even sculptural study of people, paintings and space, Girls/Museum is thought-provoking, engaging and visually striking. Currently featured in DOK Leipzig – indeed, Leipzig is the film's location – it deserves to travel widely and reach diverse audiences, although it may have especial resonance for the female age group that it depicts.
Thought-provoking, engaging and visually striking
Silver's location is MdbK, the Leipzig Museum of Fine Arts. Its modern building, opened in 2004, is viewed from inside and outside in an opening montage that briskly studies its stone and glass surfaces, as well as some artworks, notably a bas relief of odalisques – the opening image that introduces the theme of female representation. Silver then studies a series of paintings, sculptures and, later, photographs from various eras, each identified by an onscreen caption. And for many of the works, we are given the responses of a group of female German teenagers visiting the museum, ages seemingly ranging over several years (the 16 girls are not named in the film, but listed by their first names in the closing credits).
The girls largely focus on the depictions of women in these various works, sometimes commenting directly on the images before extrapolating imaginatively on them. Examining an Eve painted by German Renaissance painter Lucas Cranach the Elder, one girl suggests that she looks "kind of devious" – then speculates on Eve's thoughts about plucking the Apple ("She's going to do it anyway. She knows it'll turn out badly").
Gender politics figure prominently, both in the range of works – which seem to have been carefully selected by Silver for the insights they yield – and in the content. One participant studies Hans Baldung's 16th-century Seven Ages of Woman and argues that the woman placed at the centre of the painting is the one that the male artist most desires. This work is followed by Forever and Ever, a modern re-reading of Baldung's painting by Chinese artist Wang Qinsong, which reworks the original in a modern perspective of race and gender.
Gender and its instabilities are clearly important themes in these girls' lives and sense of their own identity. One of them argues that Christ was a woman, then suggests it would be better if Jesus didn't have a gender at all; another reads a male portrait for its transgender possibilities. Meanwhile, an Afghan girl, speaking in her native language Dari, talks about her own identity and choice of traditionally male clothes ("I grew up as a girl but dressed as a boy").
While most of the group are forthright and confident, some of their comments are surprising in their tentativeness: on the question of the relative virtues of male and female painters, one girl concludes that there must be something that women do better than men, but she's unsure what that might be. Some of the group are conservative, even disapproving, when faced with the self-portraits of contemporary Swedish photographer Arvida Byström. And one girl expresses absolute confidence in the wisdom of the curators who have organised the museum's displays – a notion that Silver places in an ironic light by cutting to an early 20th-century painting in which a group of fully clothed male artists surround a female nude.
Silver's own curatorship is wide-ranging, introducing us to some fascinating, little-known works – notably a bust of a black woman by French sculptor Jean-Baptiste Carpeaux which elicits interesting insights on race and slavery, and such outré 20th-century pieces as Werner Tübke's 1967 canvas in a sort of neo-Bosch mode ("Rather overloaded," comments one girl). Another revelation is a portrait by Christian Seybold, who appears to have invented modern photorealism in the late 17th-century, judging by a close-up of his brushwork. Occasionally Silver isolates details by framing them as thumbnail images on a black background.
Silver predominantly uses static shots, one notable exception being a shaky move following one girl as she spontaneously crosses the room to examine a work she likes. Visually, the result is a highly atmospheric essay on the museum building itself, in its coolly forbidding monumentalism, and on the way that artworks and visitors alike occupy its spaces. Some images are inserted to slightly rhetorical effect – as in a montage of archived works long withdrawn from exhibition – but Silver doesn't need to overstate any point of her own, when her subjects, human, pictorial and architectural, are so eloquent in themselves.
Production company: House Productions
International sales: House Productions, info@shellysilver.com
Producer: Shelly Silver
Cinematography: Shelly Silver
Editor: Shelly Silver
Music: Johanna Magdelena Beyer, Oranotha Erway