Documentary which looks at the women behind the rise of Greece's far right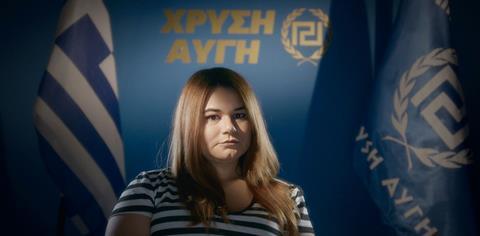 Dir: Havard Bustnes. Norway-Denmark-Finland. 2017. 95mins
Sitting on a chair, a young Greek woman fiddles with her hair while the camera is set up around her. Her interviewer's first question belies the nondescript nature of the room; will she explain the difference between Nationalism and Neo-Nazism? This obviously hits a chord and she refuses point-blank to answer, claiming that she doesn't care enough to clarify the distinction. This candid exchange sets the tone for Norwegian director Havard Bustnes' disturbing look behind the scenes of Greece's far-right political party Golden Dawn though the experiences of three of its most prominent women.
It is in the film's quieter moments where the light of truth shines brightest
Arriving at time when ultra-conservative politics are whipping the world into a frenzy of debate and disgust, Golden Dawn Girls is resonant enough to strike a chord with those international audiences who embraced similarly political works such as An Inconvenient Sequel, 13th and Trumped. Bustnes' previous festival success with 2013's Raging Grannies may also help secure further berths following his documentary's IDFA premiere.
"What happened to Greece?" asks Bustnes, as he pesents a country which has been pulled towards facism and intolerance. His establishing shots of golden beaches segue directly into archive news footage of Golden Dawn, the nationalist party which is now the third largest in the country. Aggressively jingoistic rallies, violent clashes with police, beatings of immigrants and military-style training camps led to the party being investigated as a criminal organisation and the arrest of most of its 18 all-male MPs in 2013.
With their partners in prison, Golden Dawn's women were suddenly thrust into the limelight. Bustnes takes the opportunity to follow three of them. Ourania — whose defiant interview opens the film — is the daughter of the party's leader Nikolaos Michaloliakos who puts aside her university studies to become Golden Dawn's de facto figurehead. Jenny is the politically active wife of one of the party's central committee, while Dafni is the outspoken mother of a prominent (and notoriously aggressive) member. Passionate advocators of their party's extreme politics, these women campaigned heavily both for votes in the 2015 election, and the release of their men.
The real power of the film comes not in the footage of public speeches, conventions and protests, where party members engage in fascist salutes and sing their blowhard anthem ('We want a new Greece that will engulf the whole earth'). Nor is it in the the talking-head interviews, with all three women evading questions and carefully constructing responses, or the wealth of archive footage of such incidents as a Golden Dawn member punching a woman in the face during a TV interview.
Instead, it's in the quieter moments where the light of truth shines brightest. Bustnes leaves cameras rolling and mics on between takes, catching the women as they converse in Greek about what they really shouldn't say; shockingly honest thoughts about immigrants, Jews and 'leftists' which provides unequivocal answers to all the questions they have been attempting to sidestep or outright deny.
Indeed, their belief that Bustnes will paint them in a sympathetic light is a naivety which he mines with Louis Theroux-style tenacity. While he may not quite demonstrate Theroux's ability to get into the deepest cracks of his subject, he certainly shares his fellow documentarian's focus and determination, resulting in a film that is both revelatory and engaging. And if there's also an element of bias that springs from the filmmaker's personal horror at what he is witnessing, the majority of Golden Dawn Girls' audience will surely share such sentiments.
Production companies: Faction Film, House of Real, Napafilms
International sales: DR Sales drsales@dr.dk
Producers: Christian Falch, Harvard Bustnes
Cinematography: Lars Skree, Viggo Knudsen
Editor: Anders Teigen
Music: Jonas Colstrup