Portuguese director Marco Martins presents a damning look at immigrant life in modern Britain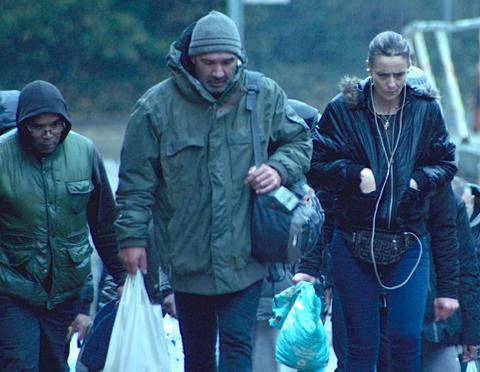 Dir: Marco Martins. Portugal/France/UK. 2022. 113mins
It often takes an outsider vision to capture specific aspects of British culture and politics in a truly revealing cinema image. That has been the case with film-makers as diverse as Michelangelo Antonioni (in Blow-Up), Jerzy Skolimowski (Moonlighting) and Pawel Pawlikowski (Last Resort) – the latter two films notably concerning immigrants to the UK faced with exclusion and exploitation. Now Portugal's Marco Martins (Saint George, How to Draw a Perfect Circle) offers a migrant workers' perspective on Brexit-era Britain, and Great Yarmouth – Provisional Figures (the title features a statistical term denoting immigrants of undefined status) must rank among cinema's most unforgiving portraits of the UK.
A chilling essay in hard social realism, but with a nightmarish expressionistic spin
A chilling essay in hard social realism, but with a nightmarish expressionistic spin, the film is uncompromisingly bleak and boldly executed, and features a memorable anti-heroine superbly portrayed by Beatriz Batarda – the lead in Martins' 2018 TV series Sara. Great Yarmouth is likely to have scant commercial appeal outside bolder niche outlets, but its hardcore vision should resound on the fest circuit following its San Sebastian debut.
The cast includes Kris Hitchen, who played the beleaguered hero of Ken Loach's Sorry We Missed You and, indeed Great Yarmouth is somewhat Loachian in its theme – although by comparison, that director's crisis Britain look like Downton Abbey. Divided into three chapters, each covering a month, the film is set in late 2019 in the lead up to Britain's exit from Europe. Batarda plays Tania, a Portuguese woman living in the run-down East Anglian seaside town of the title. She originally came to Britain as a worker in the area's turkey processing plants, and now – through tenacity and, it seems, sheer ruthlessness – has become a fixer, proving cheap immigrant labour for the business.
Married to a brutish Englishman, Richard (Hitchen), and working with on-the-skids ex-partner Raul (Romeu Runa), she oversees a string of local hotels (a term which erm severely over-dignifies these crumbling dives) where she houses each new influx of Portuguese, or 'Pork-and-cheese', as they're locally known. Superficially protective towards them – she's actually known as 'Mother' – she runs a racket whereby the workers pay exorbitantly for lodging and transport, while earning a pittance in an industry that treats humans as mercilessly as it does the fowls that it slaughters. (Images of the mechanised abattoirs, albeit elegantly shot, are brutally matter-of-fact and not for the squeamish).
Meanwhile, Tania dreams of better things, notably of tarting up the hotels so that she can move into a classier bracket of exploitation, to wit old people's homes; she spends her time improving her English by repeating phrases that are a cruelly ironic litany of euphemisms ("proper refurbishments", "good amenities", "beautiful sea view"). Then she gets involved with new arrival Carlos (Nuno Lopes), the brother of a man whose work and debt problems have landed him in deep water.
While similar films have primarily concerned the workers themselves (e.g. Michael Winterbottom's 2016 Ghosts, about a true case of drowned Chinese cockle-pickers in Northern England), Martins makes the bold choice to focus on an exploiter. Tania is sympathetic to a degree, and contradictory in her ethics and emotions, but at heart is a gang boss who has signed up the system that previously used her – and continues to do so. Batarda (a Portuguese cinema regular who has worked with Manoel de Oliveira, Teresa Villaverde and João Botelho) plays a woman whose subjectivity and sexuality just about make it intact throughout her experience, but whose constant look of haggard anxiety suggests that she's seen a few frosty mornings of the soul.
Working with DoP Joao Ribeiro and designer Wayne dos Santos, Martins establishes the mood of a glacially inhospitable, largely nocturnal purgatory: interiors with mouldering walls and scrufulous ceilings, lit with toxic neon hues; aquarium-like daylight exteriors, with the names of amusement arcades (Gold Rush, Silver Slipper) rubbing our noses in the squalor with heavy irony.
The portrayal of subsistence-level living is bleak indeed, and one party scene involving Richard's humiliation of Raul brings to mind the domestic degradations of 2018's Ray and Liz, by British photographer-turned-director Richard Billingham. Adherents of Loach's political humanism might even consider Great Yarmouth a libel on British working-class culture, but it's truer to say that the film is an indictment of contemporary global capitalism and its dehumanising effects. That point is made, perhaps too explicitly, in a coda featuring the character whose voice-over bookends the film – a former nature sanctuary worker (Robert Elliott) whose tenderness for the region's bird life contrasts ironically with the local treatment of turkeys and humans alike.
In this respect, Great Yarmouth isn't always subtle, but it is deeply unsettling and certainly timely given that the UK now faces a new Conservative regime that is unlikely to make social compassion a priority. British fiction film is yet to produce its own analysis of the state of the post-Brexit nation: it's appropriate that it has taken an European auteur to do that. The effect is sobering to say the least.
Production companies: Uma Pedra No Sapato, Les Films de l'Après-Midi, Elation Pictures, Damned Films
International sales: LevelK admin@levelk.dk
Producers: Filipa Reis, Kamilla Kristiane Hodøl
Screenplay: Ricardo Adolfo, Marco Martins
Cinematography: Joao Ribeiro
Production design: Wayne dos Santos
Editing: Karen Harley, Mariana Gaivao, Marco Martins
Music: Jim Williams
Main cast: Beatriz Batarda, Nuno Lopes, Kris Hitchen, Romeu Runa, Robert Elliott, Victor Lourenco, Rita Cabaco