Fan Bingbing and Lee Joo-young go on the lam in Han Shuai's moody Seoul-set drama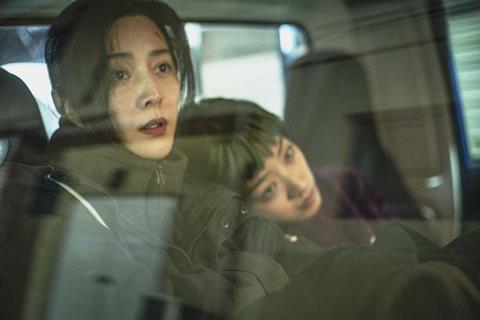 Dir: Han Shuai. China. 2023. 92mins
Back in Berlin three years after her well-received debut Summer Blur, which picked up the Generation KPlus Grand Prix, Chinese director Han Shuai delivers a female-gaze thriller set in the seedy underbelly of South Korean capital Seoul that gives superstar Fan Bingbing her first local starring role since the tax evasion scandal that put her career on hold in 2018. But despite its early promise, this moodily shot all-in-one-night riff on Thelma And Louise eventually feels more like an exercise in film noir than the real thing, one that forgets a crucial rule of the game – that a cool attitude is no replacement for dramatic tension.
Fan never quite seems to find the key to unlock her character, and by the end her mask of tragic suffering feels decidedly one-note.
That's a shame, as Green Night has so much going for it – to begin with, the pairing of two talented actresses, Fan and her Korean colleague Lee Joo-young, most recently seen internationally as Detective Lee in Hirokazu Kore-eda's Broker. Their double act and the film's visual chutzpah will be enough to sell this indie film in core Asian core markets, where one of the film's themes – cross-border Chinese-Korean economic migration – is sure to resonate. It may also stir some arthouse distribution interest globally, especially with solid fanbases for offbeat Asian genre material.
Fan plays Jin Xia, a Chinese woman working as an airport security guard in Seoul. Anxious and bottled up, she's the polar opposite of Lee's sassy character – credited only as 'the Girl with Green Hair'. She's a modern-day moll who barges her way into Jin's life following an airport altercation. Both women, it transpires, are dependent on men they despise. Jin has legal status in Korea only thanks to her marriage to the abusive Lee Seung-hun (Kim Young-ho) – a fundamentalist Christian with a nasty temper. Lee's character is a drug mule controlled by a vicious deaf-mute boss. It's partly the magnetism of opposites, partly a frisson of sexual attraction, and partly the prospect of making enough money to buy herself legal residence in Korea and become independent of Lee that persuades the introverted Jin to go on the lam with the green-haired younger woman, who plans to sell the merchandise she has absconded with and split the profits.
If the set-up is a stretch of credulity, audiences will still be on board - partly because of Kim's performance as a woman who hides her vulnerability behind a tough wall of pure screw-you attitude, and also due to a fascination in how it will all play out over the course of the night. Fairly predictably, it turns out. Low points are two clumsy moments in which the childhood traumas that haunt both fugitives are revealed, and an impressionistically shot and edited love scene between the two women that feels not so much a passionate explosion of pent-up sexual tension as a box that needs ticking off. Fan never quite seems to find the key to unlock her character, and by the end her mask of tragic suffering feels decidedly one-note.
There's visual nourishment aplenty, however, in a film jointly shot by Beijing-based Belgian cinematographer Matthias Delvaux and Kim Hyun-seok, whose DoP credits include Lee Chang-dong's Poetry. A night spent dodging a threat that remains too distant for too long pans out in Seoul's moody backstreets, in cramped apartments, a ten-pin bowling alley, a room in a high-rise hotel, and among the stalls of the city's Noryangjin fish market. There are moments of noir beauty in all this, but in the end audiences need more from this underfed story than just atmosphere.
Production company: DEMEI Holdings Limited
International sales: Cercamon, hello@cercamon.biz
Producers: Liu Ziyi, Wang Jing
Screenplay: Han Shuai, Lei Sheng
Production design: Lee Hwa Sung
Editing: Tom Lin
Cinematography: Matthias Delvaux, Kim Hyun Seok
Music: Hank Lee
Cast: Fan Bingbing, Lee Joo-young, Kim Young-ho, Kim Min-gui