Dir/scr. Khyentse Norbu. Bhutan, Hong Kong, 2016. 96 min.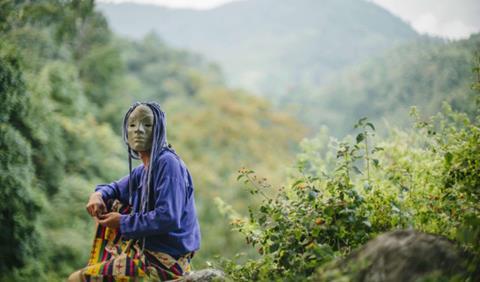 Colorful, exotic and mysterious enough to keep audiences on their spiritual toes, the handsomely produced fourth feature by Buddhist preacher Khyentse Norbu (The Cup, Travelers and Magicians, Vara: A Blessing) looks sufficiently outlandish to draw the attention of every festival programmer and appeal to all those who have already enjoyed a taste of Norbu's native Bhutan in his earlier pictures. Jeremy Thomas once again executive produces (he has been a supporter since the days of Little Buddha on which Norbu was an adviser).
Jigme Temzing's camera fully exploits the visual potential of the location, certainly one of the film's best features
A philosophical fairytale (the title means "once upon a time") steeped in the ceremonial traditions of Bhutan and shot in a remote village whose inhabitants actively participated in the cast, the picture has a modern prologue and epilogue suggesting its intentions to be both timeless and universal.
Hema Hema's thin plot is there only as an excuse to discuss such topics as identity and anonymity, illusion and reality, and most particularly the transition from life to death and back to life, following the existential cycle of rebirth which is a cornerstone of the Buddhist faith.
The brief introduction, which takes place in a modern disco bar, shows one of the hostesses (Zhou Xun) checking her evening's tips, which she hides high up in her net stockings. An abrupt cut takes the picture into the Himalayan mountains, at an unspecified time and place. There, a strange two-week ritual takes place every 12 years, during which all participants must abandon their own identities, cover themselves in identical attire which hides their gender and don weirdly suggestive masks which they are strictly forbidden to take off.
For the entire fortnight, they are required to attend a ceremony celebrating that "intermediary state" between death and rebirth, when the past fades away until it is completely erased and the future is yet to begin.
Most of Hema Hema is taken up by these enthusiastically performed rites, played on an improvised stage, around the corpse of the deceased which is gradually transformed into the embryo that will take it back to life in a different shape and form. However, in the audience watching the show, a different drama is taking place: a secret temptation draws together a man and a woman (a hint that anonymity has its limits) while a mistaken identity leads to a crime that will forever haunt the guilty party.
Norbu himself, supposedly the reincarnation of a great Tibetan master Jamyan Khyentse Wangpo, has studied extensively with the greatest living Buddhist scholars of the day and is considered a spiritual authority, holding seat in an East Tibetan monastery, teaching in India and Bhutan and supervising meditation centers all over the world. All of which would make the film an integral part of his courses. The story he adds, bereft of any dialogue, is cleverly told with the help of more or less subtle hints, although one nude bathing scene in the river seems out of place, given the secretive conditions imposed by the rules of the ritual.
Needless to say, there are plenty of interpretations to fit these images, ambivalence being one of the main assets of such an enterprise. It can be a reflection on humans defined by the masks they always wear and on anonymity offering a temporary refuge from responsibility. It can also deal with illusions that are taken for the real thing and vice-versa. And of course, Norbu's picture suggests that rituals, be they ancient and exotic performed in the middle of the forest, or modern and drenched in alcohol, as they unfold in crowded, noisy disco bars, are basically similar – used to hide one's identity, which may work but only up to a certain point.
There is little point in discussing performances which are hidden by masks, though full credit should be given to the villagers who energetically populate the crowd scenes. Jigme Temzing's camera fully exploits the visual potential of the location, certainly one of the film's best features, and the masks, as expressionless as they pretend to be, naturally imply a relation with the person who has chosen to put them on, whether it is the Expressionless face of the protagonist or the Red Wrathful visage of the female temptress.
The High Priest in charge of the proceedings is the only one who has a name and whose face is uncovered, but in the spirit of the film, this does not mean he is not masked as well.
In a world that seems bent on going back to religion at any price and advocating faith as the solution for every type of evil around, there is much in Norbu's film to ponder on, and even if no definite answer is provided, at least it will occupy the mind for quite a while.
Production company: Tsong Tsong Ma Productions
International sales: Hanway Films (info@hanwayfilms.com
Producers: Pawo Choyning Dorji, Jeremy Thomas, Sarah Chen
Cinematography: Jigme Tenzing
Editing: Tian Zhuangzhjuang, Li Gen
Production design: Emily Avery, Yoshiko Crow
Sound design: Duu-Chih Tu, Wu Shu-Yao
Cast: Tshering Dorji (Expressionless), Sadon Lhamo (Red Wrathful), Thinley Dorji (High Priest), Zhou Xun