Two solitary souls find comfort in the natural world in Bas Devos' Encounters-winning feature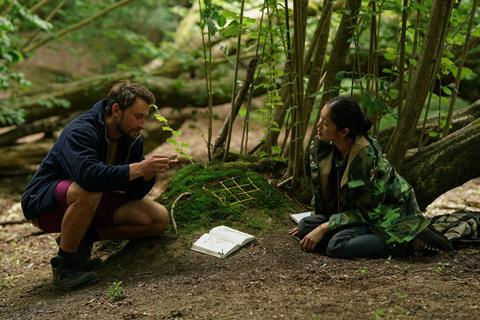 Dir/scr: Bas Devos. Belgium. 2023. 84mins
A chance encounter changes two people's lives in Here, the remarkable fourth feature from Belgian writer-director Bas Devos. This deceptively slender tale about a Romanian construction worker and a Belgian-Chinese bryologist (an expert in the study of moss and lichen) keeps its principal characters separate for most of the film's 84-minute running time. But with gorgeous precision, Devos slowly brings these mismatched individuals into each other's orbit, in the process crafting a quietly overwhelming study of human connection and our relationship with the natural world. Hardly a conventional love story, but achingly tender nonetheless, Here is fully present and dazzlingly alive.
Fully present and dazzlingly alive
Here debuted in Berlin, where it won both the jury and Fipresci prize for the best film in Encounters. This is Devos' third picture to screen at the German festival, preceded by 2014's Violet and 2019's Hellhole. (His third feature, the luminous Ghost Tropic, screened in Directors' Fortnight at Cannes in 2019.) Discerning festivals should seek out the film, and fans of thought-provoking, meditative arthouse cinema will be richly rewarded.
Stefan Gota plays Stefan, a construction worker on a job in Brussels who is about to return to his Romanian homeland on holiday, uncertain if he will come back to Belgium. He has family in Brussels in the form of his older sister Anca (Alina Constantin), an exhausted nurse, but as he cleans out his refrigerator, he exudes the air of someone who is leaving for good. Deciding to use his leftover vegetables to make a soup for those close to him, Stefan heads out to a local Chinese restaurant for one final meal, meeting ShuXiu (Liyo Gong), a scientist studying moss who helps out at her aunt's eatery.
Devos immerses the viewer in his dreamy spell, shooting in a boxy aspect ratio that emphasises the intimacy of this character piece. Focused on the lush vegetation in Brussels — especially in the outlying forests — the writer-director creates an environment in which Stefan and ShuXiu individually seem enveloped by their surroundings. We spend the majority of the time with Stefan but both are solitary souls, attuned to their internal rhythms more than those of the outside world. ShuXiu spends her days diligently staring into a microscope, engrossed by the plant life she sees up close, while Stefan is perhaps a bit more adrift, delaying his departure for reasons that remain teasingly opaque.
Here's dialogue is minimalist, which allows the immersive sound design to dominate. We often hear the rush of wind or the rustle of leaves — sweet music to Stefan's ears, considering his fascination with nature. One day, he finds a mysterious assortment of seeds in his pocket, later going to a community garden for a restorative sojourn. He and ShuXiu are only on screen together twice and yet Here subtly suggests that they share a psychic bond — a respect for the earthly paradise around them.
The characters' first encounter is played nonchalantly, but Gota and Gong hint at a slight spark between them. Devos keeps the interaction lowkey enough that the scene has a lifelike mundanity to it. (Stefan is soaked because of the rain; ShuXiu asks him if he'd like to dry his shoes on the restaurant's radiator – an offer he politely declines.) But the seemingly inconsequential random nature of the interaction will grow in importance when they run into each other again in Here's charged final sequence in which Devos' disparate themes come together beautifully. Reuniting with Ghost Tropic cinematographer Grimm Vandekerckhove, who in that film made nocturnal Brussels a symphony of ghostly ambiance, Devos places his characters in an otherworldly Eden, only to end on a note of bittersweet perfection.
Gota is incredibly appealing as this kindly, soft-spoken construction worker, the sweetness in his eyes belying a sadness he cannot quite articulate. Similarly, Gong embodies a character who radiates decency and calm composure — a fully-formed person who, like Stefan, does not need a lover to complete her. Perhaps that's why the film's finale feels so rewarding: what Devos' characters ultimately find in one another is something more profound and meaningful than romance. Befitting its simple, immediate title, Here encourages the audience, like Stefan and ShuXiu, to savour right now. Being in the moment has rarely been so exhilarating.
Production company: Quetzalcoatl
International sales: Rediance, fen@rediancefilms.com
Producer: Marc Goyens
Cinematography: Grimm Vandekerckhove
Production design: Spela Tusar
Editing: Dieter Diependaele
Music: Brecht Ameel
Main cast: Stefan Gota, Liyo Gong