Female director Guro Bruusgaard presents a sensitive portrait of modern masculinity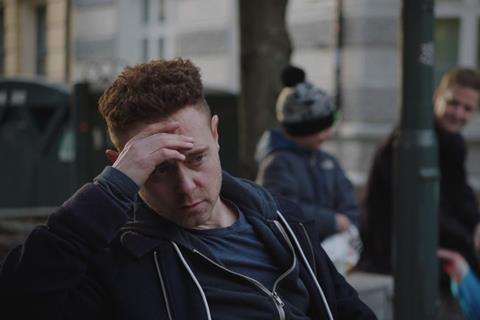 Dir. Guro Bruusgaard. Norway. 2021. 83 mins.
Life just isn't easy for men in the early twenty-first century. Summed up this way, Norwegian triptych drama Him might sound like an anguished case of special pleading – if made by a man. But, coming as it does from a woman director, Guro Bruusgaard, scripting with a female co-writer, Him makes an impact as an insightful and empathetic – albeit sometimes schematic – study of male anxiety and vulnerability.
A crisply-executed piece that Bruusgaard pulls off with wit and elegance
By turns incisive and discomfortingly droll, this concise, sharply observed character study keeps its central characters in focus while placing them in the context of a wider contemporary debate about gender, which should help provide traction on the international circuit after Him's premiere in Moscow.
A sometime editor, also known for her own shorts - including 2010's Circus - Bruusgaard makes her feature debut with a study of three white males of different ages and social backgrounds, each undergoing his own personal meltdown in contemporary Oslo. Petter (Johannes Joner), in late middle age, is an established screenwriter planning a film about the revered Norwegian explorer and scientist Fridthof Nansen, whom he regards as an iconic figure and moral exemplar. Yet, when interviewed on camera by a female reporter, the first question he faces is, "Aren't we fed up with stereotypical male heroes?" Later, at a dinner party, he loses his cool, feeling increasingly edged into a corner by his wife and female guests – not least as a small but significant motoring violation keeps returning to haunt him.
If the self-regarding Petter's story seems comical, and an appropriate skewering of his pompous entitlement, the second of these interwoven narratives is more troubling, as young unemployed Eirik (Emil Johnsen) gets a frustrating brush-off at the job centre. Sharply intelligent but socially dysfunctional to a ruinous degree, Eirik later confronts the glibly affirmational leader at a seminar on job hunting and body language, then sabotages an encouraging meeting with a friendly young woman in a café by launching into a fevered rant about the iniquities of the system. Meanwhile, Eirik has, somewhat arbitrarily, latched onto Petter as his target in a ploy to get even with society.
The third dramatic portrait, free-standing but thematically linked to the other two – and very briefly intersecting with one – is of Harald (newcomer Frank Werner Laug, impressive for his projection of simmering emotion beneath a tightly enclosed exterior). An early-teens school pupil, he is rebuked by his teacher over a classroom presentation, then suffers further agony when his divorced mother (Laila Goody, imposing and not a little scary) insists on humiliating the teacher with the boy present – supposedly defending him but really discharging her own pent-up rage at the world. Harald later seeks refuge with his ineffectual dad, but with everything conspiring to make him feel abandoned, the boy – in a quietly unsettling pay-off – opts for a symbolic act of silent self-expression that suggests that he is another Eirik in the making, or worse.
By alternating episodes of the three stories and keeping us wondering if and how they will connect, Bruusgaard and co-writer Fijona Jonuzi give the film clarity and conceptual unity. A strong cast, including Marte Magnusdotter Solem as Harald's hapless teacher, helps strike a delicate balance between foreboding-laden drama and painful social comedy – even, in Petter's sequences, borderline farce. The overall tone is reminiscent of the discomforting social satire of Sweden's Ruben Östlund (who is included in the end-credits thanks, and who is a professor at Bruusgaard's alma mater the Gothenburg Film School).
Coming from a male director, Him might have raised suspicions of misogyny, of blaming women and the advances of feminism for male inadequacies and discontents. Time and again, Bruusgard's males feel belittled by more confident women, whether it's the carefree teenage duo who confront Eirik on the metro or the interviewer who crushes Petter's ego in the opening sequence. But Bruusgaard also shows women facing their own pressures, like Petter's long-suffering wife Janne (Ylva Gallon) or the systematically and ruthlessly demolished teacher.
The film's main drawback, however, is that it sometimes feel a touch on-the-nose. Its very title signals us from the start to think about how these males resemble each other, and the heated-debate agenda about masculinity is somewhat upfront as soon as Petter is interviewed. And the comedy of embarrassment arising from his driving violation perhaps too neatly fits a schema of moral contradiction that is familiar from Östlund's films, notably The Square.
Nonetheless, this is a crisply-executed piece that Bruusgaard pulls off with wit and elegance, working with a significantly female team headed by editor Astrid Skumsrud Johansen, sound designer Gunn-Tove Grunsberg and DoP Marte Vold. Their work combines with Erik Hedin's spare score to bring a quality of tense agitation to the ostensibly bland and reassuring surfaces of Oslo urban life.
Production company: Alternativet Produksjon
International sales: Alternativet Produksjon, alternativetproduksjon@gmail.com
Producers: Guro Bruusgaard, Magnus Mork, Mariken Halle, Katja Eyde Jacobsen
Screenplay: Guro Bruusgaard, Fijona Jonuzi
Cinematography: Marte Vold
Editor: Astrid Skumsrud Johansen
Music: Erik Hedin
Main cast: Johannes Joner, Frank Werner Laug, Emil Johnsen, Laila Goody