A fearsomely candid and moving documentary about being young and rebellious in Putin's Russia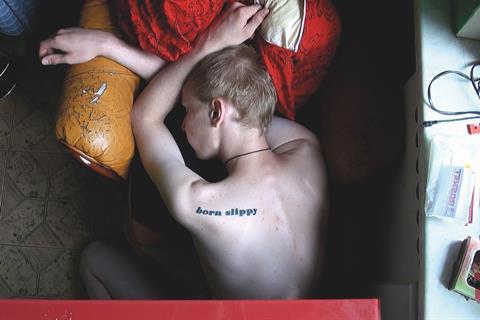 Dir/scr: Marusya Syroechkovskaya. Sweden/Norway/France/Germany. 2022. 103 mins.
For anyone currently wondering about the condition of nonconformist youth in Russia, Marusya Syroechkovskaya's How To Save A Dead Friend makes a fascinating watch – although the picture it presents is more than a little desolate. This documentary memoir cum love letter is moving, harrowing and, despite everything, hopeful; above all, it is fearsomely candid. The film is a valedictory for, and a portrait of, the writer-director's partner of 16 years, Kimi Morev. Comprising video footage shot mainly by herself and Morev, with occasional archive footage and the director's voice-over, the film presents a caustic, melancholy panorama of what it might mean to be young and rebellious in Putin's Russia, and offers a testament to the life-saving power of love – life-saving only up to a point, that is. Playing in the international feature competition of Visions du Réel, this very personal work will attract festivals, notably those with a focus on youth and counterculture, and deserves exposure notwithstanding the current widespread reservations about showing the work of Russian filmmakers.
At times, the candour is extraordinary, not least in the scene where Kimi breaks down in front of the camera on his fifth stay in a psychiatric hospital
The film is a scrapbook-style account of the director's relationship with Kimi – short for 'Kirill' - with whom she shared wild times on Moscow's music scene, and harder times as the couple faced what Syroechkovskaya calls the 'bad trip' of Russia's 21st century. At the start of the film, she is seen arriving at Morev's funeral after his death in November 2016. The couple's view of their native country is clear from the start: "Everyone knows Russia is for the depressed." By and by, we learn that Marusya, after a happy childhood, became troubled in her teens, with a spell in psychiatric hospital, a history of self-harm and a preoccupation with suicide. It is not surprising that she bonded so firmly with fellow rebel Kimi – an intelligent, wryly humorous devotee of Nirvana and Joy Division. The film's punk romanticism is typified by her memory of their first kiss, at a gig where her indie band was playing: Kimi's nosebleed left Marusya, up on stage, looking like a shot from Carrie.
Early on, in the film's only cutesy moment, Syroechkovskaya gives us an ironic 'once upon a time' slide show of the inseparable couple's romance; but she later warns, "If you're a fan of the happy-ever-after genre, you should probably stop watching." Depression is a constant among the couple's circle; at one point she reels off a list of friends who have died, either from suicide or from drug overdoses. Kimi eventually gets hooked on heroin, like his older brother Andryusha, whose physical and mental state is seen deteriorating over the years. Marusya, however, exorcises her discontent through art – music, filmmaking and photography. She also appears to be involved in political protest: while not spelling out the issues at hand, she includes footage of a demonstration against the detention of political prisoners, and one honouring the murdered journalist, Anna Politkovskaya. Kimi's own parallel revolt, however, is through drugs, triggering a series of stays in rehab. The couple separates, but clearly maintain a deep, tender connection right up to Kimi's death.
Syroechkovskaya marks the passing of time partly through a series of official Russian TV broadcasts marking the New Year. Vladimir Putin himself, of course, took power on New Year's Eve 1999; and in a stroke of irony that has become all the more bitter in recent weeks, we see him years later addressing his nation on the values of kindness and compassion.
One thing that holds the film back from absolute bleakness is the way that it maps the enduring bond of tenderness and trust between the young couple, even when their lives are going horribly wrong. At times, the candour is extraordinary, not least in the scene where Kimi breaks down in front of the camera on his fifth stay in a psychiatric hospital. As for the couple's involvement with indie music, it is clear that the codes of youth rebellion involve something substantially more meaningful in Russia than they necessarily do in the west – whatever the emotional authenticity of Kurt Cobain and the original grunge movement. Syroechkovskaya, meanwhile, is seen exploring her own self-expression in different directions, including a somewhat unnerving session of body suspension, involving hooks in her back.
Often visually rough in classic video diary style, the film also has moments of striking beauty, not least when Syroechkovskaya digitally manipulates Kimi's image on a tablet. Some of her still photos of their life have the unvarnished directness of famous counterculture documenters like Nan Goldin and Larry Clark. In glossier vein, smoothly executed aerial shots of (presumably) Moscow apartment blocks take on a hypnotic, magical quality at the end, with mirror effects making them seem magically suspended in the sky. A moody electronic cover of Joy Division's 'Love Will Tear Us Apart' – effectively, the couple's personal anthem – plays to poignant effect, but like everything else in a film where so much seems tainted with despair, the effect is bracingly defiant.
Production companies: Sisyfos Film, Docs Vostok
International sales: LightDox, anna@lightdox.com
Producers: Ksenia Gapchenko, Mario Adamson
Cinematography: Marusya Syroechkovskaya, Kimi Morev
Editing: Qutaiba Barhamji
Music: Felix Mikensky
Main cast: Marusya Syroechkovskaya, Kimi Morev