'Hooligan Sparrow' director Nanfu Wang documents a trip across the United States with a Utah-born drifter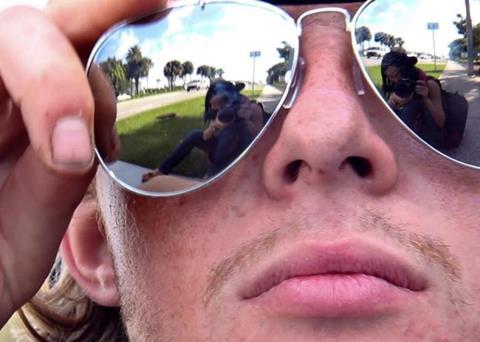 Dir/scr: Nanfu Wang. USA, 2017. 85 mins.
A clash of cultures, personalities and realities fuels the new documentary from award-winning Chinese filmmaker Nanfu Wang (Hooligan Sparrow), which begins as fly-on-the-wall travelography but soon becomes something much more intimate and eye-opening.
Wang's eye for detail is obvious from the film's opening scene
The journey Wang takes with Utah-born 20-something Dylan Olsen across the United States may not seem the natural follow-up to her award-winning 2016 debut Hooligan Sparrow, which followed Chinese human right activist Ye Haiyan as she tried to win justice for six young victims of sexual abuse. Yet I Am…explores similar themes of democracy and freedom, with Wang once again proving adept at profiling the lives of extraordinary individuals with universal resonance. That, alongside the film's engaging subject, timely themes and strong visuals, should spark plenty of festival interest following its world premiere in SXSW.
Wang's eye for detail is obvious from the film's opening scene, which takes in a smoggy city skyline from a moving train; a transient visual motif which recurs throughout. Endless tower blocks fill the frame, along with brief glimpses of Chinese signs, and, as the train and accompanying music increase in speed, the intensity of the shot almost vibrates. Just as it begins to get uncomfortable, Wang makes a hard cut to a pair of feet being lapped by azure waves on a golden beach under a bright blue sky. The contrast is extreme, and effective.
This, we learn, encapsulates Wang's experiences of making the move from China to the United States in 2011, in search of a freedom she had been longing for all her life. "Along the way, I've learnt I'm not the only one looking," she says. Exploring the country from her base in New York, she lands in Florida and runs into Dylan at a local hostel. This blonde-haired, blue-eyed young man is immediately engaging, and when Wang learns that he has deliberately chosen to live on the streets, she is compelled to follow him.
From here, Wang divides her film into three chapters as she attempts to document and understand Dylan's lifestyle. In the first, 'There Is No Time', she lives on the streets with him for several weeks, a witness to the way in which strangers are charmed and intrigued to the point of offering him food, money and shelter. Wang is similarly beguiled, but soon realises that the kindness of strangers doesn't extend to the other homeless people she films in shop doorways and on park benches.
"When I first met Dylan he seemed like a symbol for free America," says Wang. "But the longer I spent observing how he used his freedom, my feelings changed." Uneasy with the flippant way Dylan seems to approach his vagrancy, Ward returns to her New York home.
That is far from the end of the story, however, In her second chapter, 'The Freedom To Choose', Ward finds herself in Utah two years later and tracks down Dylan's police detective father John. Thus emerges the tale of Dylan's rebellion, addiction and mental illness, all of which led him to cast off his loving family unit, along with the conservative shackles of his fervently Mormon community, and strike out on his own. Armed with this knowledge, Ward begins to question her initial reading of Dylan, and ponder how she missed an "entire narrative running through his head."
And so it is that the third chapter, 'I Am Another You' - which takes its title from something repeated by one of Dylan's internal voices - is the most interesting. Wang delves further into her her own personal biases, speaks to Dylan about his mental health and replays footage of their earlier encounters that now take on entirely new meanings. As Wang comes to realise that Dylan's decision to live on the streets was not so much a journey of self-discovery as one of self-preservation, she also is forced to accept that her own premeditated ideas of oppression and freedom may have clouded her judgement.
Warped visuals and layered dialogue give a sense of Dylan's psychological battleground, while the use of reflective surfaces underscores Wang's exploration of identity and perception. Lingering shots of nature - birds in flight, lapping seas, exotic fish - may sometimes be heavy-handed, but underscore the sense of unfettered freedom that is so important to both Wang and her subject.
Production company: Little Horse Crossing The River
International sales: Submarine info@submarine.com
Producers: Nanfu Wang, Lori Cheatle, Michael Shade
Cinematography: Nanfu Wang, Michael Shade
Editor: Nanfu Wang
Music: Nathan Halpern
Music: Nathan Halpern