A 'Green Card'-style drama cuts deeper than expected in this assured second feature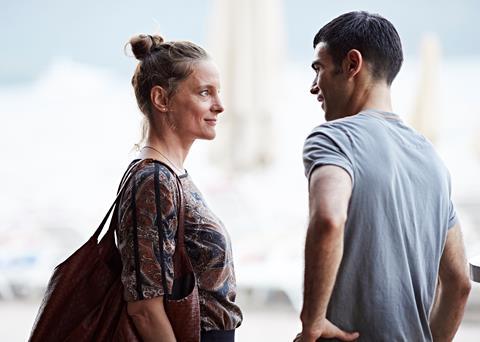 Dir Ilker Çatak. Germany, France. 2019. 122 mins
Worlds collide with far-reaching consequences in I Was, I Am, I Will Be (Es Gilt Das Gesprochene Wort). Ilker Çatak's assured second feature blends the personal with the political to create a thoughtful, convincing romantic melodrama that should resonate with German audiences on its theatrical release in August. The topical themes might also give it a modest theatrical foothold internationally.
The strengths of Çatak's mature, unshowy approach lie in the small details and textures of the storytelling.
Çatak takes a familiar Green Card-style premise and invests it with a sensitivity to people and issues that cuts deeper than anticipated. He begins with the marriage of Marion (Anne Ratte-Polle) and Baran (Oğulcan Arman Uslu). It is an awkward, perfunctory affair that feels more like a business meeting than a joyous celebration. In three chapters, he then fills in the backstory for the bride and groom before addressing what happens to them next.
The couple seem to be individual embodiments of a very divided world. The Kurdish Baran is 23, a former soldier now sleeping rough. Ambitious for a better future, he finds work at a bar in the Turkish Riviera tourist resort of Marmaris. He progresses from dishwasher to waiter and gigolo. There are echoes of Lauren Cantet's Heading South or Ulrich Seidl's Paradise Love in the way he becomes part of the sex trade, fulfilling the holiday fling needs of the brassy female tourists. There is also a yearning within Baran that makes him endearing rather than calculating. "I want to be with you in France, " he earnestly confesses to one client. "It's Belgium actually," she replies with indifference.
Marion is a German airline pilot in her early forties. Calm, capable and serenely independent. When she is diagnosed with cancer, her boyfriend Raphael (Godehard Giese) books a holiday to Marmaris. "Syria and North Korea were sold out?" she teases. She regards Baran with amused scepticism as he tries to charm his way into her life. The reckless offer of marriage and possible German citizenship is prompted by compassion rather than any notions of romance.
What happens after the marriage becomes the most compelling aspect of the story. Marion's instinctive acts of kindness build a growing fondness for Baran. His attempts to learn German, find a job and fit into his new homeland become the vehicle to explore individual and collective prejudices.
Nothing feels forced or stridently polemical in I Was, I Am, I Will Be. Çatak keeps the focus on a human level as the couple faces the kind of dilemmas that might have fuelled a melodrama by Douglas Sirk or Fassbinder. A soundtrack using pieces by Debussy, Tchaikovsky and Mozart adds to the reflective quality of the film. The strengths of Çatak's mature, unshowy approach lie in the small details and textures of the storytelling. A shelf of folders in Marion's home includes one marked "Baran" conveying that he is more of a project than a person. Baran's joy at his first pair of prescription glasses tells us how much he has been deprived of the many things a privileged westerner like Marion might take for granted.
Çatak also has an eye for casting. The fond chemistry between Anne Ratte-Polle (who stars in TV series Dark) and newcomer Oğulcan Arman Uslu creates a believable, highly sympathetic couple who carry the emotional pull of the film through to its unexpected but satisfying conclusion.
Production company: if… Productions, Loin Derrière l'Oural
International sales: Level K, tine.klint@levelk.dk
Producer: Ingo Fliess
Screenplay: Nils Mohil, Ilker Çatak
Production design: Zazie Knepper
Editing: Jan Ruschke, Sascha Gerlach
Cinematography: Florian Mag
Music: Marvin Miller
Main cast: Anne Ratte-Polle, Oğulcan Arman Uslu, Godehard Giese